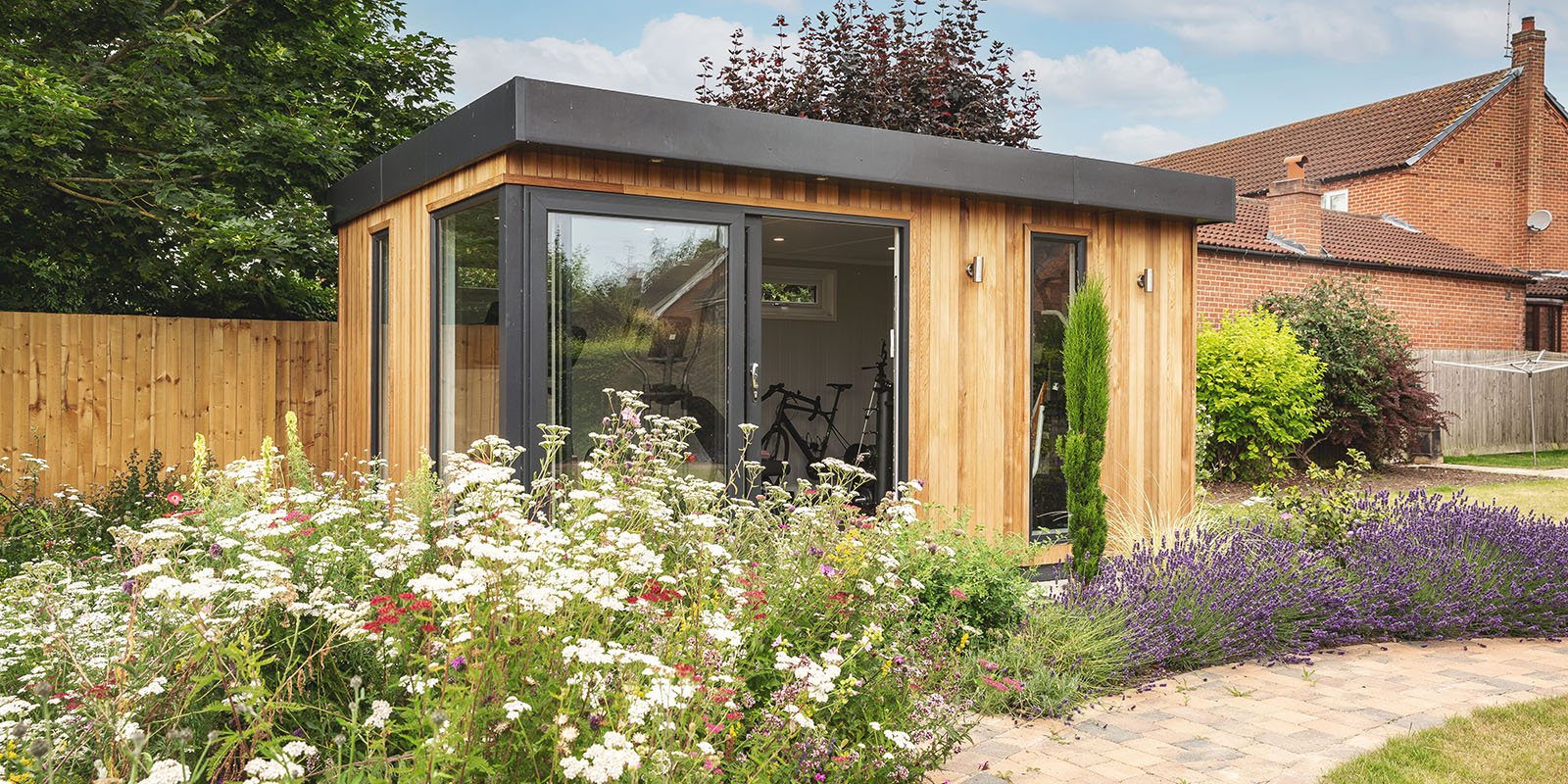 Home Gym Ideas | Ultimate Guide to Garden Gyms | Cabin Master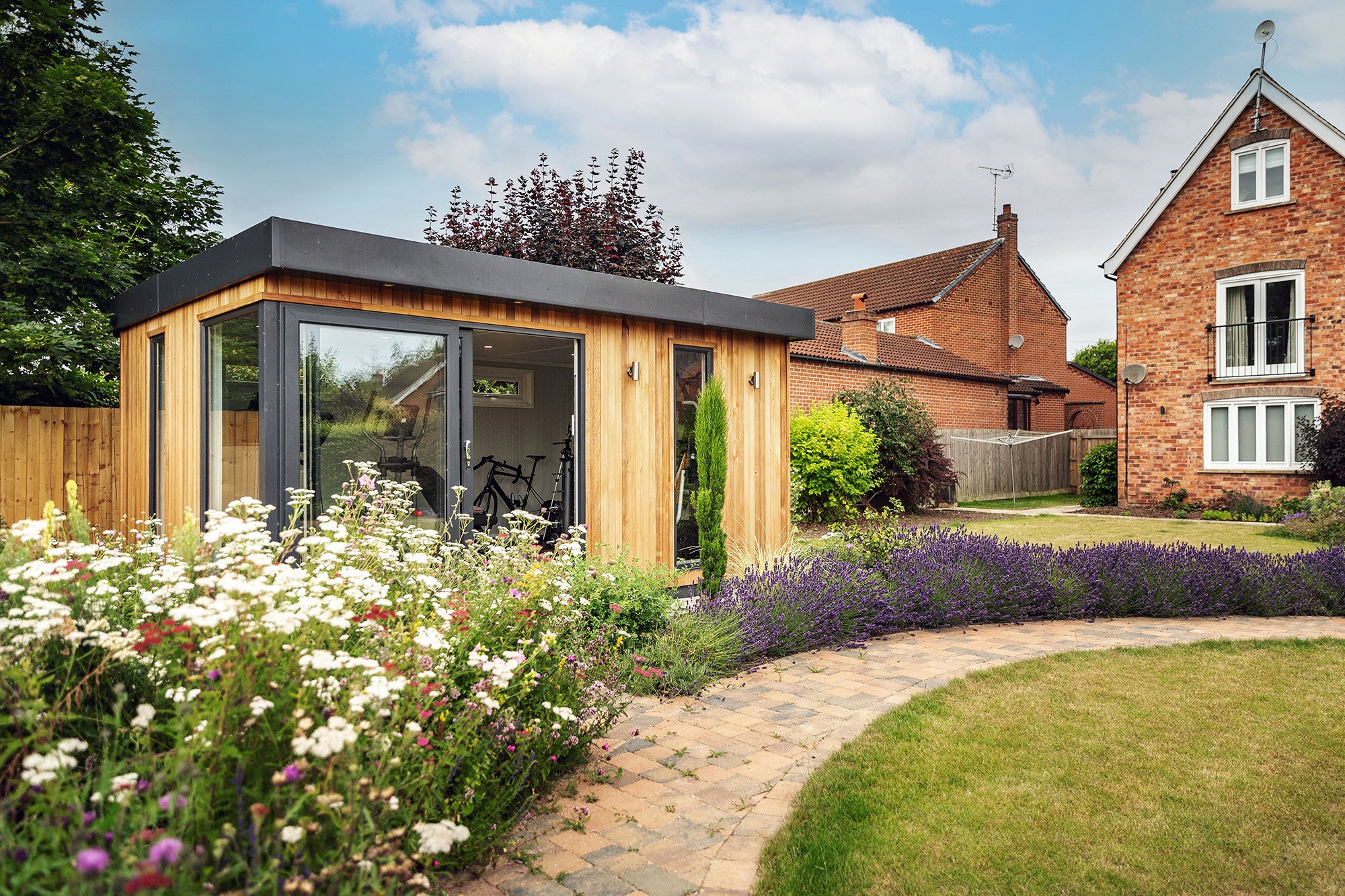 Many of us are finding less and less time to visit the gym these days and so, we thought we would explain what a garden gym is. Turns out, it's exactly what it sounds like – a gym in your garden!
A garden gym is essentially a garden room that has been designed and built specifically for the purpose of working out - garden gyms are becoming increasingly popular as people look for alternatives to getting fit and healthy without having to leave the comfort of their homes.
Looking to have a bespoke home gym installed in your garden? Explore our Garden Gym Room page for more information, or contact our expert team to discuss your perfect workout room.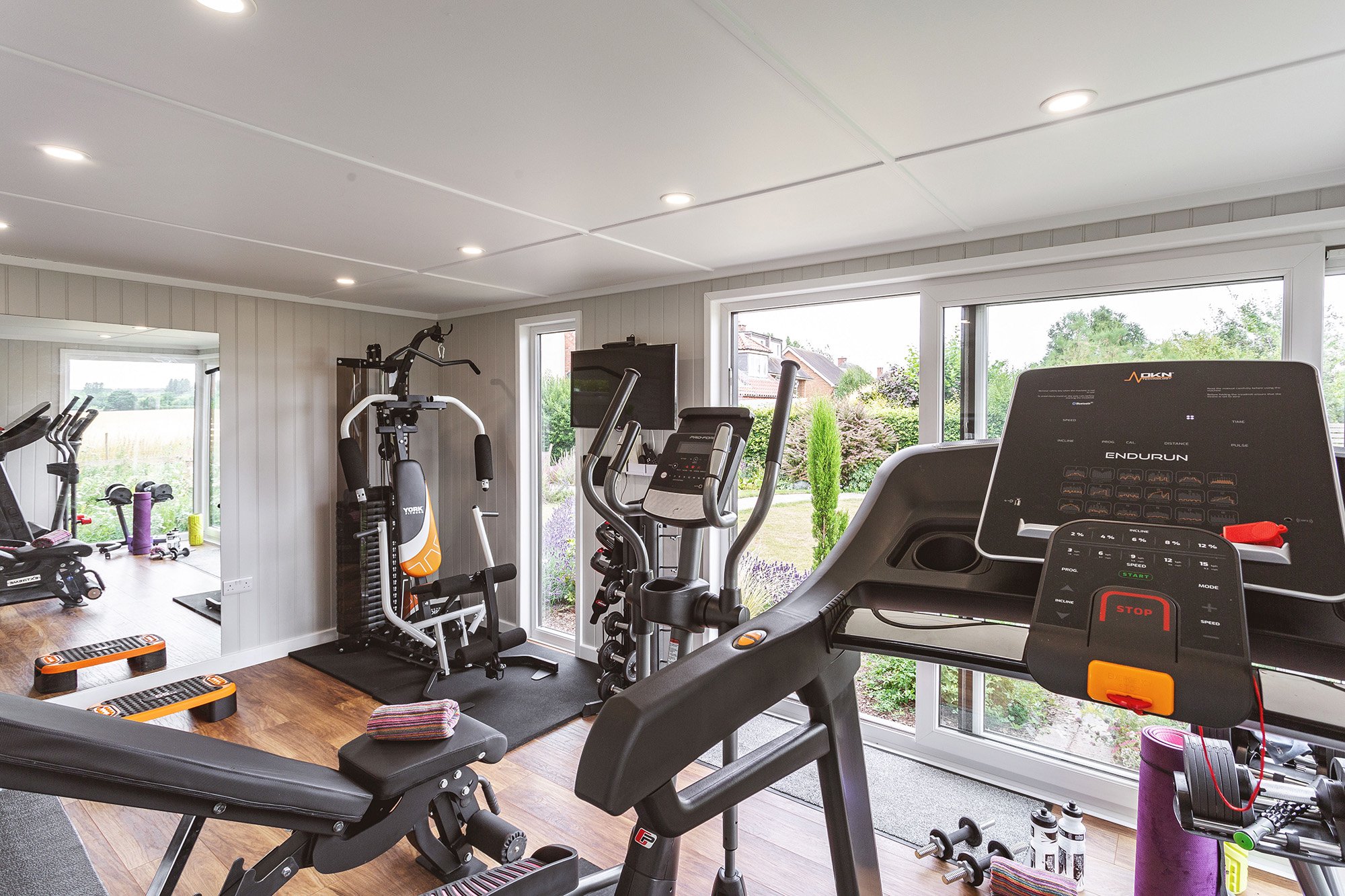 Having sold hundreds of garden gyms during our 20+ years of trading, we know a thing or two about them…
For starters, they are a great way to get fit and, with the British weather being as unpredictable as it can sometimes be, you don't have to worry about the rain or cold putting a damper on your workout.
Key Takeaways
Garden gyms are becoming increasingly popular as people look for ways to create a multi-purpose space in their homes.

They can be used for a variety of purposes, such as working out, relaxing, and entertaining.

The possibilities for arranging your garden gym are endless, and it can be tailored to your own needs.

You don't need planning permission to build a garden gym (as long as it meets certain criteria).

A Few Things To Consider
There are a few things that you need to consider before you build your garden gyms, such as the size of the space you have available, the type of equipment you want to use, and the budget you have to work with.
Once you've gathered all of this information, you can start planning your garden gym and building it to your specifications.
Size Of The Space
The reality is, garden rooms and garden gyms come in all shapes and sizes - it all depends on the amount of space you have available in your garden, as well as your budget.
If you have a large garden, you will have more choice, of course, when it comes to the size and style of your garden room. With a smaller garden and a bit of creative thinking, you'll still be able to make the most of the space you do have.
Type Of Equipment
The type of equipment you use in your garden gym will, again, depend on the size of the space you have available. A large garden would, for example, allow you to install a running machine or a rowing machine, however, in a smaller space, you might need to stick to more compact equipment, such as a stationary bike, dumbbells or a yoga mat.
Budget
Your budget is another important factor to consider when planning your garden gym; garden rooms can range in price from a few thousand pounds to tens of thousands of pounds, which is why it's important to know exactly how much you can afford to spend before you start planning your garden gym.
If you have a limited budget, then you might need to think outside the box with the space you have available and the type of equipment you want to use.
Feel free to get in touch with us here at Cabinmaster - we're happy to provide a free site survey and no-obligation quote.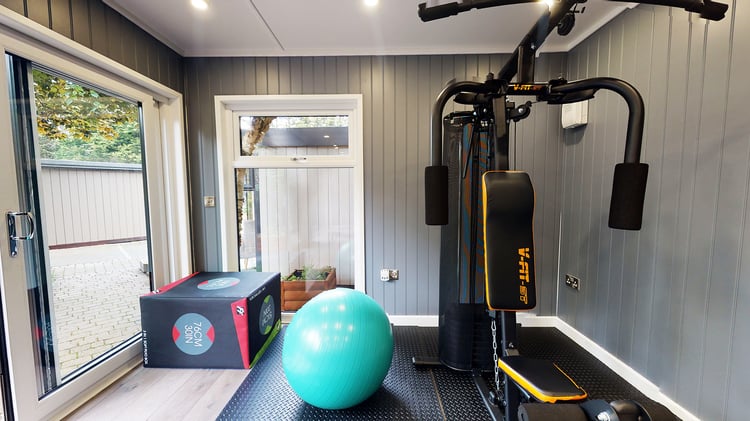 Home Gym Ideas
Alan's Home Gym
Alan's vision for creating an extensive gym set up at home was brought to life when he chose a Cabin Master Garden Room – the perfect way to add extra space at home, without extending your house. The end result is a 6 x 3.5m Marley Board clad garden building, fully equipped with a fully functioning home gym, with a small area for storage for his golf clubs & biking equipment. He's created a fantastic, practical & functional space that suits him & his lifestyle. We recently visited Alan to find out more about his Cabin Master journey, and have a sneak peek at his new garden room.
Why Did Alan Choose Cabin Master Over Other Companies?
"I had mentioned to a friend that I was thinking about investing in a garden room, and they knew someone who had recently used Cabin Master and was singing your praises, so we began our journey. We looked at at least 10 other companies but eventually settled on Cabin Master, as they were streets ahead of the others; the buildings are completely bespoke, so there was 100% flexibility to get want we wanted, plus we could visit a physical show site to actually see the buildings and speak face to face with the sales team. The rooms are stunning, within our budget and the lead time from placing our order to having it installed was great too, so we went for it!"
Hollie's Gym & Office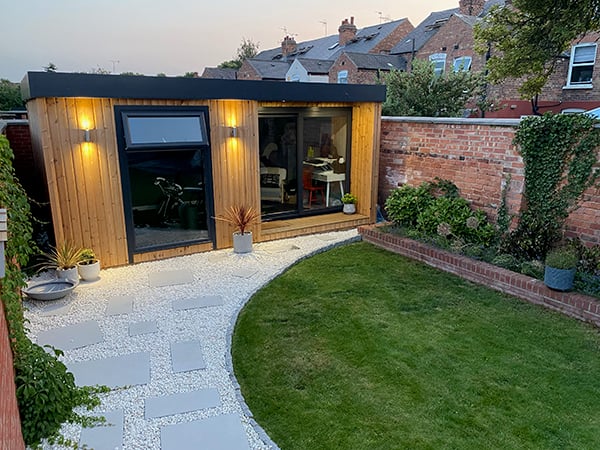 Hollie was looking to create a practical space outdoors to make room for a combined gym & office. A Cabin Master garden room was the ideal solution for her & her young family…and the result is stunning! We caught up with Hollie recently to find out a bit more about their journey with us, and of course have a peep at the stunning space they have created at home.
Why Did Hollie Choose Cabin Master Over Other Companies?
"We were looking at having a garden room installed, as we were aware we needed a bit of extra space so started thinking about it seriously & then remembered we'd driven past the Cabin Master Show Site a few times on the Nottingham A52. We were delighted to find a company nearby, located in our home town! We looked Cabin Master up online to find out a bit more about the process and what they offered – the reviews were outstanding and we got the impression Cabin Master stood for quality, so arranged a visit to the Show Site & met with George, the Sales Executive. We actually visited twice, which we found so helpful and we left feeling really impressed & excited. The level of service was excellent and relaxed so we knew we would be looked after."
What Was Hollie's Experience with the Installation Process?
"Tom & the team of fitters were absolutely brilliant! Efficient & professional, and very good at what they do. We couldn't believe how quickly the guys worked, they made such speedy progress but were precise & careful. The service was authentic and the cabin was installed with speed and professionalism. If we move we will definitely build another one with you…only bigger!"
MMA Gym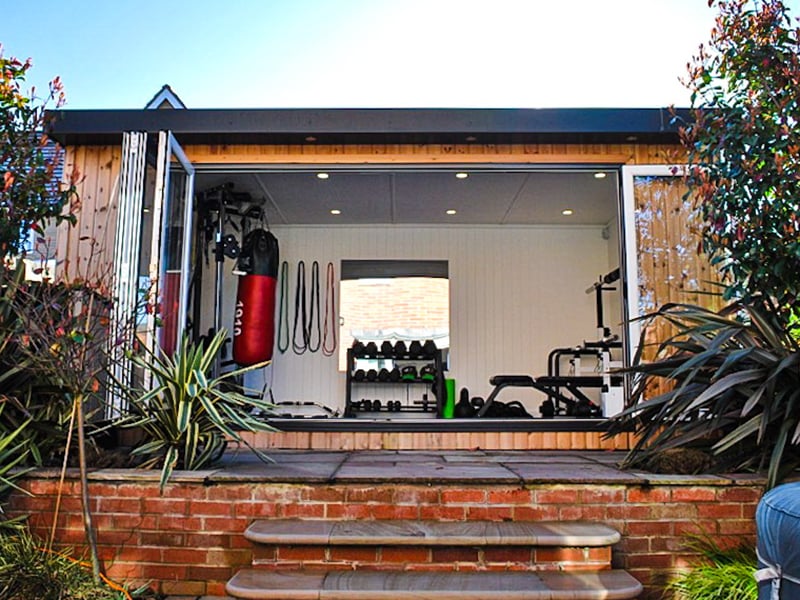 Having an at-home MMA gym can be a great choice for many reasons. Firstly, it allows for a more flexible training schedule, as you can work out whenever you have free time without worrying about gym hours.

This is particularly useful for those with busy schedules, or those who may not have easy access to a local MMA gym. Additionally, having an at-home MMA gym can provide a more personalised training experience, as you can tailor your workouts to your specific needs and goals. This can help you improve faster and more effectively, as you can focus on the areas you need to work on most.

Finally, an at-home MMA gym can save you money in the long run, as you won't have to pay expensive gym membership fees or invest in pricey equipment. With just a few key pieces of equipment, such as a heavy bag, gloves, and mats, you can create a space where you can train and improve your skills on your own terms.

Cyclist Gyms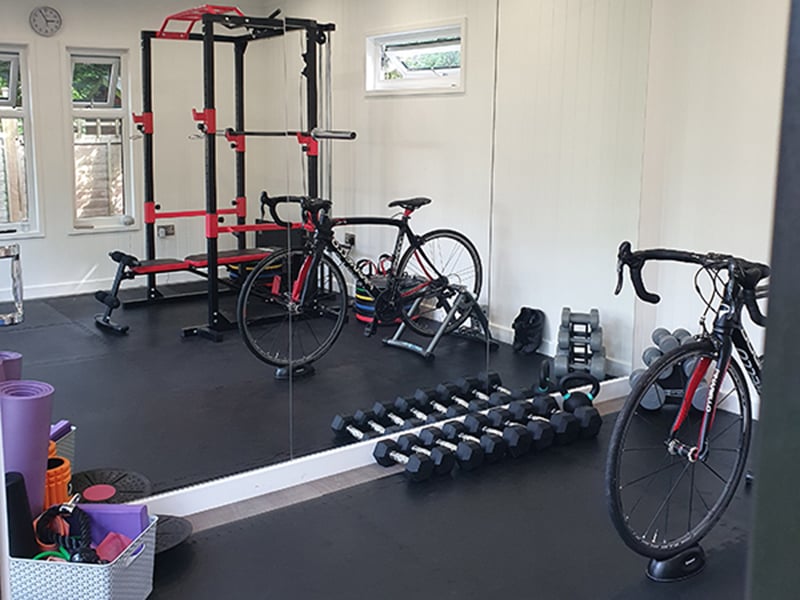 Cycling is an excellent form of exercise that benefits the body and mind, but cycling outdoors isn't always practical. Weather, safety concerns, and scheduling conflicts can all interfere with the ability to ride outside. This is where a cyclist gym comes in handy.

A cyclist gym provides all the benefits of cycling in the comfort and safety of an indoor environment. With a stationary bike, cyclists can get a full-body workout that is gentle on the joints and helps to build endurance. Cycling indoors also eliminates the distractions and safety concerns associated with outdoor cycling.

Moreover, spin classes can be expensive, but with a cyclist gym, cyclists can work out on their own schedule without having to pay for pricey classes. They can choose their own music, track their progress, and even incorporate other forms of exercise into their routine, such as weight training or yoga.

Having an indoor cyclist gym is also an excellent way to stay motivated and consistent with exercise. It eliminates the need to plan outdoor routes or wait for good weather, making it easier to stick to a routine. Plus, having a dedicated space for exercise can create a more focused mindset and increase the likelihood of sticking to fitness goals.

We even asked cycling legend, 11 time British Best All-Rounder Kevin Dawson, and director of J's Cycle Shack for his thoughts on this.

"In the gym, you're just riding in the gym, but in a garden gym you could be riding Richmond or Innsbruck or the Prudential RideLondon Classique," says Kev.

"Many riders are using a garden cabin to create a cycling studio. With your mountain bike, a turbo trainer and an app like Zwift hooked up to your computer or iPad, iPhone or Apple TV, you can ride with and compete against other cyclists, from all over the world, in a virtual environment, which helps to alleviate some of the boredom some get with indoor riding and really boosts your results".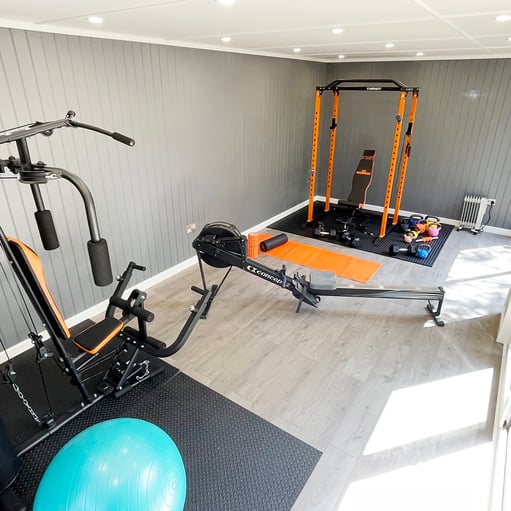 Summer House Gym
A summer house home gym is the perfect multi-functional space to exercise and relax. Cabin Master creates bespoke summer house gyms in a range of sizes, meaning no matter what equipment you need, we can make a room to house all of your gym gear, as well as provide you with the space to relax and cooldown after your workout.

You can contact our expert team today to discuss the perfect summer house gym for your home. All of our installations are fully insulated to ensure the longevity of your gym gear, and can be fitted with electrical inputs to power your exercise bike, treadmill, and more.
Advantages Of Garden Gyms
There are many advantages to having a garden gym, and we've listed just a few of them below:
You can work out in the privacy of your own home without having to go to a public gym.

You can design your garden gym to your own personal taste and style.

You can control the temperature of your garden gym, so you can work out in comfort no matter what the weather is like outside.

You can choose the type of equipment you want to use in your garden gym, so you can tailor your workout to your own needs.

You have the freedom to work out whenever you want, without having to adhere to public gym hours.

Save Time on Your Commute
One of the main advantages of a home garden gym is time.
Break it down for yourself. Once you've packed a bag for the gym, driven across town to get there, got out of the car to walk across the car park, scanned your card to get through the turnstile or barrier, found an available locker, got changed … you've wasted a lot of time before you've even got a sweat on.
And that's just the start!! Once you hit the gym floor you have the lost minutes as you wait in line to get on the equipment you want to use, then, afterwards you shower, and then jostle for position back in the changing room because, despite there being 4,000 lockers, it always seems that the members using the ones either side of yours just happen to have finished at the same time you did! Awkward silence or awkward conversation as you towel off? The latter adds more minutes to your gym trip!!
Then, you leave, walk back across the car park and drive back home or to work.
With a Cabin Master garden gym, you eliminate all of these time vacuums, allowing you to focus on the reason you decided to use a gym in the first place - training and getting fitter.
Compare the above experience with this:
Get changed into your gym kit;
Walk across the garden or patio to your Cabin Master garden gym;
Work out either to your own scheduled routine our using one of many apps and online clubs available ;
When finished, walk back into your home and shower in the comfort of your own bathroom.

Freedom of Design
Whenever I've been a member of a commercial gym, I would often wish that the layout and the equipment was better suited for my training needs, if I wanted to work on my legs there'd always be an abundance of ab machines, or there'd be loads of fixed barbells when I wanted to do bicep curls. To be fair to the gyms, they are catering to general, not specific needs.
This is not the case in your Cabin Master garden gym! Your performance can be improved with access to the actual equipment needed for your training goals.
In a Cabin Master garden gym, you can pick and choose what equipment you need and because you don't have thousands of members, you'll always be first in the queue to use your cross trainer, treadmill or rowing machine.
Former UK national athlete and now owner of running shop Metres To Miles, Julian Moorhouse says, "Adapting your equipment to suit your training style is far better than adapting your training to fit in with the equipment. A lot of people make the mistake of seeing a 'beefcake' of a guy using a certain piece of equipment and thinking 'if it works for him – it'll do for me'. This can be so counterproductive! It's like your trainers – why change your running style or speed to match a pair of trainers bought off the shelf when you can easily have a running gait assessment that will find you a pair exactly suited to you? Greatest results come from marginal gains, designing every aspect of your workout to get these gains is so powerful."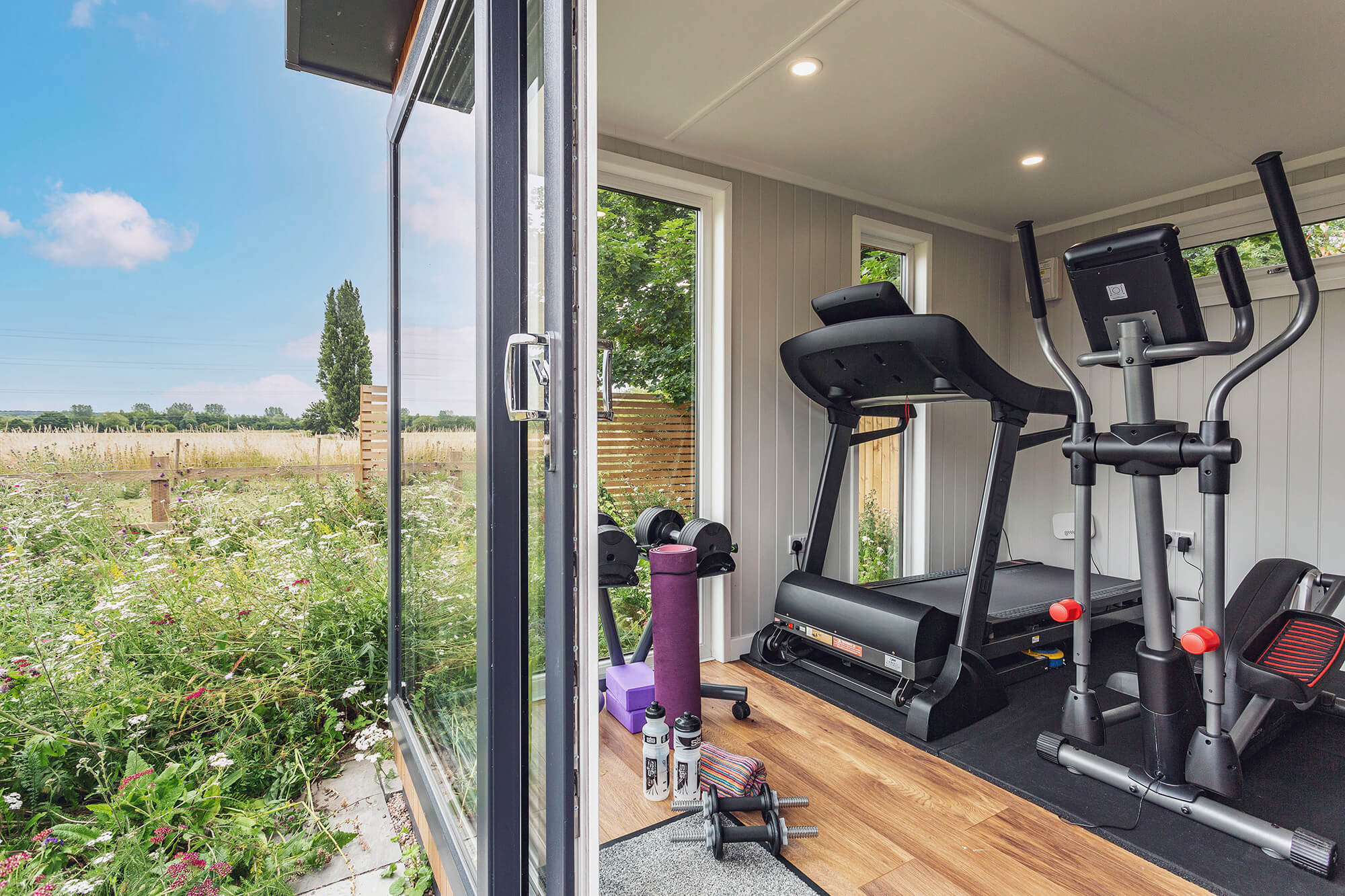 Money
The average cost of a gym membership in the UK is around £41 per month, that's almost £500 a year and that's just for you. Sign up your spouse and enroll the kids and soon it becomes a huge chunk of monthly expenditure.

A recent visitor to Cabin Master's show site in Nottingham had crunched the numbers, the family's gym memberships alone totalled over £1000 a year but then, when they factored in petrol used getting to and from the gym, the cost of extra classes and the café with its healthy but expensive food, they were nudging close to £2000 a year. For them, investing in a garden building was pretty much a cost neutral exercise. Check out our financing options to see how affordable a Cabin Master garden room can be.
PT clients can pay on average £25 - £50 per hour for a fully qualified trainer to work with them - and that's not including travel expenses!

Cleanliness
Now, I'm no Monica from Friends, but something has always bothered me about public gyms – their cleanliness. Gyms, like any area where lots of people congregate, are germ pools.
Most gyms have thousands of members, each of them sweating and leaving a little of themselves on everything that they use. Consider how many people use those dumbbells every day, how many sweaty palms check heart rates on the treadmill handrails, how many dripping backs lay back on the bench you press weights on … and as for the exercise bikes. Ew!!
Some gyms provide disinfectant wipes – have you ever wondered why? To be fair, most gym goers will wipe down yoga mats or the back support of a leg press machine, but few do so with dumbbell handles, skipping ropes, or the handles of a bench press. Subsequently, some of the most commonly used pieces of equipment can quickly become pretty nasty!
Things don't get much better in the changing room, as anyone who's caught an athlete's foot will testify.

At least with a gym at home, all the germs are yours! Even better, Cabin Master garden rooms have a huge range of door and window options meaning that your garden gym will be well ventilated. Research shows that air flow and ventilation can affect how diseases spread indoors, the more stagnant the air, the more likely diseases are to spread. So, stuffy sweaty public gym or light, airy Cabin Master private garden gym?
Train Inside And Out
We have found that a lot of our customers want to open up the inside of their garden gym to the outside world.
So, we fit bifold doors to let in as much natural light and fresh air as possible. It also means you can train inside and out – perfect for when the weather is nice!
Couple this with some simple platform decking and now you have the perfect garden retreat for working out, relaxing, and entertaining all year round.
Are Garden Rooms Only For Working Out?
Absolutely not! Garden gyms are becoming increasingly popular as people look for ways to create a multi-purpose space in their homes.
While they are great for working out, they can also be used as: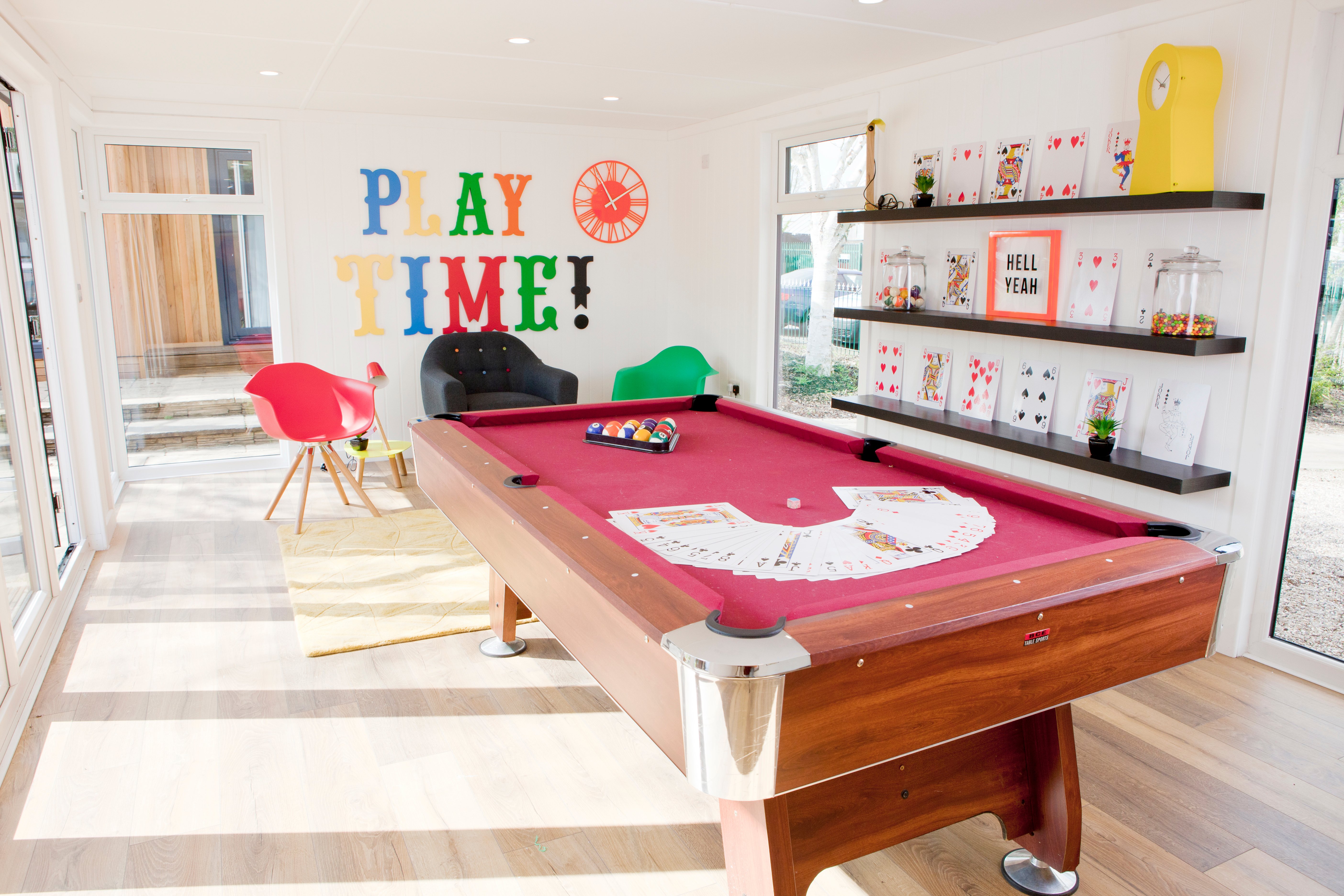 How you arrange the space and what type of equipment you put in it is entirely up to you. So, if you want a dedicated workout space, you can fill it with all the latest gym equipment. Or, if you just want somewhere to relax and unwind, you can set it up with comfortable furniture and plenty of light.
The possibilities are endless, and with a little imagination, you can create the perfect garden gym for your needs.
The Best Exercises To Do In A Garden Gym Setting (Hint: There Are Many)
There are a lot of different exercises you can do in a garden gym, and the best ones for you will, of course, depend on your own personal fitness goals.
However, some of the most popular exercises people like to do in their garden gyms include:
Yoga.

Pilates.

Cardio workouts.

HIIT workouts.

Functional training.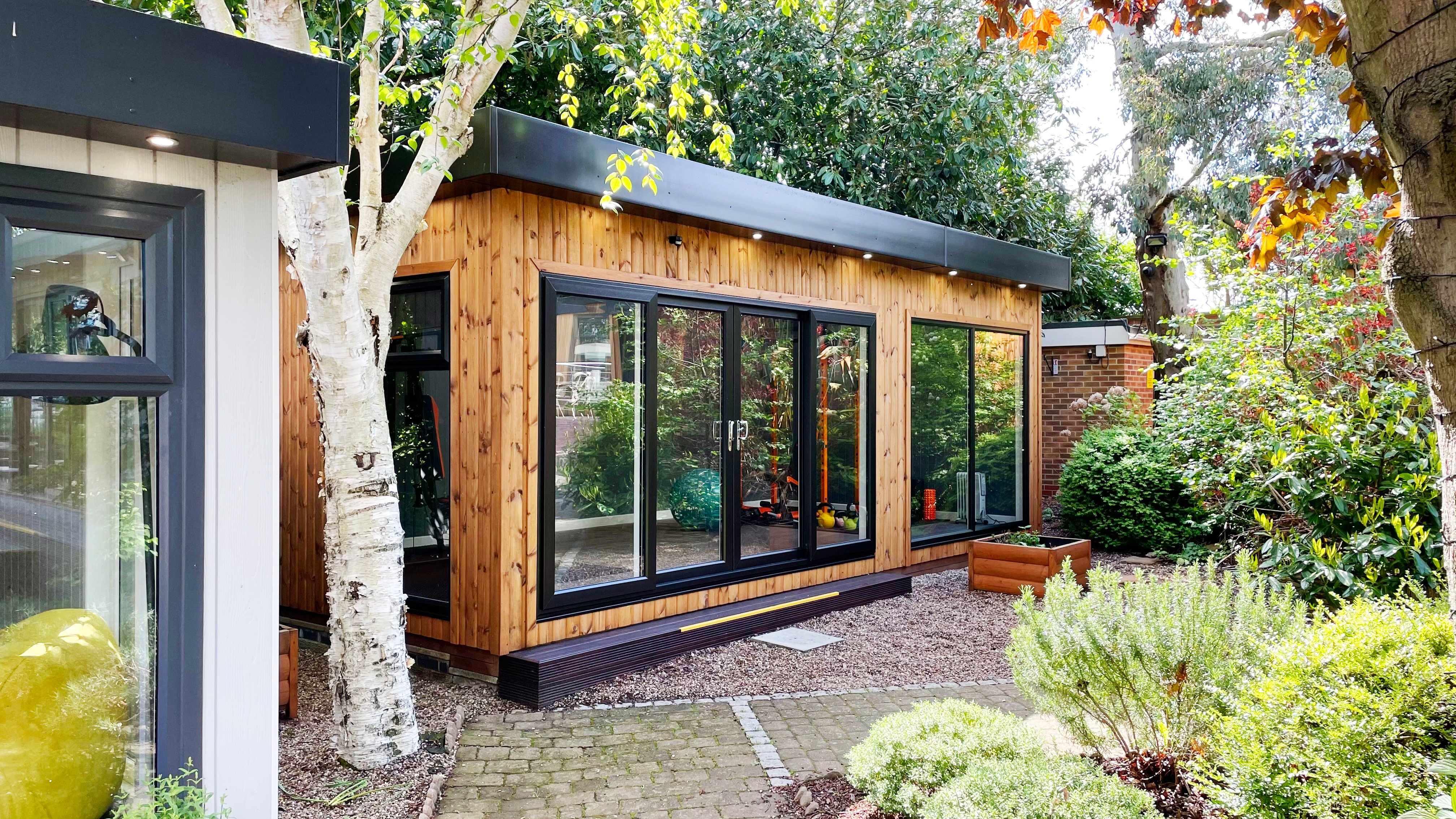 The list is endless, and the best thing about having a garden gym is that you can tailor your workout to your own needs - whether you want to focus on building muscle, improving your cardiovascular fitness, or just want a place to relax and de-stress, a garden gym is a perfect solution.
Do I Need Planning Permission For A Garden Gym?
This is a question we get asked a lot, and the simple answer is no, you don't need planning permission for a garden gym. It comes under the permitted development rights for outbuildings, which means you can build one without planning permission as long as it meets certain criteria.
These include:
The garden gym must be

no more than

2.5m high

.

It must be

located at the rear of the property

and must

not take up more than 50% of the total land

around the property.

It must

not be built in front of a highway

, such as a road or pavement.
You should also check with your local authority to see if there are any other restrictions in place that might affect your plans.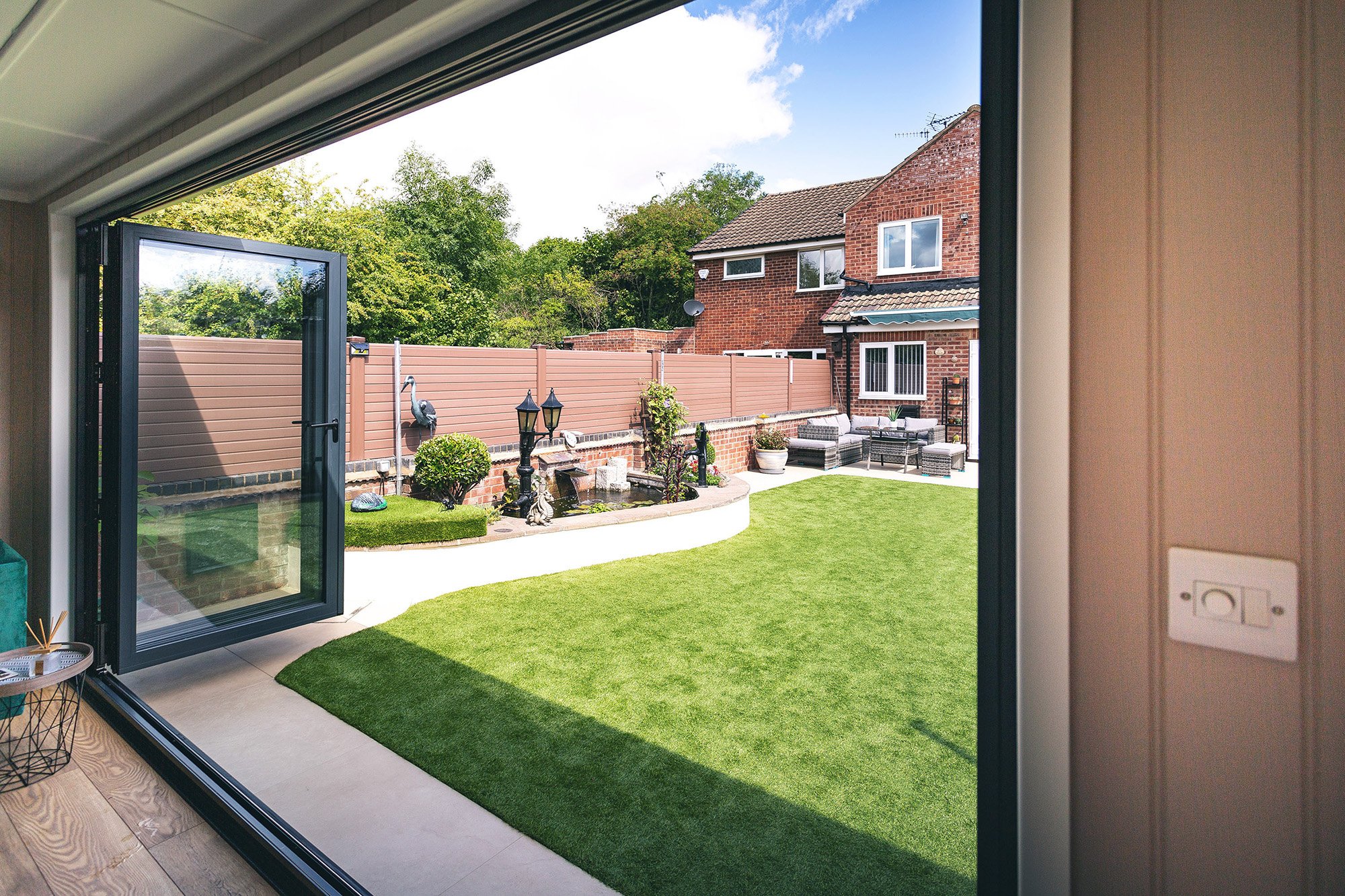 FAQs
Do garden gyms add value to your home?
Yes, garden gyms can add value to your home as they are usually seen as a desirable addition by many potential buyers. They can also help to make your home more energy-efficient as you won't need to use as much heating or cooling to keep the space comfortable.
Do garden gyms require a different type of flooring?
No, garden gyms can be built on any type of flooring, including wood flooring, tiles, or laminate. However, we would recommend installing separate rubber mats for any cardio or weight-training equipment to protect the flooring and reduce noise levels.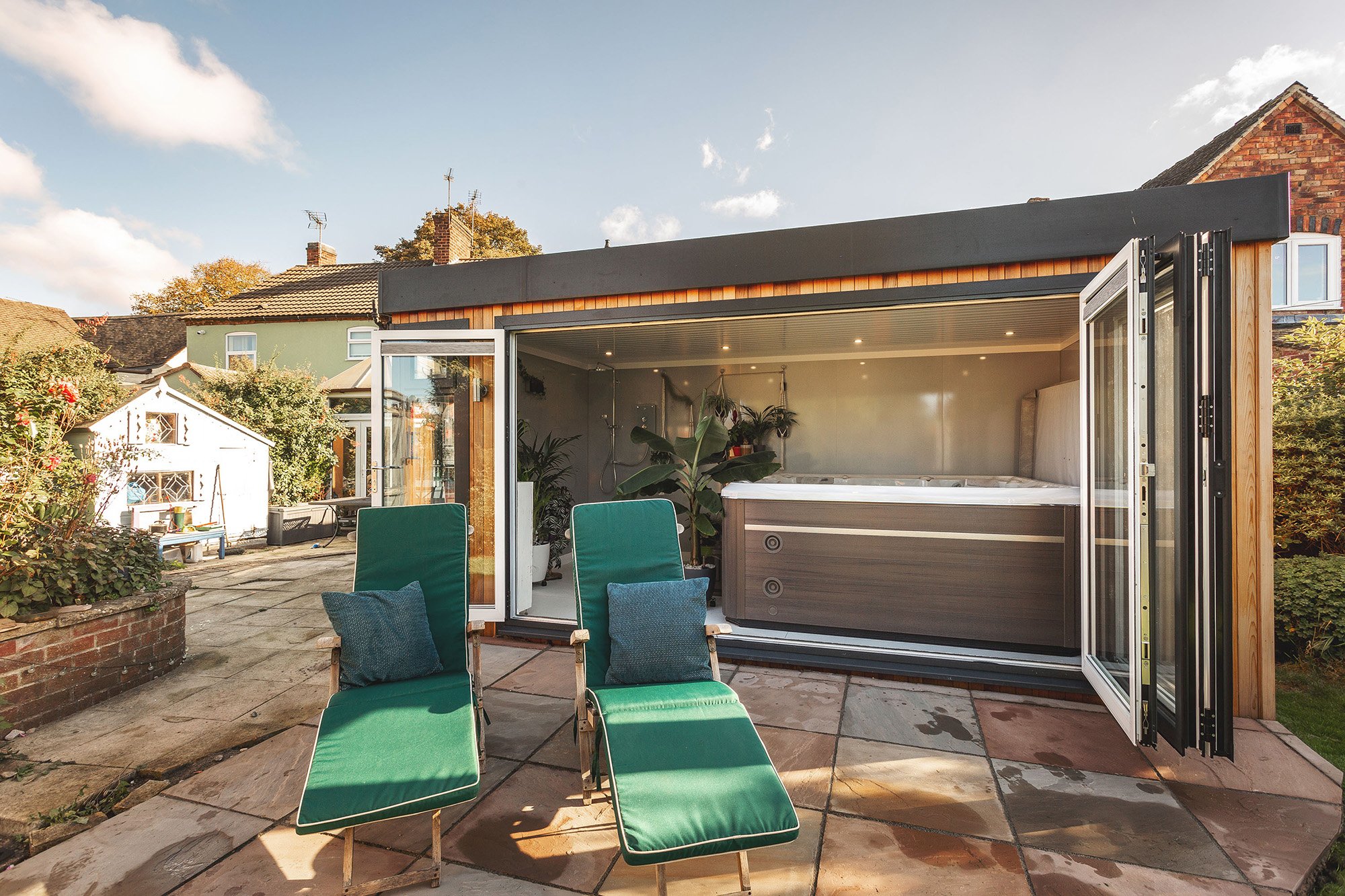 Are garden gyms expensive to build?
The cost of a garden gym will vary depending on the size and specification of the building. However, as a general guide, you can expect to pay between £5,000 and £20,000 for a decent garden gym.
Do I need to be fit to use a garden gym?
No, you don't need to be fit to use a garden gym. In fact, one of the great things about having your own space is that you can take your time and work out at your own pace without feeling like you have to keep up with anyone else.
Why not give us a call today and let us help you plan your perfect garden gym? We'd be more than happy to chat through your ideas and offer our expert advice.