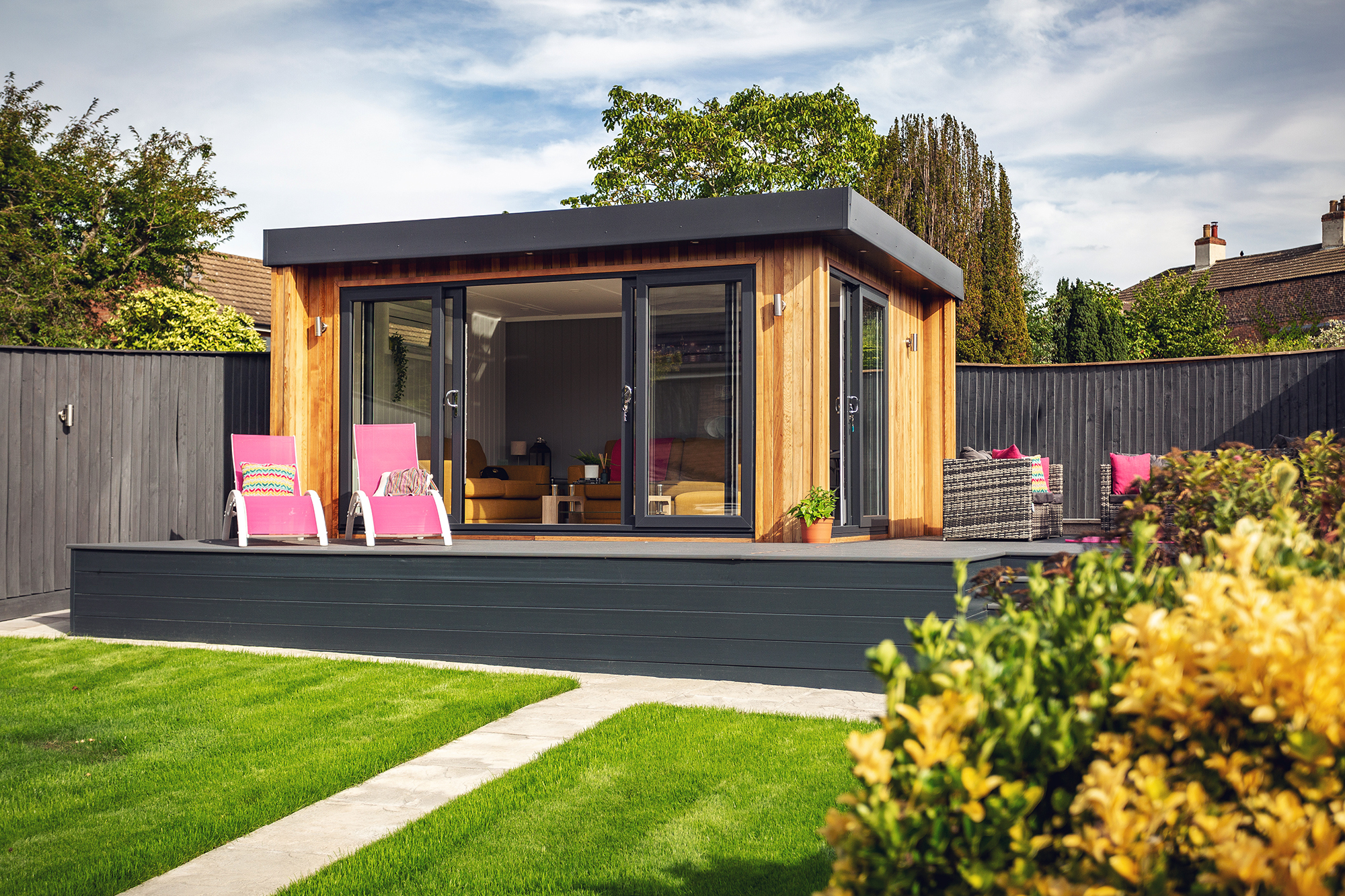 Your Cabin Master Garden Building: The Coolest Hot Property!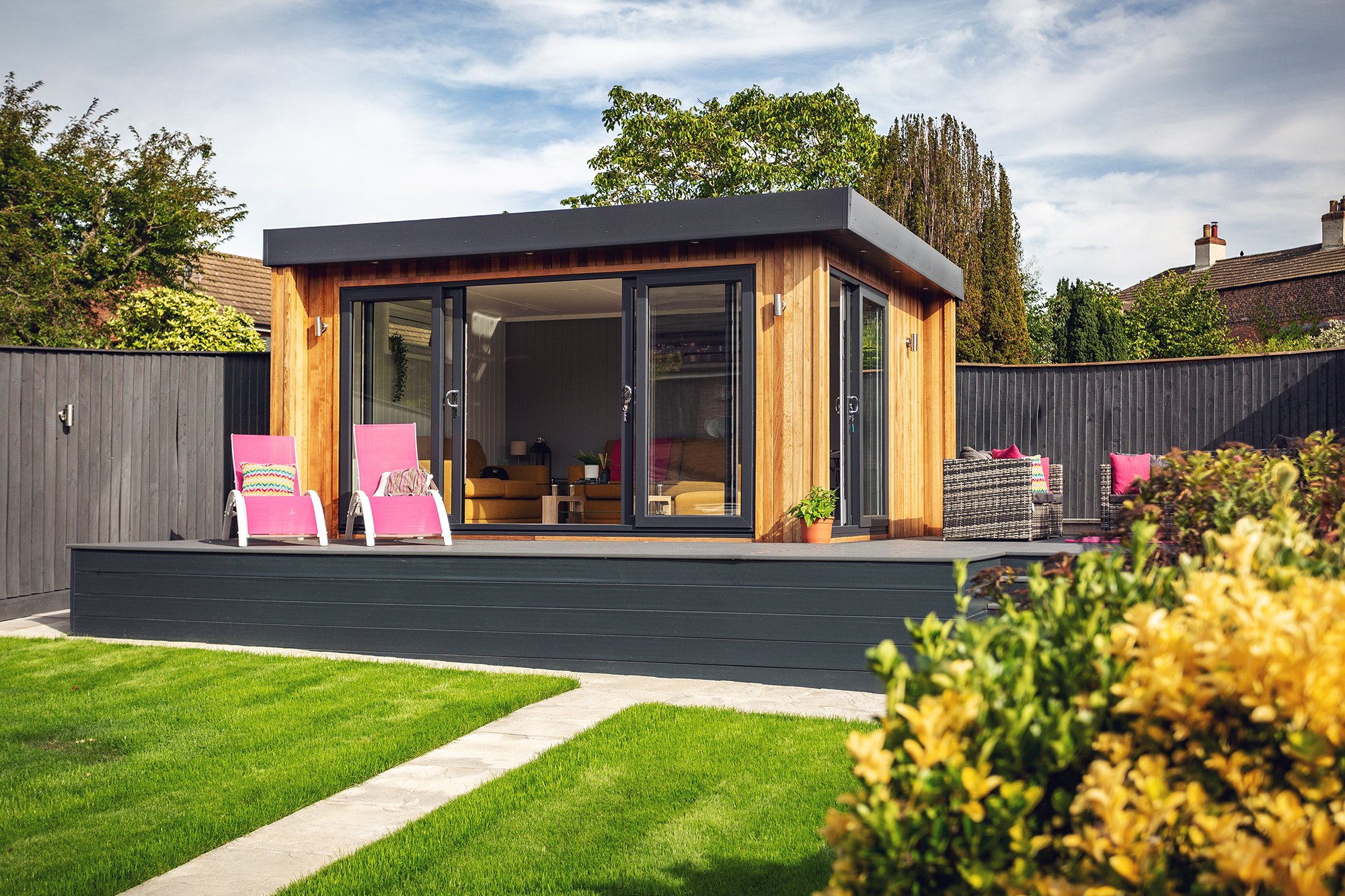 From home gyms to work-from-home office spaces, hair salons to reiki studios, garden bars to the perfect place to indulge your hobbies and crafts – Cabin Master garden buildings have always been the all-weather hangout for owners and their families – a space where family life could happen.
In recent extreme weather, and with spiralling energy costs, Cabin Master buildings have truly been earning their space in our customers' gardens. We caught up with two.

The Heat Is On For Laura And Mitch
Laura and Mitch will save on winter fuel bills thanks to their Cabin Master oasis.
Laura told us, "Mitch and I have been working from home since the start of the pandemic. It had worked out really well, before we had been spending about five hours a day commuting between us, me driving into the Nottingham city centre, him on the train to London – so working from home meant more quality time with the family. Plus, if you remember how lovely the weather was that summer, we both spent a lot of time working on the patio, or at the bottom of the garden where the trees gave some nice shade."
After the lockdowns Laura and Mitch were both able to negotiate a hybrid approach which still meant most weeks they were home for at least four, (and some weeks even all five), days.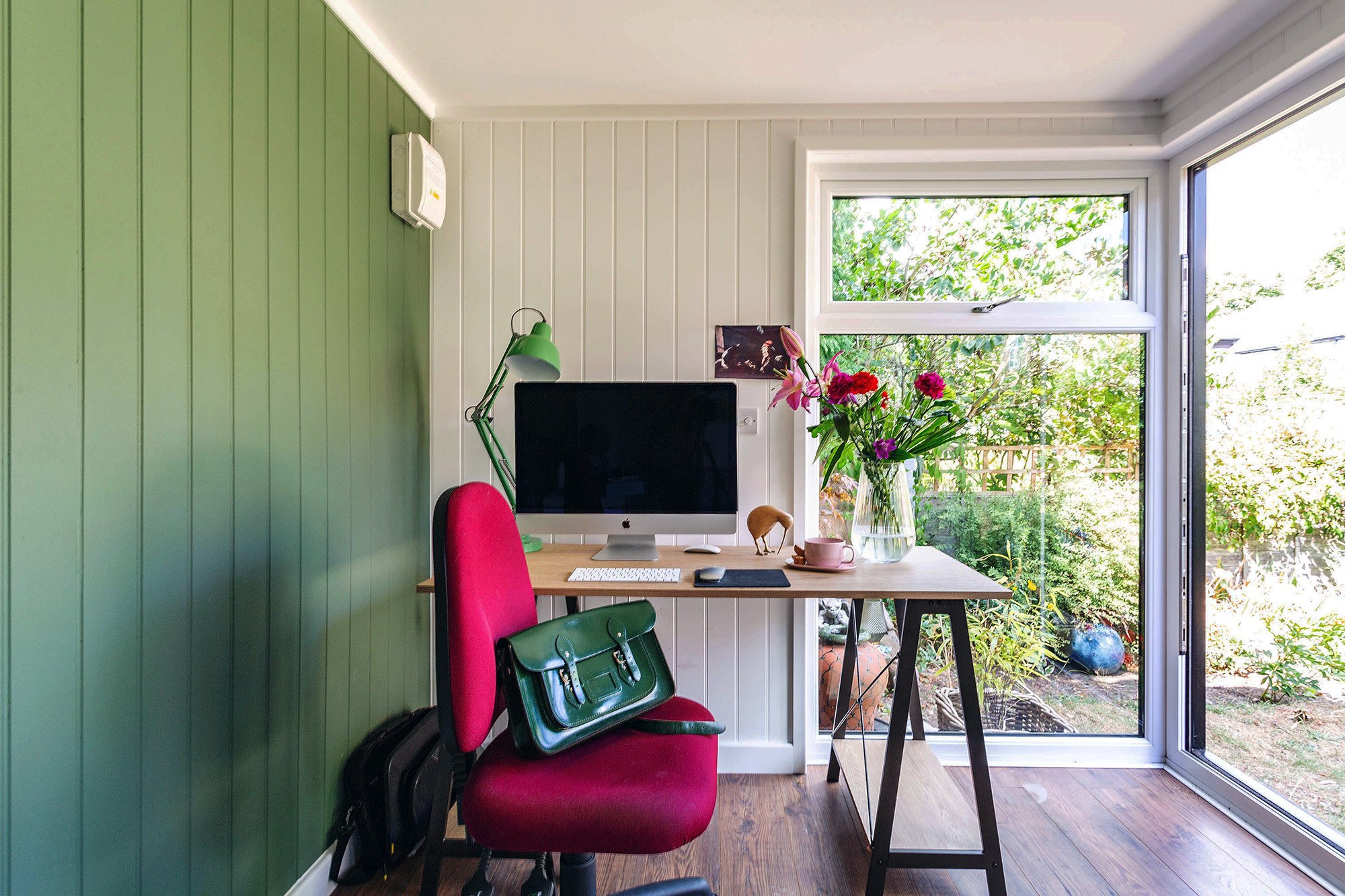 "During that first winter we noticed a considerable increase in our fuel bills," says Mitch, "With no real allowance from either of our workplaces this had started to eat into the money we were saving by not commuting."
Laura added, "And we had plans for those savings! We wanted to install a family room in the garden."
"Long story short, after significant research, I think Mitch checked out every website and we must have visited every garden centre with a log cabin sales site for miles around, we opted for a Cabin Master. We'd visited their show site and the building with the bar, and the amazing cladding, huge double-glazed door and heater sold itself to us!" (That building is AMAZING! You should come and see! ~ Ed)
Mitch explained, "During the summer we had the garden cabin installed as a family room, to extend the summer more than anything. We get some amazing sunsets at the end of summer, but it can be a little chilly as the sun drops so having an indoor space at the bottom of the garden was the perfect solution. You could watch the sun go down from the decking, if there was a chilly breeze you could retreat into the cabin. If it got a touch cooler still you could close the double-glazed doors and for when it got properly cold, we even had a remote-control heater installed!"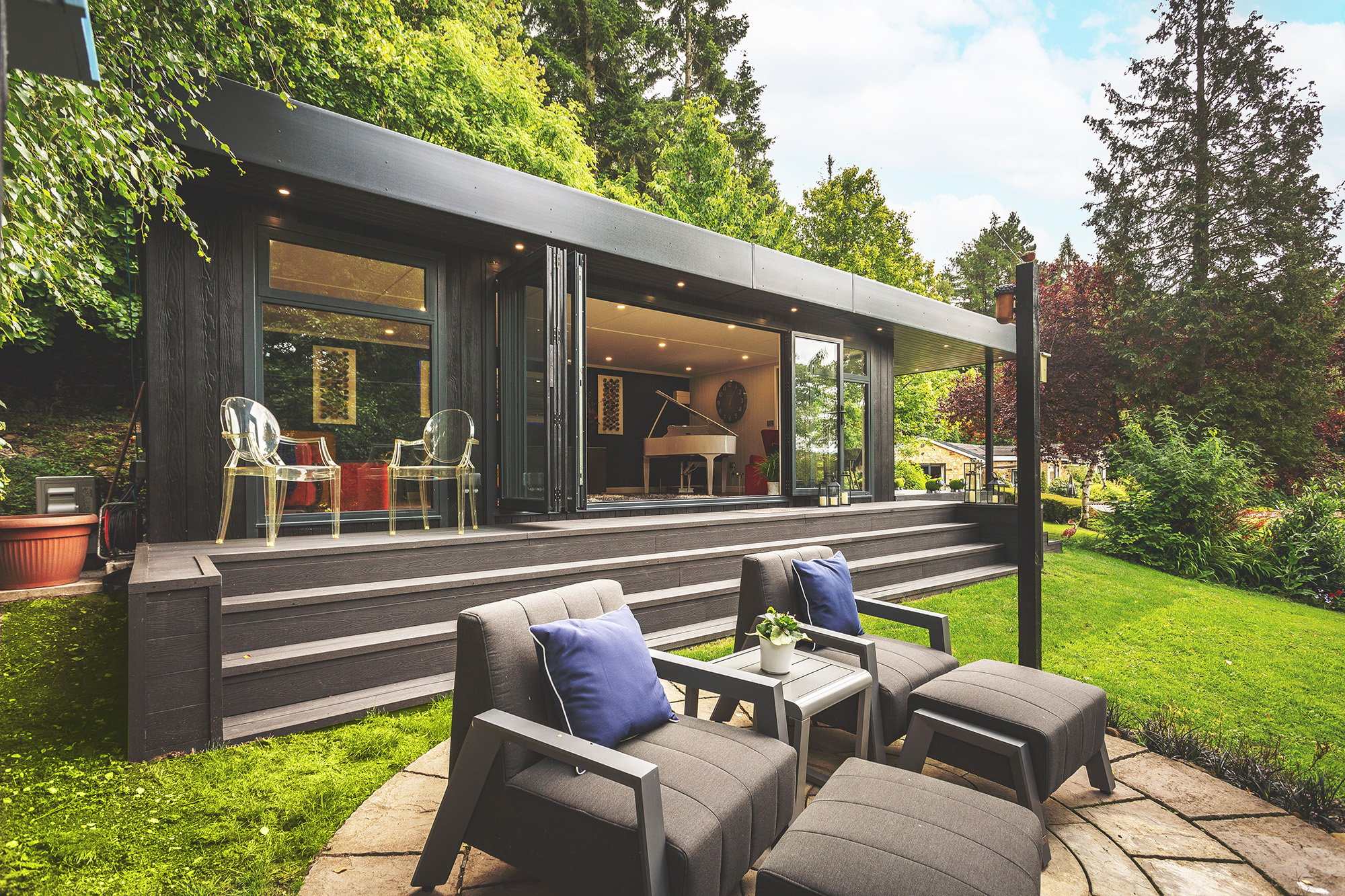 "Obviously, this summer there's been a lot of talk about this winter's fuel bills being the highest ever and still with no meaningful contribution from our employers we questioned the sustainability of working from home. Would it be better to get back to the office five days a week? This way at least we'd be warm and wouldn't have to heat the whole house all day – work could keep us warm. Neither of us wanted to but if this year's winter energy bills were going to make last year look cheap - something might have to give," Laura told us.
"I had a eureka moment!" she added.
"We'd already worked out in the cabin during summer, the bar doubling as a great desk we could both comfortably work on. The Wifi from the house reached the garden, maybe the remote control for the heater would too. What if we worked from the cabin during winter? Surely heating the cabin would be cheaper than running the central heating all day in the house!"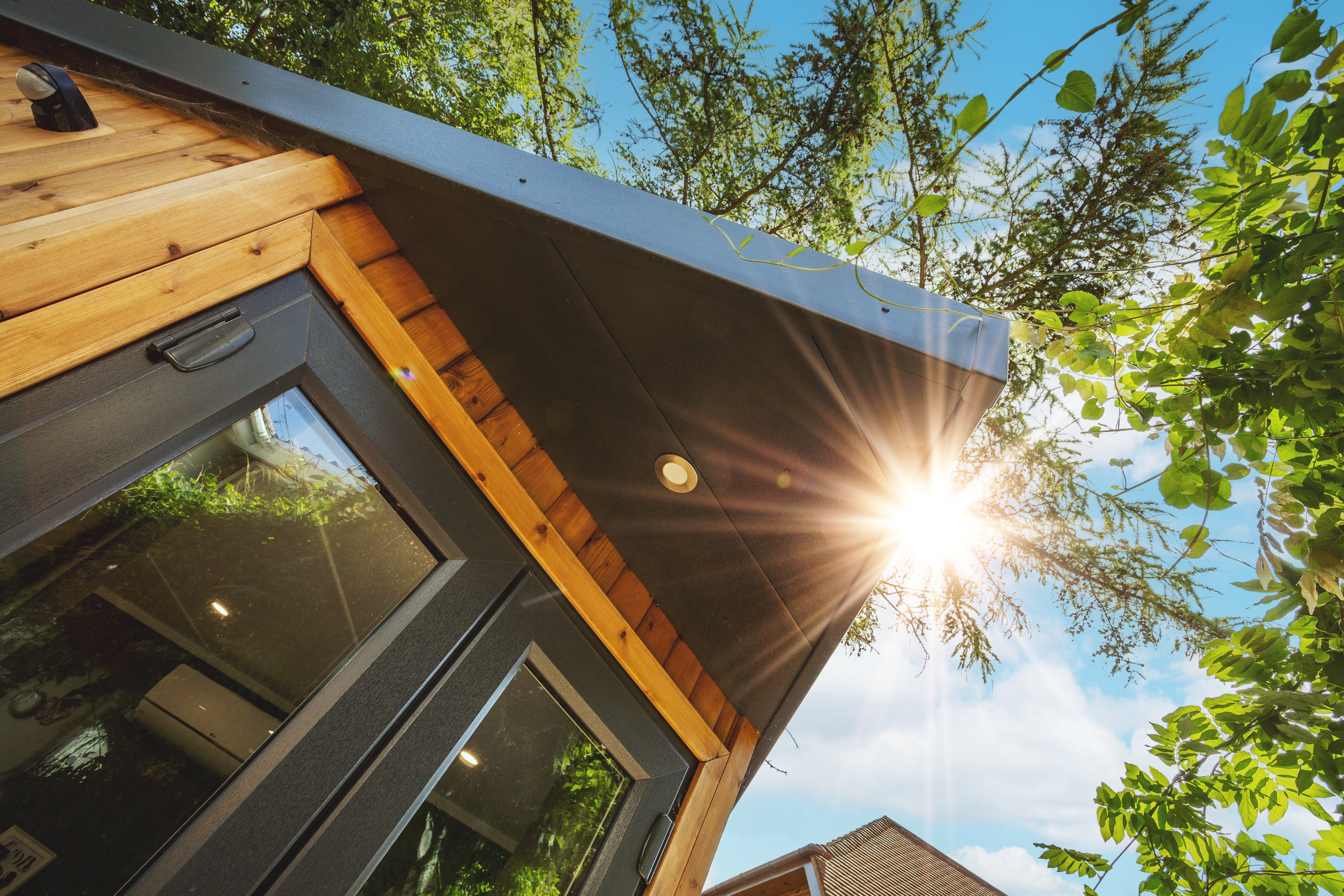 "We decided to try it one morning, there was a chill in the air one Friday first thing and a grass frost, so we agreed this was the day. I flicked on the heating in the cabin before jumping in the shower, and by the time I got out there, the cabin was toasty warm. In honesty, by the time Mitch had returned from the school run it was so warm in there we had to open the double-glazed doors! But it left us in no doubt! This winter work from home was going to be work from the cabin! Heating the cabin and not the entire house all day will hopefully make a difference!"
James And Kerry Are Cool Customers
"Our cabin has been the centre of attention in the garden every summer since it was installed but this year (Summer 2022), it has taken that to the next level!" said Cabin Master customer Kerry.
"During the heatwaves, our house just would not cool down! It was like sleeping in a kiln – or not sleeping as was more usually the case! We just about made it through the first two heatwaves and then we heard that a third, longer, hot spell was on the way – we knew we needed a plan B," Kerry told us.
In 2022, the United Kingdom experienced three heatwaves: the first lasted for three days in June, the second for three days in July, and the third for six days in August. It was, you'll remember, unbearable at times.
"We actually looked forward to going to work for the air conditioning and would find ourselves lingering in shops for the same reason. James joked (I think) about booking ourselves into a hotel for the hottest nights."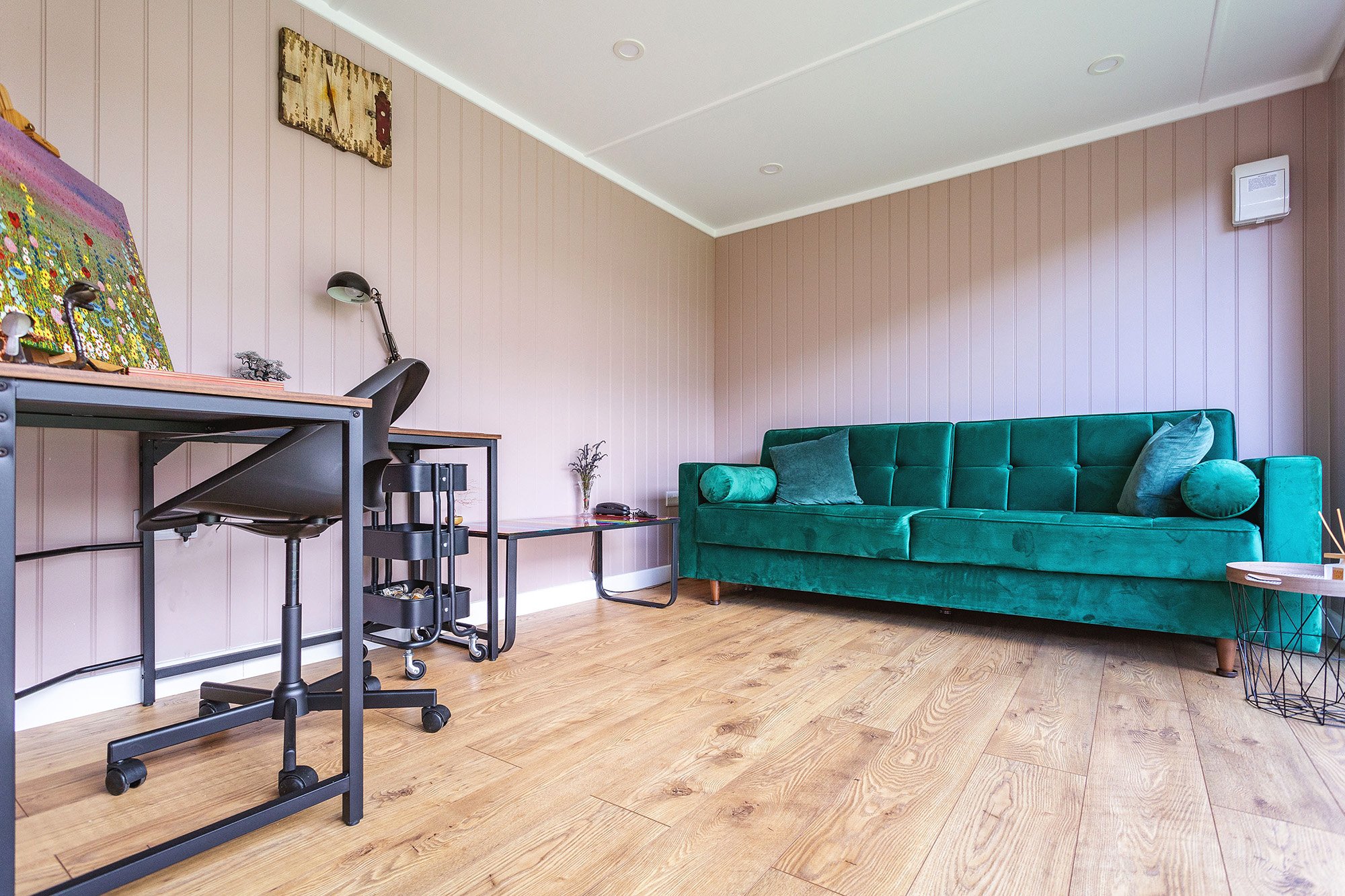 "It was just before the July heatwave, the one when the record temperature was recorded, that we decided enough was enough, we'd toyed with buying in air-con, but it was expensive to do the whole house and there was something of a shortage of units- so we had to decide which room was best to keep cool. We were mostly barbecuing by this point and spending most of our time on the decking around the garden cabin, so we agreed on the bedroom. It was only when we'd bought the air conditioning unit that we realised we'd overlooked the perfect place to spend the nights – the garden room!!"
James adds, "We ordered a sofa bed online, and by the next day, both the sofa and the aircon were in place in the cabin! The double-glazed windows and doors and the cladded walls gave us a really cool, comfortable space - and no more sleepless nights."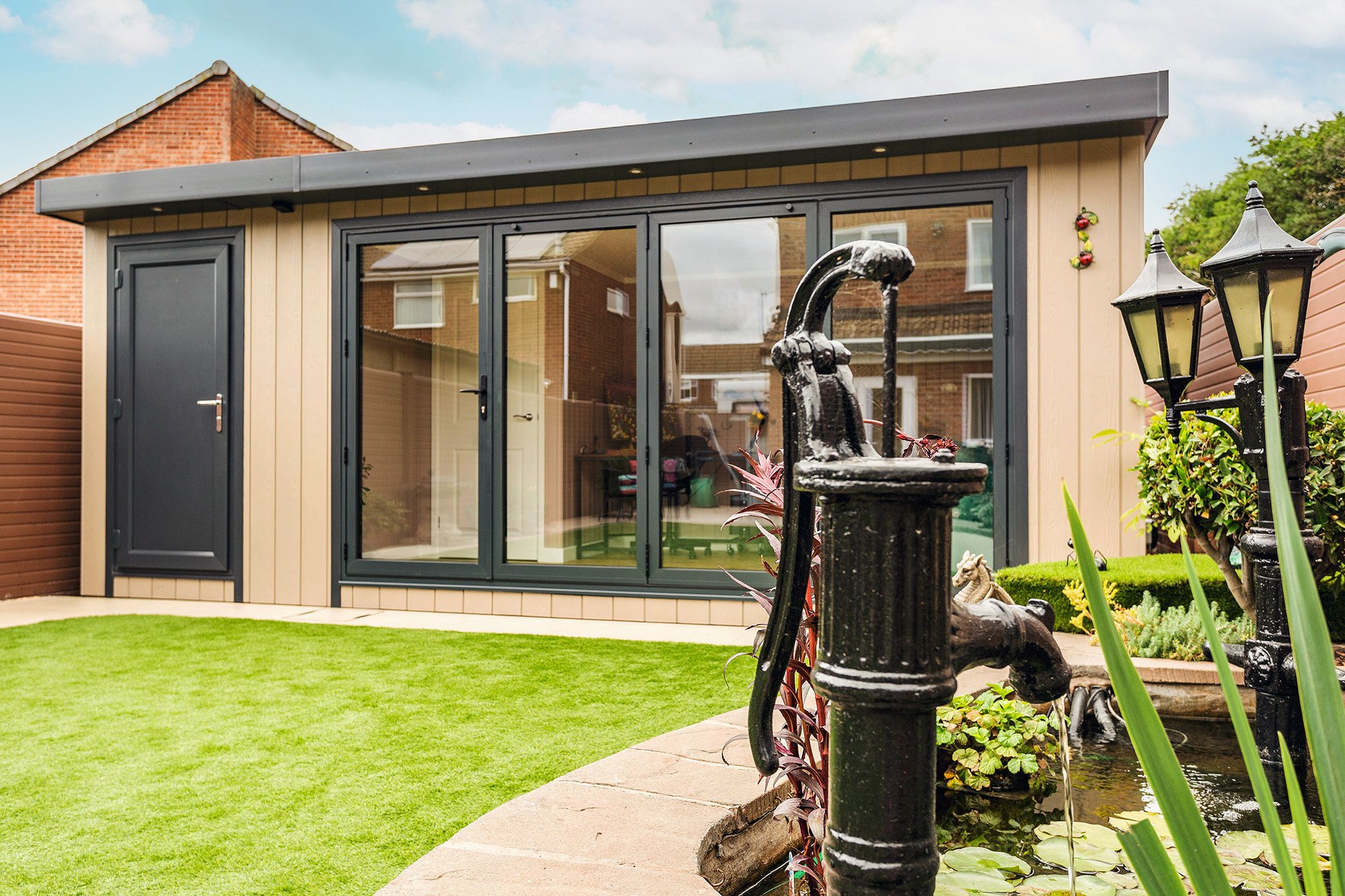 On 19 July, a temperature of 40.3 °C (104.5 °F) was recorded at Coningsby, Lincolnshire, about half an hour from James and Kerry's Cabin Master – it was the hottest temperature ever recorded in the United Kingdom. James and Kerry slept like logs, which is appropriate, given they were in a timber building.
Elsewhere, rail operators advised against travelling as rails were likely to buckle, airports suspended flights due to the runway tarmac melting, the London Fire Brigade reported a more than 700% increase in grassland and wildland fires, a corner shop in Scunthorpe lost about £1,000 of stock when all its chocolate melted, and gardeners said they were able to grow plants they'd usually struggle to in the UK - like figs and avocados - Kerry and James were cool as cucumbers!
Like Living In A Flask
A customer once remarked that their Cabin Master was like a flask – keeping the heat in and the cold out or keeping the heat out and the cool in – depending on the time of year.
It's a nice metaphor and this is how it works.
Cabin Master walls are insulated to ensure that the garden room is kept warm in the winter and then cool in the summer. Wallboards are also used on inner walls to help with insulation. The walls are constructed from structural C16 timber and are fully insulated with Kingspan insulation boards (or similar). The interior walls are then lined with FSC Neatmatch Moisture Resistant MDF interior wallboard, ready to be decorated.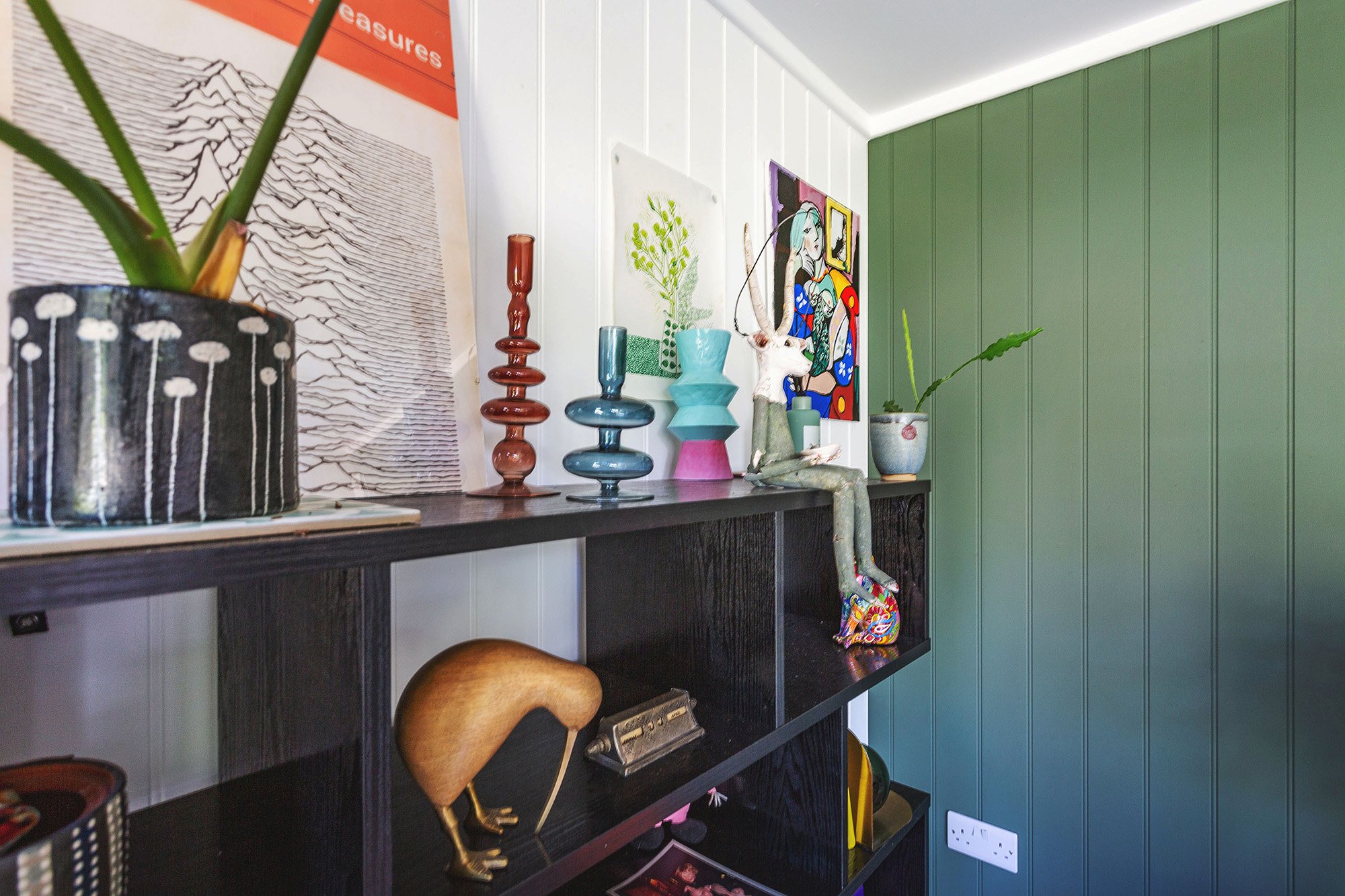 Why Are Cabin Master Different From Other Companies?
At Cabin Master, we manufacture your cabin to suit you and your demands, dreams and desires! You're not buying a pre-designed building, mass-produced using pre-fab panels, at Cabin Master we design, manufacture and install all our own buildings based on your ideal concept, ensuring you are 100% happy from start to finish. A free site survey & free design drawings are included with all our buildings, ensuring we create the space you envisioned.
We even install the base, paint the cabin inside and install all of the internal electrics as standard.
What's more, we don't just fit the building and wave goodbye!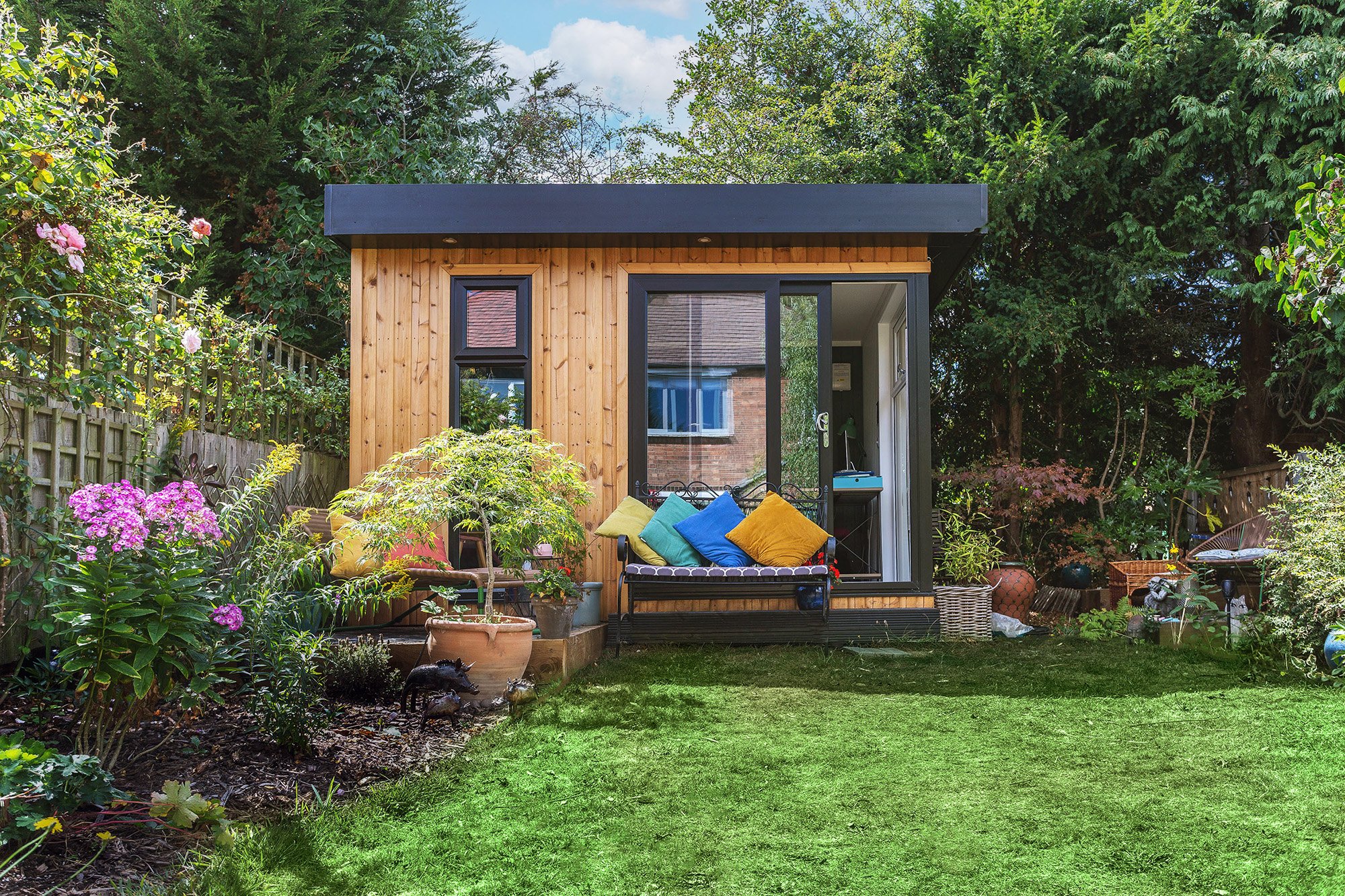 You'll benefit from a 10-year guarantee on all of our buildings, we're that confident about how great they are. Our skilled cabin builders know all there is to know when it comes to garden rooms, they're Cabin Master employees rather than hiring in handymen… our buildings are all they work on, so they know them inside and out! Cabin Master customer service is highly and consistently praised by new owners, who know they can get in touch with us at any point which makes the whole process much smoother and hassle-free for them.
Plus, we can give you advice and supply a heater/air conditioning unit - so you and your family are ready for the next cold snap or heatwave.
Visit our large open-air show site (open 10am - 4pm, & days a week), situated on the A52 between Nottingham and Derby, just off junction 25 on the M1. Here you'll find over 25 dressed buildings on display, including Offices, Gyms and Cabins, you'll be spoilt for choice! Or call us at 0115 932 8888 to find out more.
Sources:
https://www.Cabin Master.co.uk/show-site
https://en.wikipedia.org/wiki/2022_United_Kingdom_heat_waves