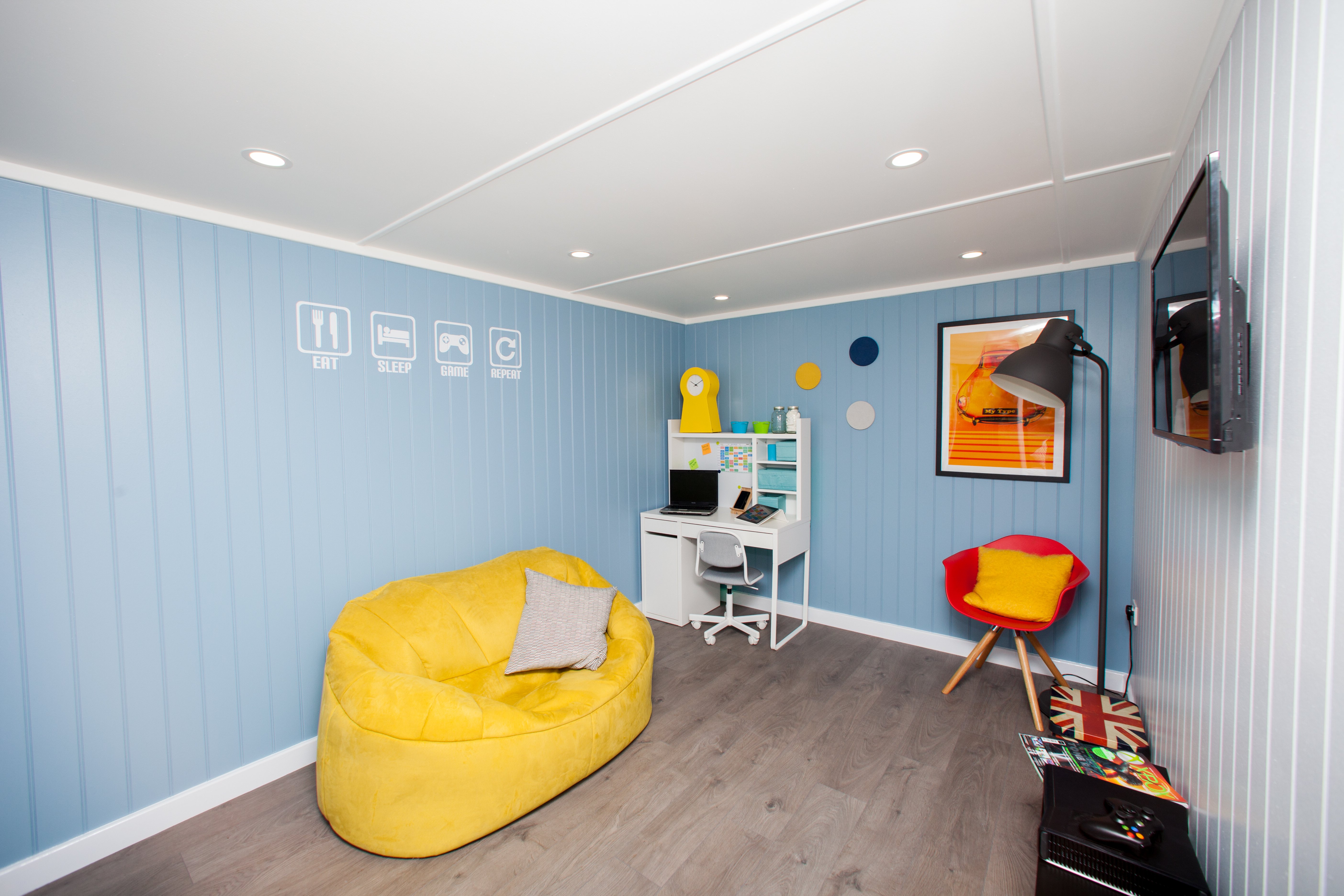 Build A Safe & Exciting Garden Playroom For Your Children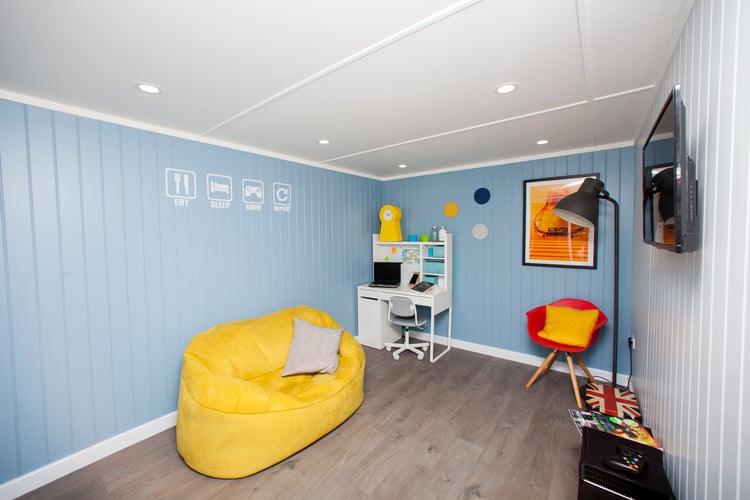 You love your children, of course, but every now and then wouldn't it be wonderful to be able to 'contain' them in a safe haven in your home while you get the chance to 'do your own thing'? If this scenario appeals then we have just the solution here at Cabin Master. It's called a garden playroom and it's becoming increasingly popular – especially amongst families who need an extra room but simply can't afford to move right now, or to get a home extension built.
Garden Playrooms: A Fraction Of The Cost Of A Home Extension
A garden playroom can be just as efficient and luxurious as an extension (maybe even more so) and yet it comes at a fraction of the price (starting at under £10k). That's because garden rooms tend to be pre-fabricated (ie built off-site) making them less expensive to produce in the first place and certainly a lot quicker to construct.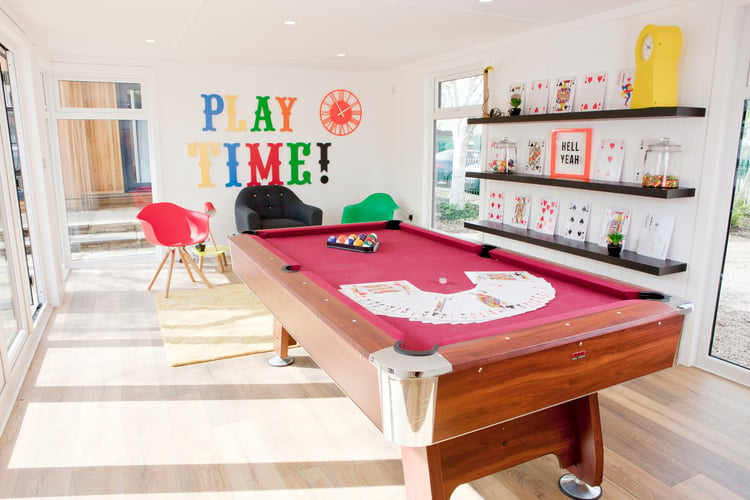 How Your Garden Playroom Can Adapt To Your Family's Needs
They can also be customised to suit your children's growing needs and interests. An art corner for pre-teens could have tiled or easy-clean laminate flooring, for instance, while infants would no doubt appreciate a carpeted story telling area with big, comfortable cushions. And as your little darlings embrace their teenage years you have no need to worry as all our rooms are insulated and very quiet for when they get their friends round for a 'jamming session' or to watch the latest blockbuster release at full-volume in their newly-adapted and 'grown up' cinema room.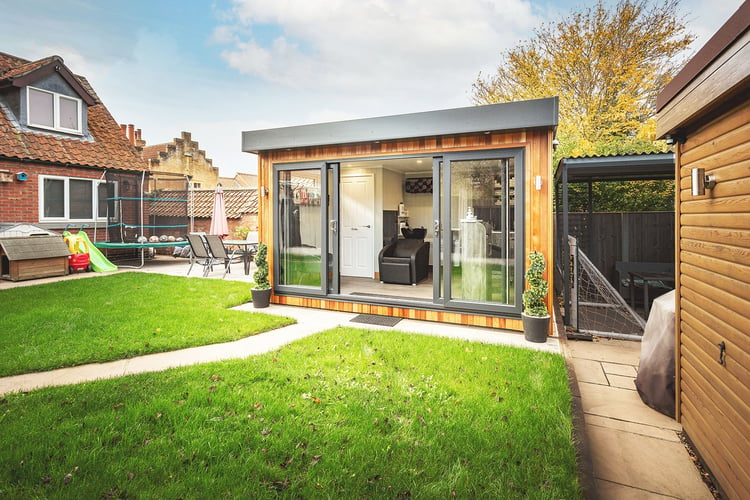 If you're at all worried about leaving children in a room in the back garden then don't be. You can install security equipment, allowing you to monitor exactly what your children are up to at any given point in the day (or night) and we can also advise on a top notch security system.
Meanwhile having bi-folding glass doors means you can see at a glance what's going on inside the garden playroom from any back window or door in your house.
One of the best bits about having a garden playroom lots of parents tell us, if the fact that all the kids playthings and 'mess' can be contained in the one area. That means the rest of the house is blissfully tidy and which in itself can be a great antidote to all the noise and running around that kids do.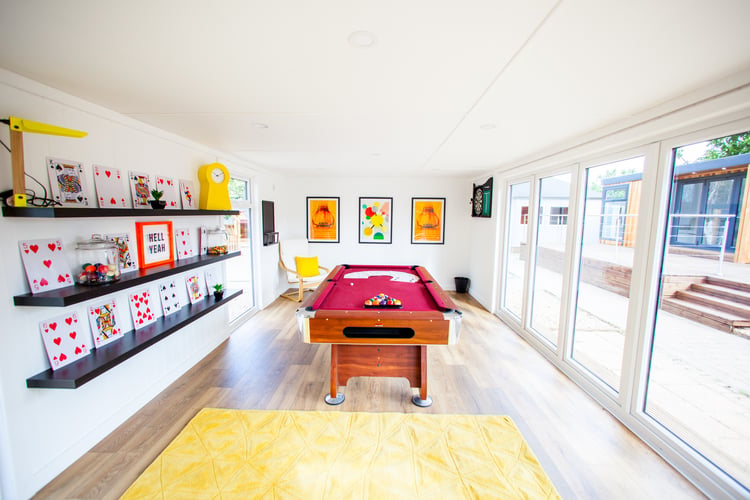 Start Your Own Childminding Business With A Garden Playroom
It's been done before plenty of times and no doubt will continue to be a way in which registered child minders can set up business for themselves – by installing a large garden playroom in the back of their property. That's because our garden playrooms can be as large as 30m² and also contain a small kitchen area and toilet.
Because we make all our own structural frames they are also incredibly cosy as well as energy efficient.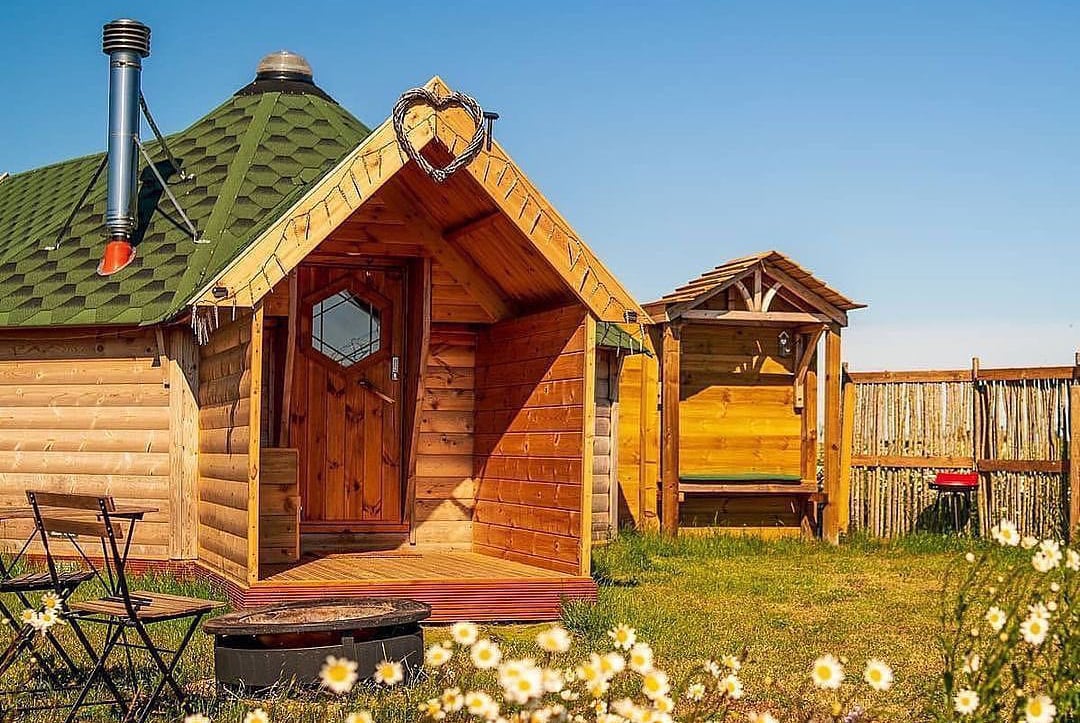 How To Get Your Own Cabin Master Garden Playroom
If indeed you have been tempted to invest in a garden playroom then take a bit time to work out exactly what you need and how much you would like to spend on it in terms of finish, size etc. There is plenty of information to help you in our downloadable free e-book: The Ultimate Guide to Garden Rooms.
You can get an idea of different customisations by taking a look at the finished garden rooms on our website www.cabinmaster.co.uk. These range from simple garden rooms to full sized school rooms and nurseries! To find out more, why not book us to come out and give you a free consultation at your home (that way we can monitor the size of your garden and work out the best place to locate a garden room so that you get maximum benefit from it)? Make your appointment by phone on 0115 932 8888, or send a message by clicking here.