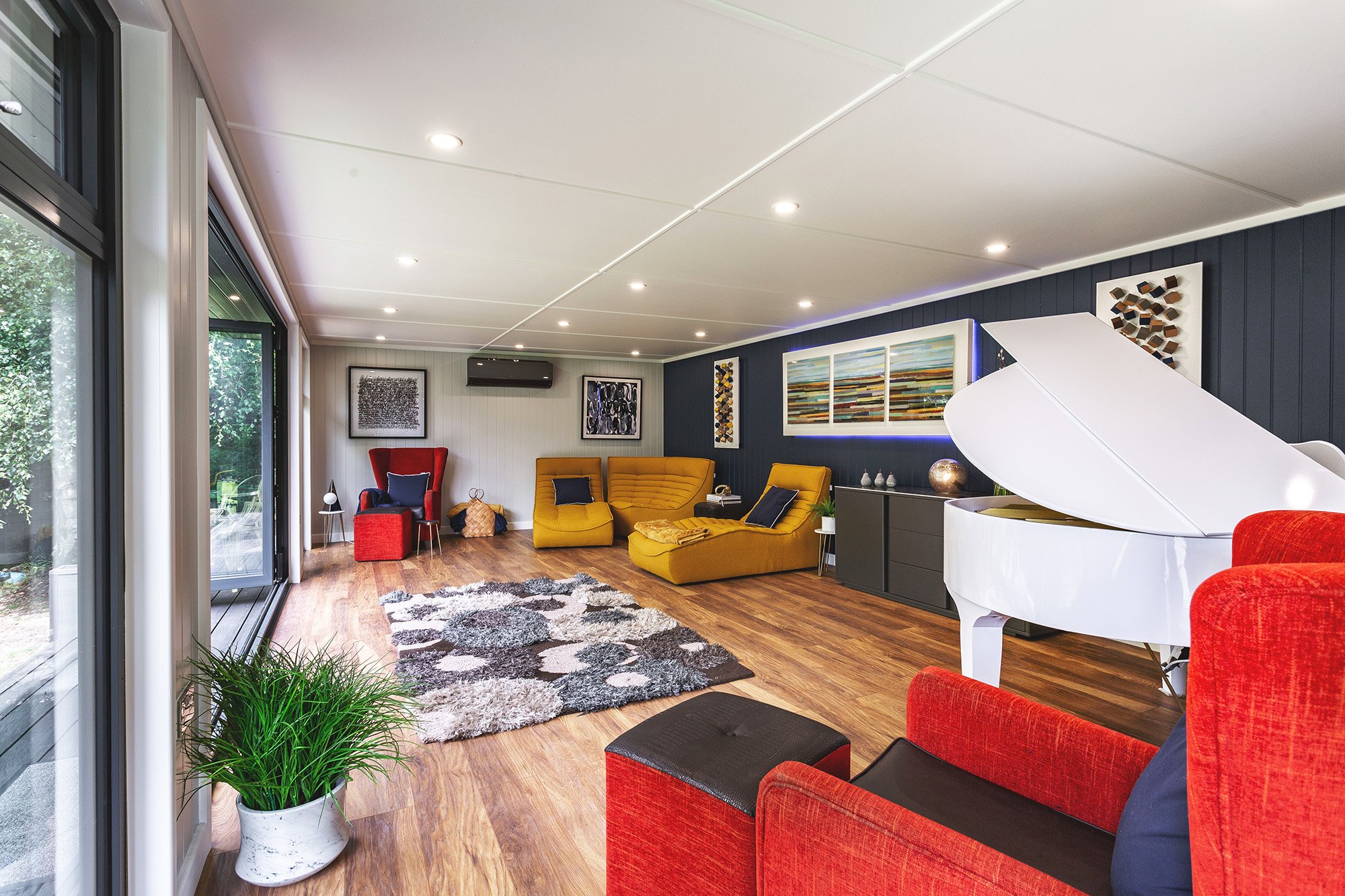 6 Inventive Garden Room Interior Design Ideas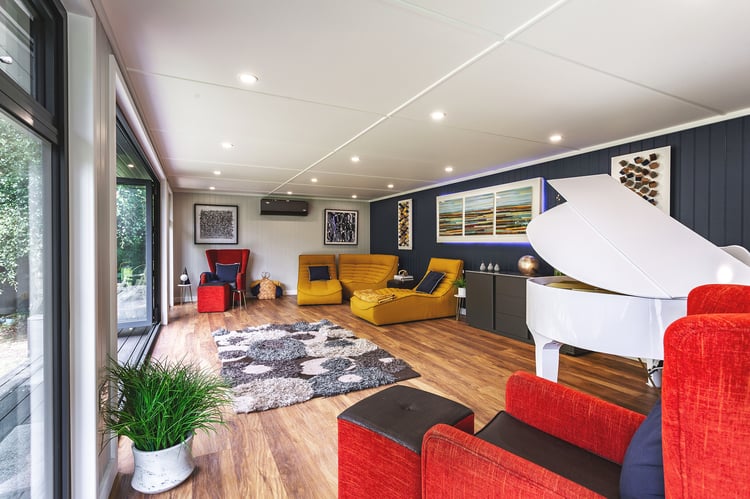 Whether you are designing a unique custom garden room, or making a prefabricated space personalised and incredible, you have a lot of design options. You can look at your new garden room as a base that you can build from, and make the most out of your new space.
The options are limitless, and you can have the kind of comfortable space that you have been dreaming of. Creating a garden room should be a lot of fun, and Cabin Master will help you to get exactly what you want.
Have a look through some of the ideas that you can use to make your new garden room a little bit more personalised. In addition to adding a lot of functionality, all these ideas will help you carve out your individual style.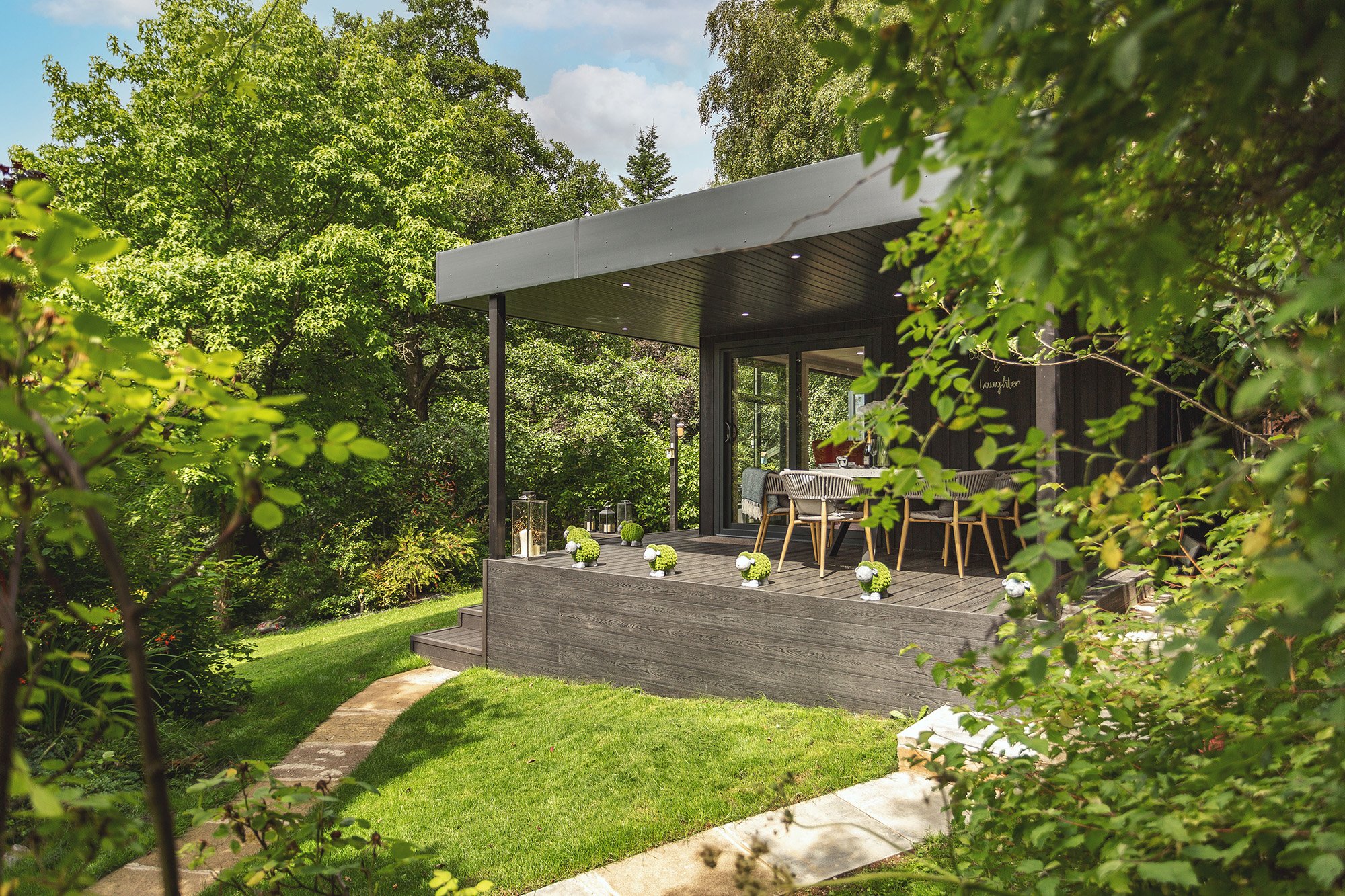 1) Add A Veranda
One way to take advantage of your new garden room is to cover a space outside of the entrance. A porch can be added if you want, but just putting up a simple trellis can add so much character to your garden room. Planting grapes, clematis or wisteria will give you great shade in the summertime, and the plants themselves add an unmistakable style.
If you want to spend a bit more, you can add a full veranda to your garden room. You can choose what kind of roof you like, and whether you would prefer a paved, wood decking, or tile floor. There is no wrong way to design your garden room, and you should do whatever feels right for you. Adding a veranda will give you a lot more space, and the cost per square meter is much lower than an enclosed space.

2) Use Bifold Doors
If you want to have a seamless flow between your garden and new space, using bifold doors is a great option. Even when they are closed, bifold doors let a lot of light into your garden room. You will have an incredible view of your garden, and when the weather warms up, you can have an unparalleled open air experience.
Bifold doors make your garden room seem a lot bigger, and the view that they give you can't be matched. If you work hard to make your garden beautiful, get some bifold doors that let you enjoy all of your efforts. They also allow you to have plants inside of your garden room, and this will give you a wonderful lush feeling.
3) Install a Log Burner
A great, inexpensive way to add a lot of style to your garden room is with a log burner. They're so simple to install, but really do add a lot of style and a lovely, cosy focal point to your room, especially if you're intending to use your room to entertain in. You can opt for a faux version or the real thing - with the former, you can opt to use the fire effect to create the look of burning coals without having to actually light the fire. We think they look great & definitely add an ambience to your space!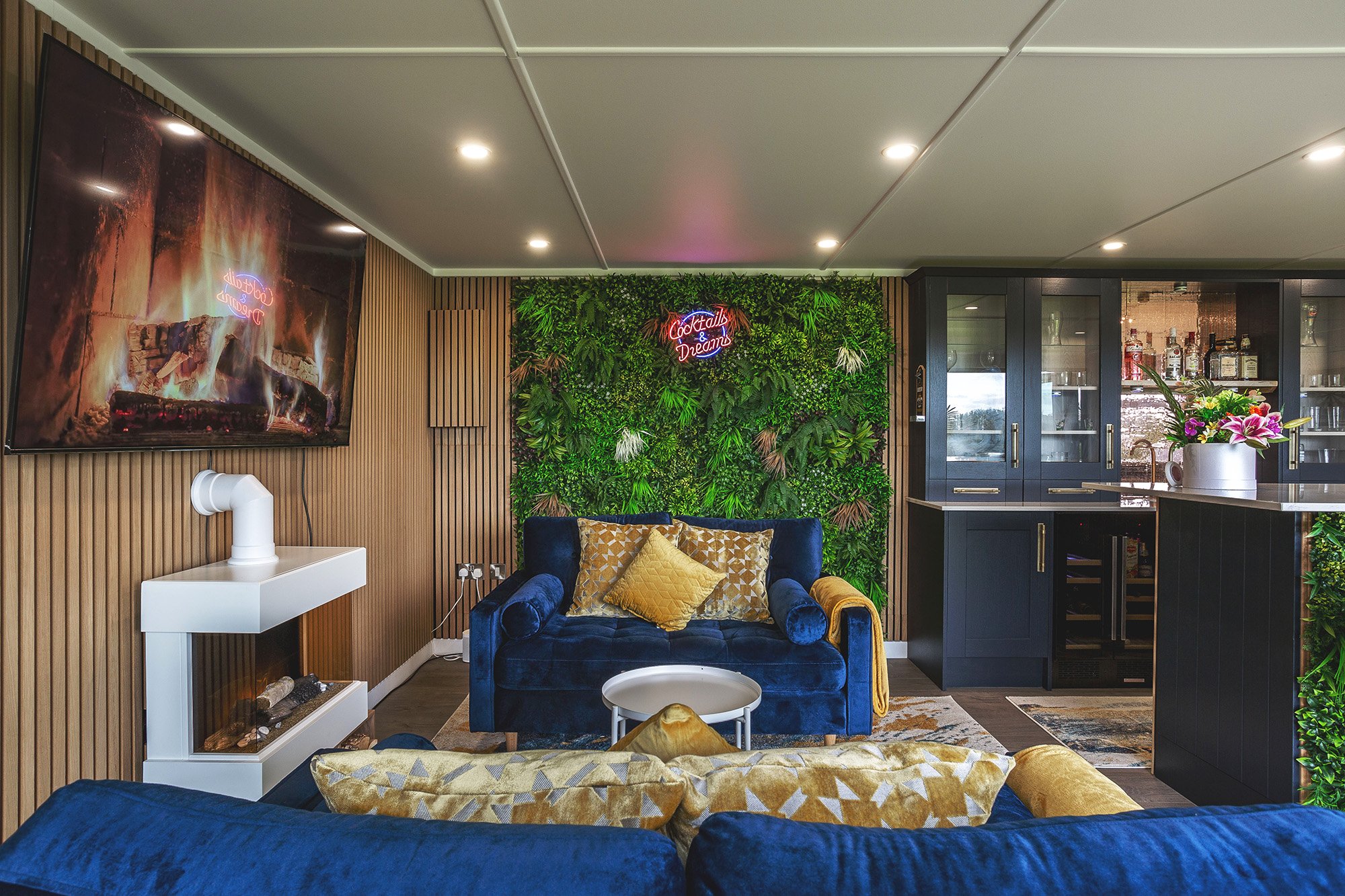 4) Install Lighting For Night-time
Using lighting accents in your garden room will add a lot of style to your property. After making the investment in a smart looking garden room, you may as well show it off with some energy efficient outdoor lighting. There are a multitude of options available. If you are having a hard time picturing the right way to use lighting, talk to the design team at Cabin Master. We have a lot of experience when it comes to using decorative lighting to make your new garden room into a showpiece.

5) Create A Dining Room
For larger garden rooms the addition of a dining table can be a great idea. The table and chairs can be multi-purpose, and you can use it for anything you like. If you have a BBQ set up outside, a nice table and chairs will make al fresco eating convenient and easy.
You don't have to have a kitchen built into your garden room to serve dinner in it, and the ambiance will be great for any occasion. A garden room is a perfect place to have a Sunday brunch, and with all the light flooding in you will think you are in a chic bistro.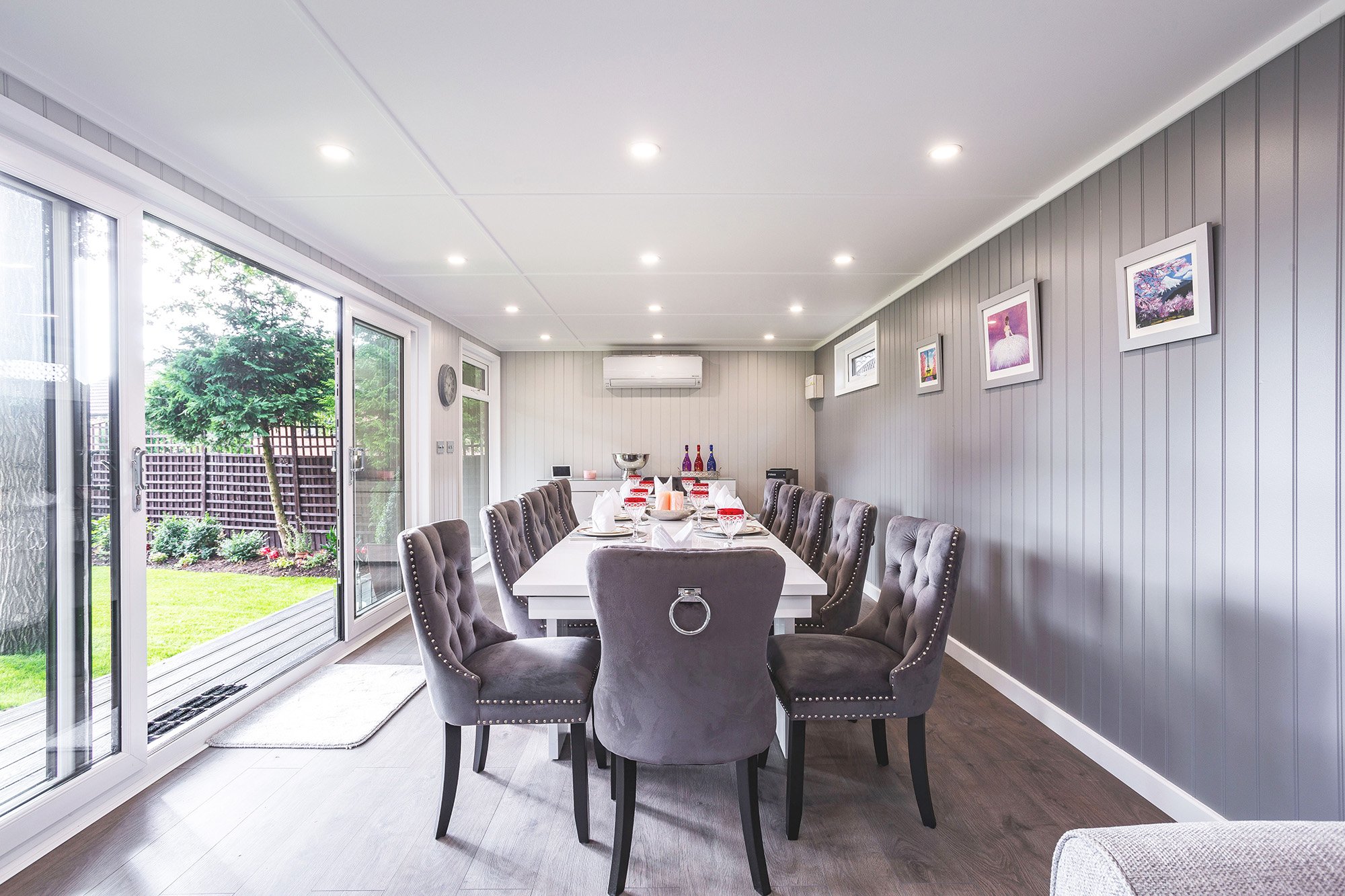 6) Enjoy A Hot Tub
A favourite addition to garden rooms is a hot tub, and we know just how to set up a perfect space for one. A Cabin Master garden room is perfect for relaxing in when the weather isn't perfect, and a hot tub will make it wonderful for the cold winter months. Our garden rooms are fully insulated, so keeping them nice and warm is easy. Once you get into the hot tub, you will forget how drab and damp it is outside!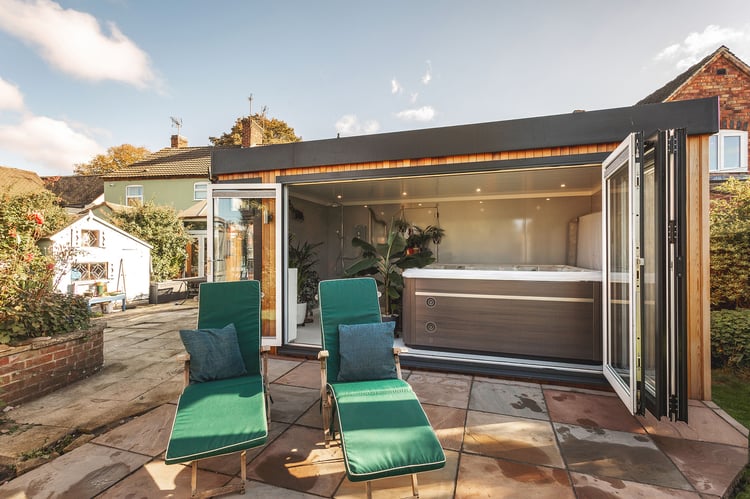 Make It Yours
At Cabin Master, we can do just about anything you want when it comes to your new garden room. We want you to enjoy the investment you are making, and that is why we take the time to create some of the most attractive and versatile garden rooms on the market. Once installed, you will be able to enjoy your new space for years to come. If you have any questions, or want to discuss your plans, please contact us. We are here to help, and will do our best to make your vision a reality.
Interested in finding more about garden rooms but don't know where to start? Get hold of a copy of our Ultimate Guide To Garden Rooms. It contains all you need to know to make an informed decision about whether a garden room is right for you. And best of all; it's free, so click here to download your copy today.