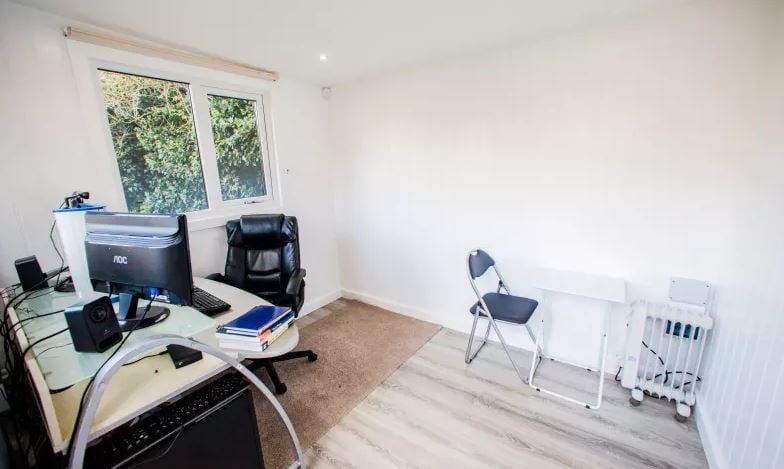 Garden Office Build Costs – How Much Should You Spend?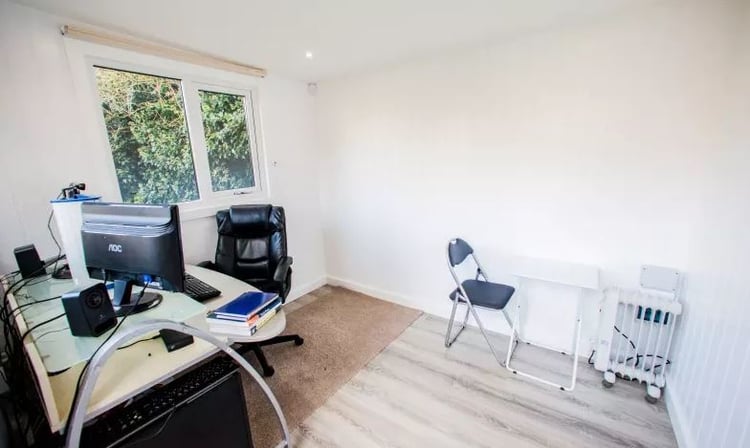 Having your own working space can really help you organise your at-home work life, and clear all of your professional things out of the house. At Cabin Master we think that just about anyone can benefit from getting into a garden office, and that goes for those of you who don't have an unlimited budget to spend.
If you are working from home, looking into an affordable garden office is a great idea. Keep in mind that the costs you pay when you buy a garden office save you from having to pay to rent office space, and commute. So you should always think in terms of overall value, rather than simply of upfront costs. Besides, most quality garden room designers offer finance deals on many of their models. At Cabin Master we offer a range of low cost finance options on our garden rooms, so you don't have to shell out a large sum upfront or borrow at a higher rate elsewhere.
Quality is key, so know what you are getting for your money. Set a realistic budget; it doesn't have to be a king's ransom, but there are certain things you would be wise not to compromise on.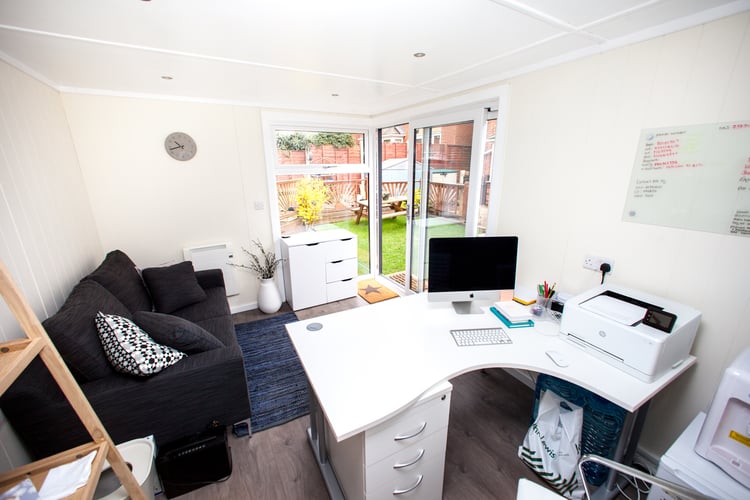 How Low Is Too Low?
The good news for people who need to get into a garden office on a reasonable budget is that you can do it. We have fantastic, compact models available that are still made from great materials, and will last just as well as our larger models. You are looking at around £10k – less than the average price of a new car – for a functional and comfortable garden office built to your specs.
However, be careful of going too cheap. There are plenty of 'out of the box' garden rooms out there that you can pick up for anything from £400 to £5,000. We recommend you steer clear of these. A cheap garden office will be smaller and have less features. When you look at the differences between a lower quality garden office and a more expensive one the first thing that jumps out is the Spartan appearance.
Because of the lower price you will not be able to customise features – such as window placement – to best fit the space you have available, and the overall size will be on par with your spending. A bargain basement garden office can still be a workable space at a pinch, though you may find it limiting over time. Some are little better than sheds, and have very little usability in winter due to their lack of insulation.
One of the perceived benefits of buying a less expensive garden office is that it will have a much smaller footprint in your property. Some homeowners are limited by space as much as budget, so a smaller space may be an asset to you. But you have to be careful that no matter the price you are getting a quality office, and never a cheap one. Cheaper models won't be as secure, nor will they stand up to the weather year after year like ours will. Even if you only need a small office at the end of your garden, it is still worth paying just a bit more to ensure the best quality, and to take advantage of inclusive services such as a base and set up. More on this below.
A Cabin Master garden office offers great value for money that will stand the test of time. The one thing you never want to do is compromise on quality. When you buy a cheap office, you are opening yourself up to headaches down the line, and this is something we recommend against. At Cabin Master we make sure you don't pay through the nose, but you get what you pay for: an all-inclusive service encompassing custom design, materials, build and installation.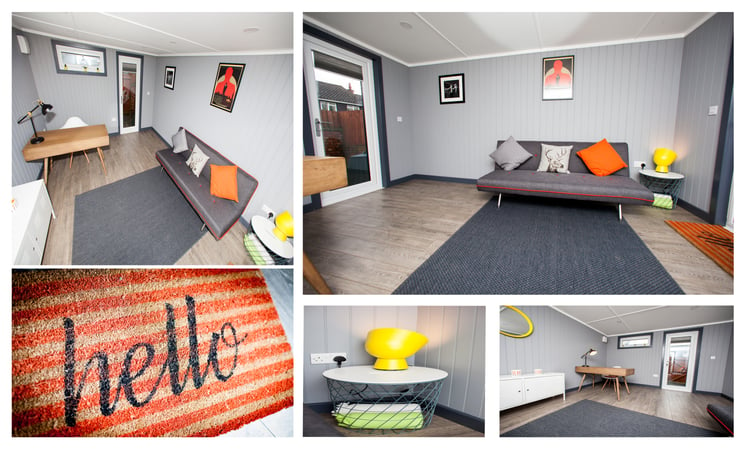 A Garden Office To Suit Your Lifestyle: Getting The Right Size
It is important to choose a garden office that suits your working requirements. This is not usually possible when buying a cheap, off-the-shelf model, which are always quite small.
One of the big drawbacks to a smaller space is the inability to use it for clients or meetings. A larger garden office will allow you a lot of flexibility in how you use your space – whether at work or play. In our experience most people find a use for more space, so think out your needs without concentrating too much on price at first. Remember, your garden office will be an asset to both your property and your business. It has to 'pay its way' by fulfilling all your requirements.
Custom-designed garden offices offer you great value in terms of style and usability. Consider how much time you will be spending in your working space. When you buy a cheap garden office, you will be committing to work in a small and perhaps unsuitable space for a very long time. If you can afford to make a slightly bigger investment, you will get a lot more out of your garden office for years to come.
The upfront cost of a small office is lower than a larger garden office, but the usability of the space is also more limited. Skimping on things like extra windows will really make your space feel bland, like you are working in a basement. It is tempting to think that you will be happy with the cost savings, but consider the number of hours a week you will be spending in your garden office. It is worth allocating a bit more budget for added comfort, as your working environment has a big impact on your productivity.
Some of the options that we offer for custom garden offices can make your work space feel more upscale, and give you a great place to spend many hours a day. The way an office looks plays a big role in how you are going to feel when you are inside it. Working in a cheap shed isn't going to be very motivating...
There are significant lifestyle cost savings associated with having a garden office, and it will also add value to your propriety. Clearly a custom garden office will cost you more up front than an eBay garden room, but you will get a lot more out of it as time goes by. A custom garden office is going to be a lot more attractive, and people have been very happy with our customs builds.
The Hidden Costs Of Cheap Garden Offices
When you purchase too cheaply, you will find that lower-end garden rooms come with a lot of hidden costs you may not have been aware of. For instance, with most cheap, out of the box garden rooms, it is down to you to lay the base and take care of construction.
We cannot overemphasise how crucial the base is to your garden room. Getting this wrong may mean your building becomes unstable, or that your panels don't line up. You should get a professional to do this who knows about garden rooms. Likewise for the construction itself: Even if you enjoy DIY, erecting a stable, weather proof garden room is a large undertaking, requiring specialist skills. You are far better off obtaining the services of professional contractors. And what about any utilities you need; water, electrics, internet? All these will need to be installed separately as well.
All this can take a lot of time, money and frustration to organise, ironically becoming more expensive than going for a reasonably priced custom garden office. At Cabin Master we provide the complete package: not just the design and materials but utilities, construction, roofing and base. Our team will complete the whole build onsite without any disruption, and will liaise with any third parties (e.g. plumbers) who you may need to service your garden office.
Budgeting For Real Value For Money
At Cabin Master we have something for almost every budget, no matter what your garden office needs are. Please call us when you have any questions, or need to get your garden office installed. Our products are made from extremely high grade materials and will serve you for a long time to come. Don't commit to buying a cheap garden office before you talk to us. You may be surprised how far a reasonable budget will go, and that you can get the perfect custom garden room without having to spend a fortune.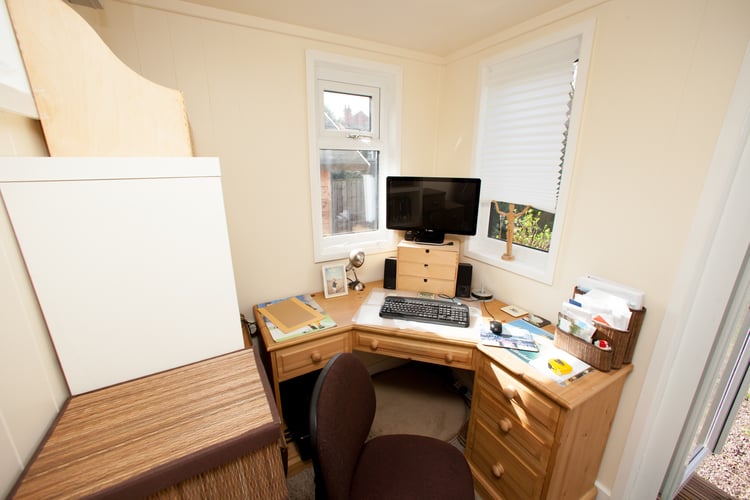 Get More Information
Find out more about garden rooms by downloading our Ultimate Guide To Garden Rooms. In this new, free e-book we explain your garden office design options and how you can save money while getting the best value. Click here to access your copy.