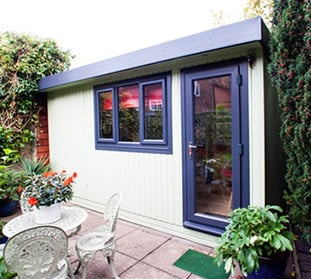 It makes business sense!
Jeremy & Laurence both work from home and their kitchen was being taken over by work files so a solution was needed! As they rent their home an extension was off the list but a garden office would be the perfect addition. Laurence researched garden offices on the internet and they visited many companies but everything was 'off the peg' and didn't tick all the boxes. "We were feeling we would have to compromise somewhere as we needed to have extra storage to house our bikes and garden equipment as well as create an office space. Everything we looked at just didn't fulfil our needs and the prices were so high for not great quality"
Then they found Cabin Master and decided to visit the factory. "We had great first impressions. We talked to Gareth and Mark and it was so quick and easy. It's unique that they offer you exactly what you want rather than saying you have to choose from buildings they already design". A CAD* drawing was created so that Jeremy and Laurence knew what the building would look like and have a chance to make changes if necessary. "We looked into the company as you really want to be sure you are handing over money to someone you can trust! They have been making these cabins for years and the reviews we read just gave us even more reason to buy our new building from them"
After they placed the order they were given an installation date "They said 4-5 weeks which is not what we expected for a completely new bespoke building. It was such a pleasant surprise. Then we actually got a call to say it would be ready sooner!"
The Build
"It was fantastic. The team worked great on site. Due to access it was a 3 day job and they worked really long hours. We had asked for the side and back of the cabin to be treated as it would be up against bushes and we would be unable to paint it. You think that when you ask for lots of little jobs to be done at least 1 or 2 would be forgotten but no it arrived treated and ready. Everything was exactly as we had requested it, in this day and age that doesn't happen very often"
Have there been any issues with the cabin in the last year since fitting?
"On the final day of fitting one of the door trims came loose. The team turned up at 7am the following morning to fit a new piece. They really do go above and beyond. You would probably expect an odd leak here or there with it being a timber structure but it has been absolutely perfect."
How has this changed your daily routine?
Jeremy said "It has transformed our lives. I often had a 50min commute to Lincoln and now I have got my life back!"
Do you feel you have lost part of your garden?
"No. In fact we use the garden more now than before and it makes the garden feel so much nicer. We had a little party with friends over as soon as the cabin was ready. It's our Shoffice! – our Shed-Office"
What would be your advice to others thinking about buying a Cabin Master cabin?
"They are unreservedly first class. The quality is amazing, service is fantastic, the fitting team is so polite and we would say 10/10 and we have already passed their details on to several friends."