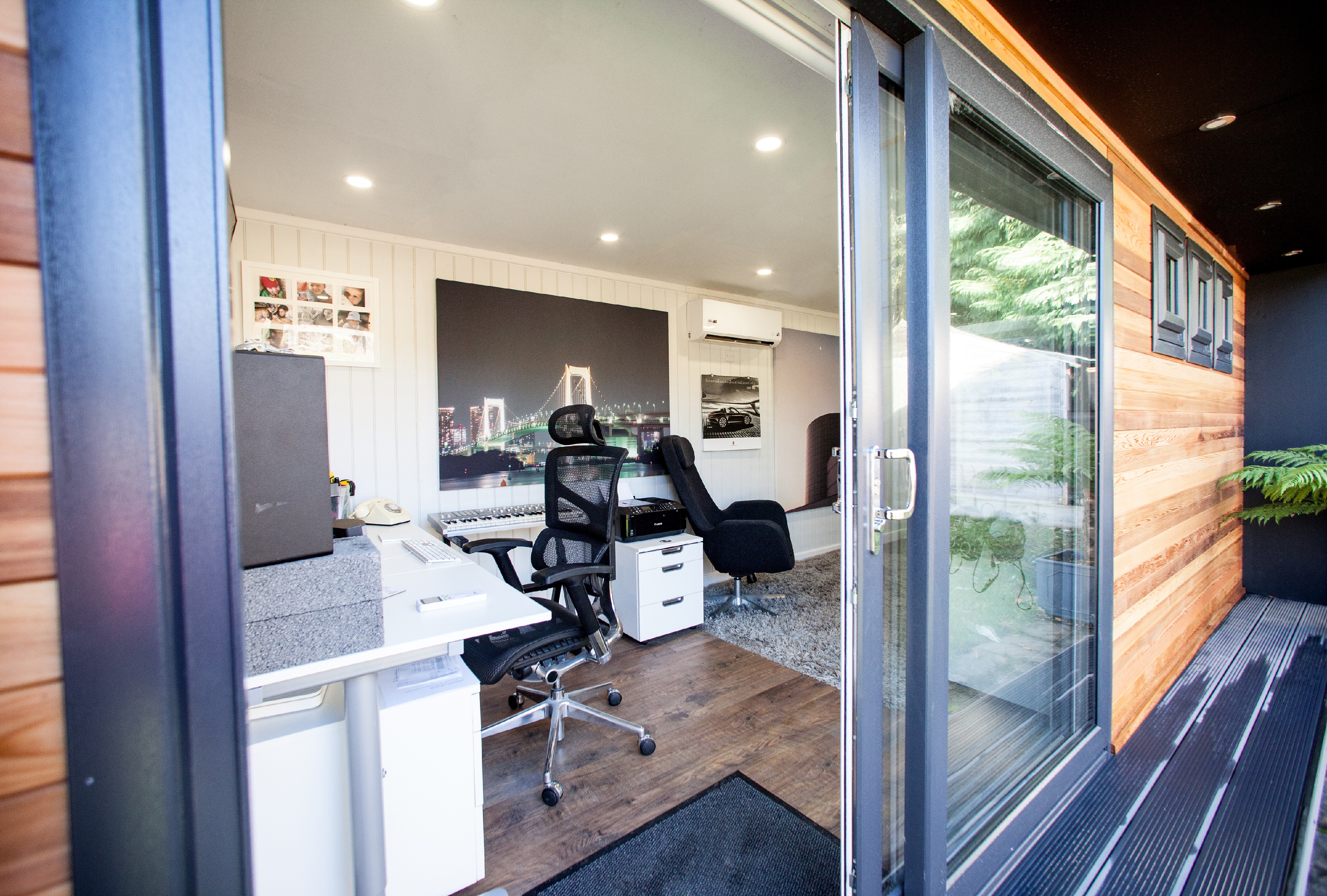 Dual Space - When Your Workshop Doubles Up As A Living Space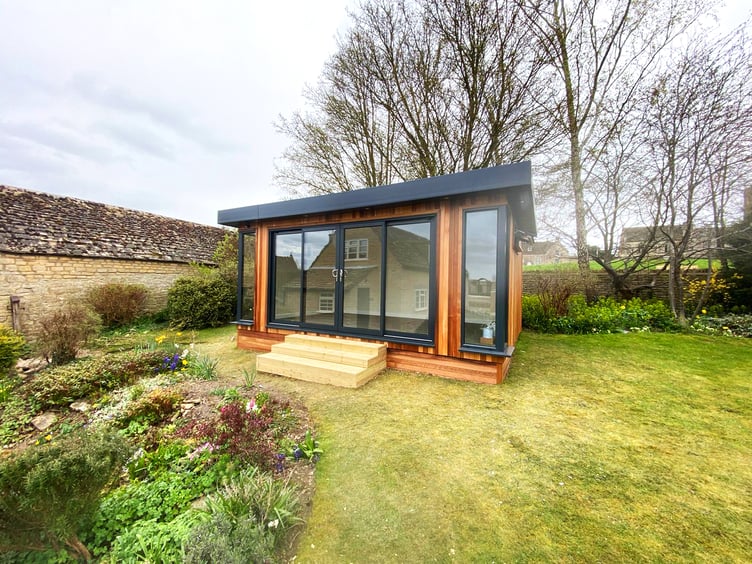 At the back end of last summer, around September, I visited the home of two friends. As it was a warm, sunny evening we enjoyed our tea in the garden.
My friends, Sophie and Mark, have been married for about a decade. They live in the house they bought as newlyweds, and although they still don't know what light switch turns on which light, or how to programme the central heating, their garden is a very well established credit to them.
It's a place for reflection, an escape from the world. In their garden sits a beautiful summer house, which I remember being installed two or three years or so ago.
I say, 'beautiful summer house'. On closer inspection, the expensive rattan furniture inside was rather obscured by a dismantled motorbike which sat, in pieces, on a newspaper on the floor. It turned out to be a small bone of contention and when I say 'small bone of contention', I mean grounds for divorce!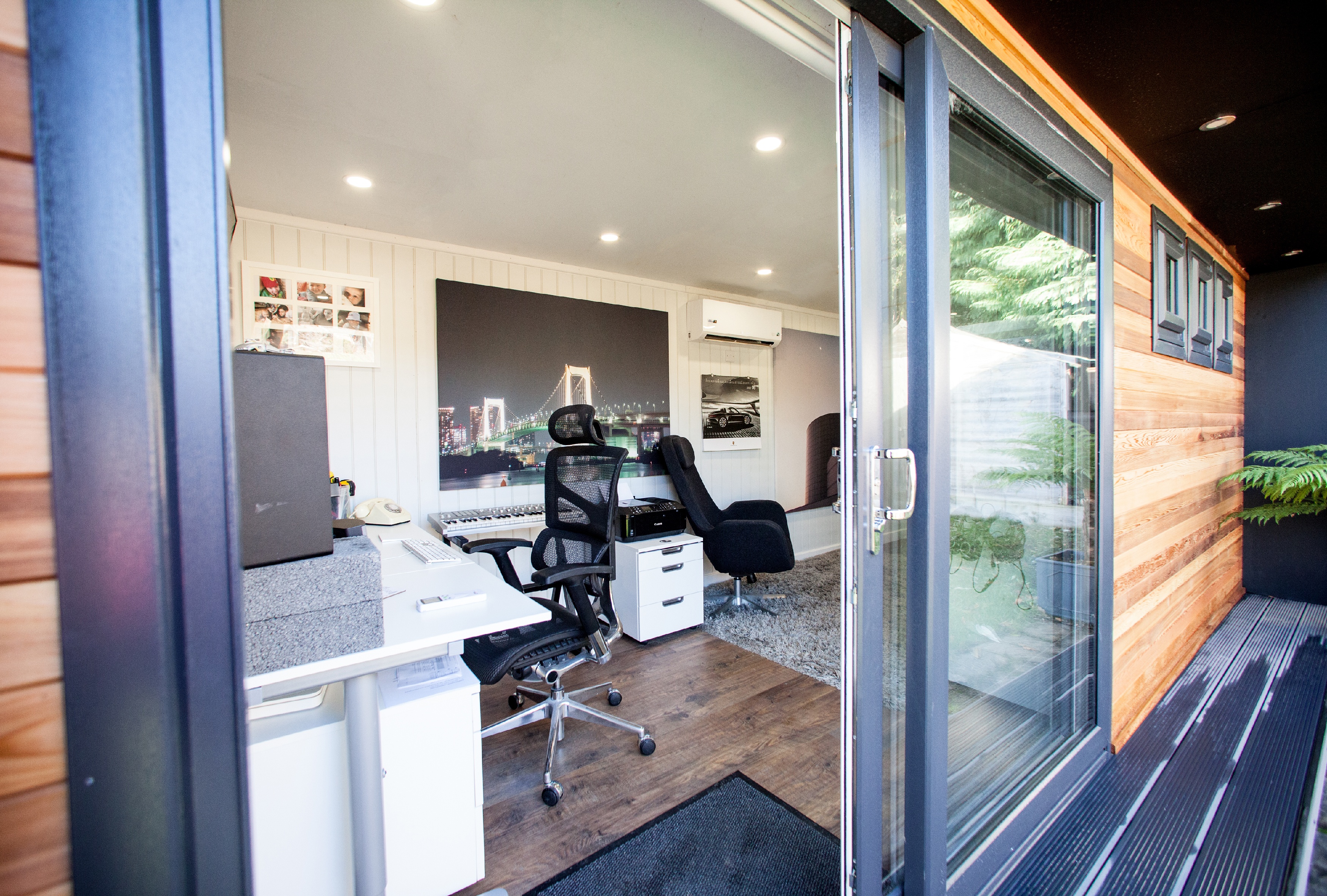 Multi-Purpose
This can happen when you create an outdoor space. When you create an extension to your living space, pretty soon, everyone and everything wants in.
Many is the tool shed that ends up doubling as a garden office; the workshop that also becomes a bike store; the potting shed that becomes a magnet for all the junk that hasn't got a place inside the house! It doesn't have to be this way.
What if you could have a timber garden building that could effortlessly accommodate more than one purpose or activity?
What if you could have a potting shed and, tucked away, a storage space for old pots of paint? What if bikes could be safely locked up out back, leaving you room out front for woodworking and DIY? What if your tool shed and work from home space could coexist without getting in each other's way? What if you could have a beautiful rattan furnished summer house and still work on repairing a vintage BSA Golden Flash (and not end up getting a divorce)?
When you invest in a Cabin Master Garden Office with Shed & with internal partitions – and internal and external access – all of this can become a reality. You can create rooms, within your garden room.
Some customers used these options to create a bedroom with en suite bathroom, others have designed playrooms with separate storage for boxes and boxes of Lego. The option to create connected yet separate rooms means you can let your imagination run wild. Sophie and Mark are currently drawing up plans for a summer house and workshop - together under the same roof and linked by an internal door and yet totally apart thanks to the partition wall. And by far the best bit, according to Sophie, each room has its own external access meaning no oily boots need walk across the summer house floor. Access to the summer house section will be through an inspiring bifold double glazed door and Mark will access his motorbike repair shop via what they're calling the "tradesman's entrance".
Sophie and Mark, arguably, have the most commonly occurring predicament when it comes to outdoor buildings trying to meet multiple needs. They have an outdoor room that was meant for leisure, relaxation and enjoying their wonderful garden but over time it became a workspace, a messy oily one at that. This is a story that we hear time and time again but equally disruptive (and dangerous to domestic harmony) is when a functional space is pressed to either be a place for leisure or to accommodate more activities than it can cope with.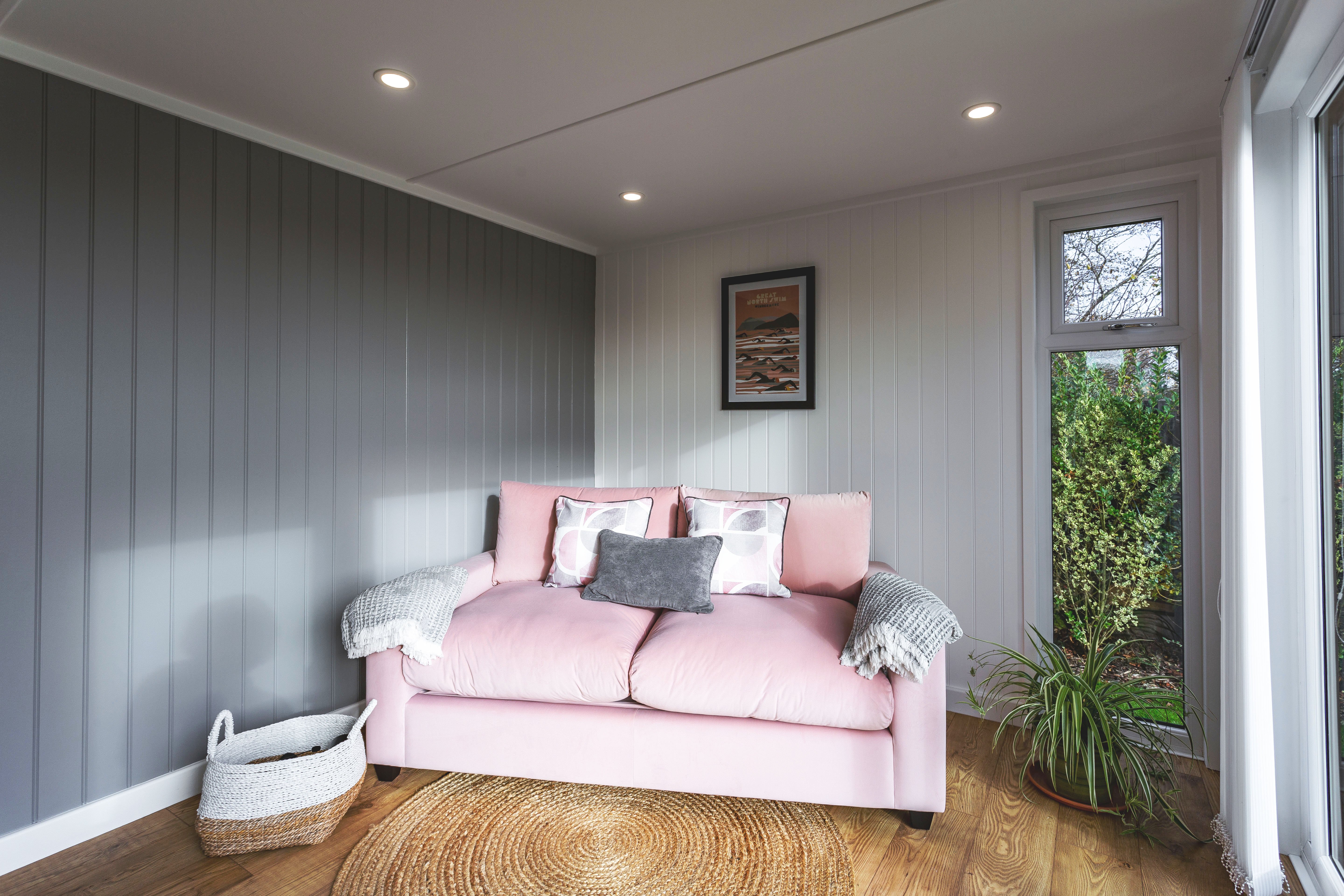 Rick's shed is such a case.
Rick's workshop is his oasis from the world. A place of sanctuary for when he's "feeling at odds with the universe" – as he puts it. For as long as he can remember, Rick has lost himself in one DIY project or another as a way to balance the stresses of life. About a decade ago, Rick's father passed away and left him an impressive arsenal of tools that, in turn had been handed down from his father before. So, when tools are more than just tools, when they are family heirlooms, they need a special place to be.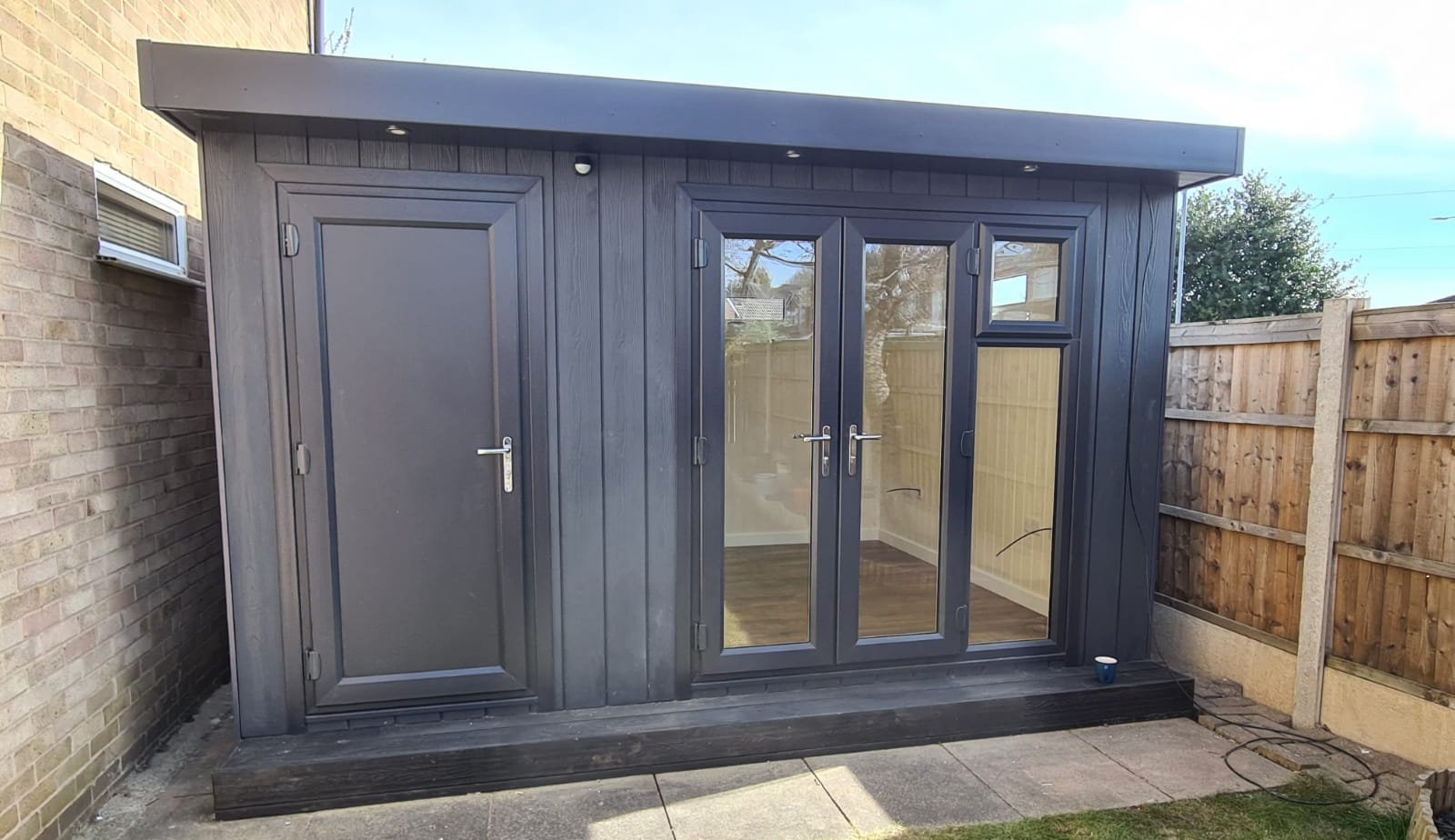 Rick bought a huge potting shed off eBay, largely because of the large window that made up most of the front wall and converted it into a pretty amazing man cave workshop. Here he kept himself busy - sanding and planing, and nailing and gluing, and sawing and drilling. Even when there wasn't a project, he would turn his attention to the tools themselves, sharpening and cleaning. It was very much his space. His man space.
Then he met Andrea.
And Andrea moved in with Rick (after some substantial wooing).
And that large, west facing, window on the potting shed that had become a man cave, was identified as the perfect place to watch the sunset together. Before long, potted plants and conservatory furniture started to appear in that window and there was less space for Rick's DIY.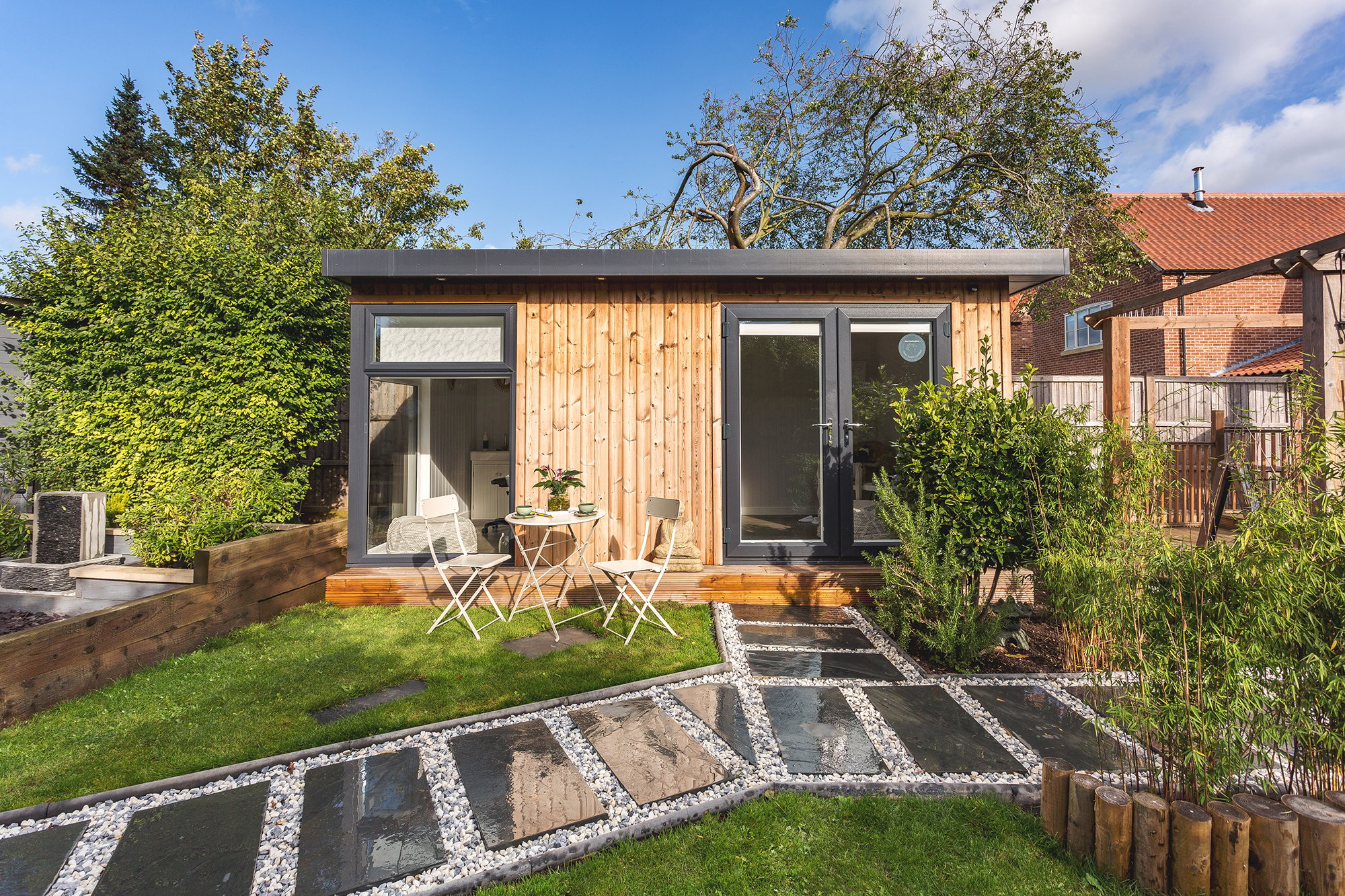 This is what prompted them to pay a visit to Cabin Master's show-site, a 'village' of garden timber buildings just off junction 25 (Nottingham/Derby) of the M1.
Do you remember those old 'Love Is' cartoons? For Rick, 'Love Is' not complaining that his workbench often gets covered by an Emma Barclay forest green coloured tablecloth – but they needed a better, longer term solution.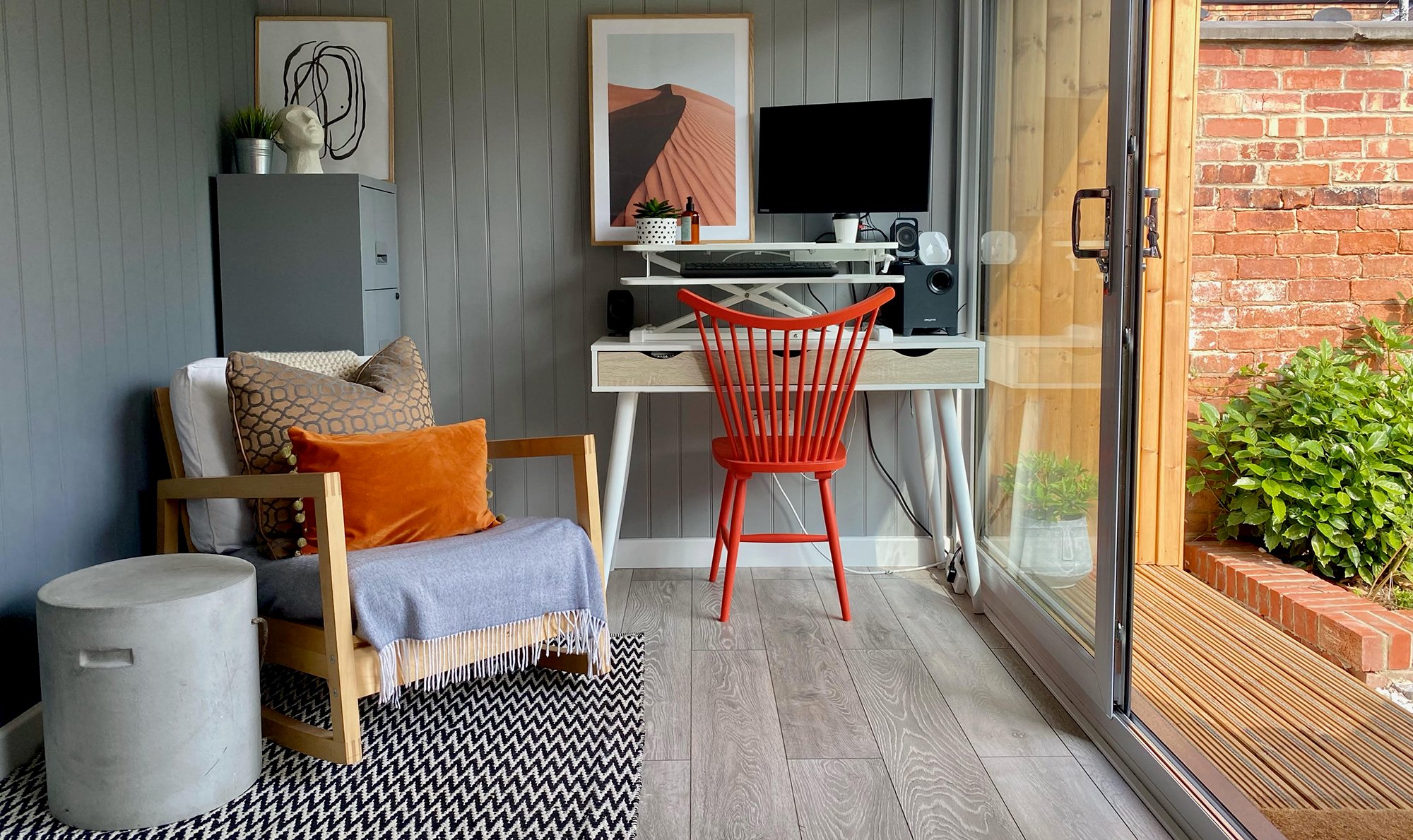 A Cabin Master garden building is designed with you every step of the way so knowing what Rick and Andrea want from their outdoor garden building, our designers have got to work. Flexibility is key to achieving a multipurpose space, Rick's old eBay potting shed had converted to a nice workshop for a single fella pursuing a hobby, but when needs changed, it became less able to flex in tune with their desires as a couple.
At the time of writing this, Rick, Andrea and Cabin Master's designers are working together to create a space that will be the perfect workshop with all the great lighting that the potting shed window afforded AND a space where Rick and Andrea can watch the sunset over a glass of prosecco and where the Emma Barclay tablecloth can sit on something more suitable than a workbench!
With internal partitions and doors between the two spaces, Rick can join Andrea for a glass of fizz after a day of woodworking. As both rooms have 'external access' the two can come and go, in and out of their own space without disturbing each other when that suits them too, oh, AND you should see the bi-fold, double glazed door that will allow them to enjoy that sunset!!

On a summer night, by pulling back the door, they'll feel like they're outdoors – nothing nicer than a summer evening breeze as you watch the sun go down! The bifold door will fold back to create a completely open space. On cooler evenings they can pull it shut and, with the heater turned on and thanks to the great insulation that a Cabin Master garden room offers, cosily enjoy watching the sunset in comfort and warmth.
When you make an investment in a garden room, you're investing in more than the extra space it will give you and the actual physical structure - you're investing in you. A garden room is where you'll pursue your favourite activities, spend time doing what you love and with the most important people in your life. A garden room, therefore, should have your intentions baked into its design. If you have more than one desired use for your garden room, they should be effortlessly accommodated - without the need to rest motorbike parts on your rattan furniture!
It is an investment that you will get a return on for many years.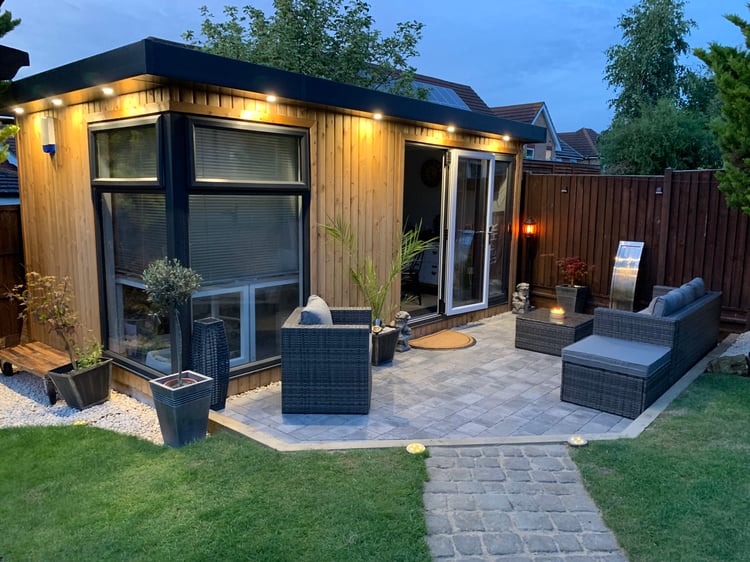 Built To Last - Guaranteed
Cabin Master don't just supply garden rooms – we build them at our factory in Derbyshire. This gives us full control when it comes to quality and confidence to offer extensive guarantees. Each building comes with a 10-year workmanship and labour guarantee and every component used in your Cabin Master garden room is guaranteed for quality and durability, for instance:
10 year guarantee on building materials;
1 year metalwork guarantee (including hinges, handles and ironmongery);
10 year guarantee on UPVc doors;
10 year guarantee on window frames;
5 year guarantee on glass window units;
10 year guarantee for Pilkington Glass.
We want you and your family to enjoy your garden room for many years, few come with such comprehensive guarantees.
To find out more about owning a Cabin Master Garden Room call 0115 932 8888, get in touch via cabinmaster.co.uk or visit our Cabin Master Village just off junction 25 of the M1 near Nottingham. Ask about the internal and external access options, the bifold double glazed doors and, with our designers, start to build your dream timber garden room.