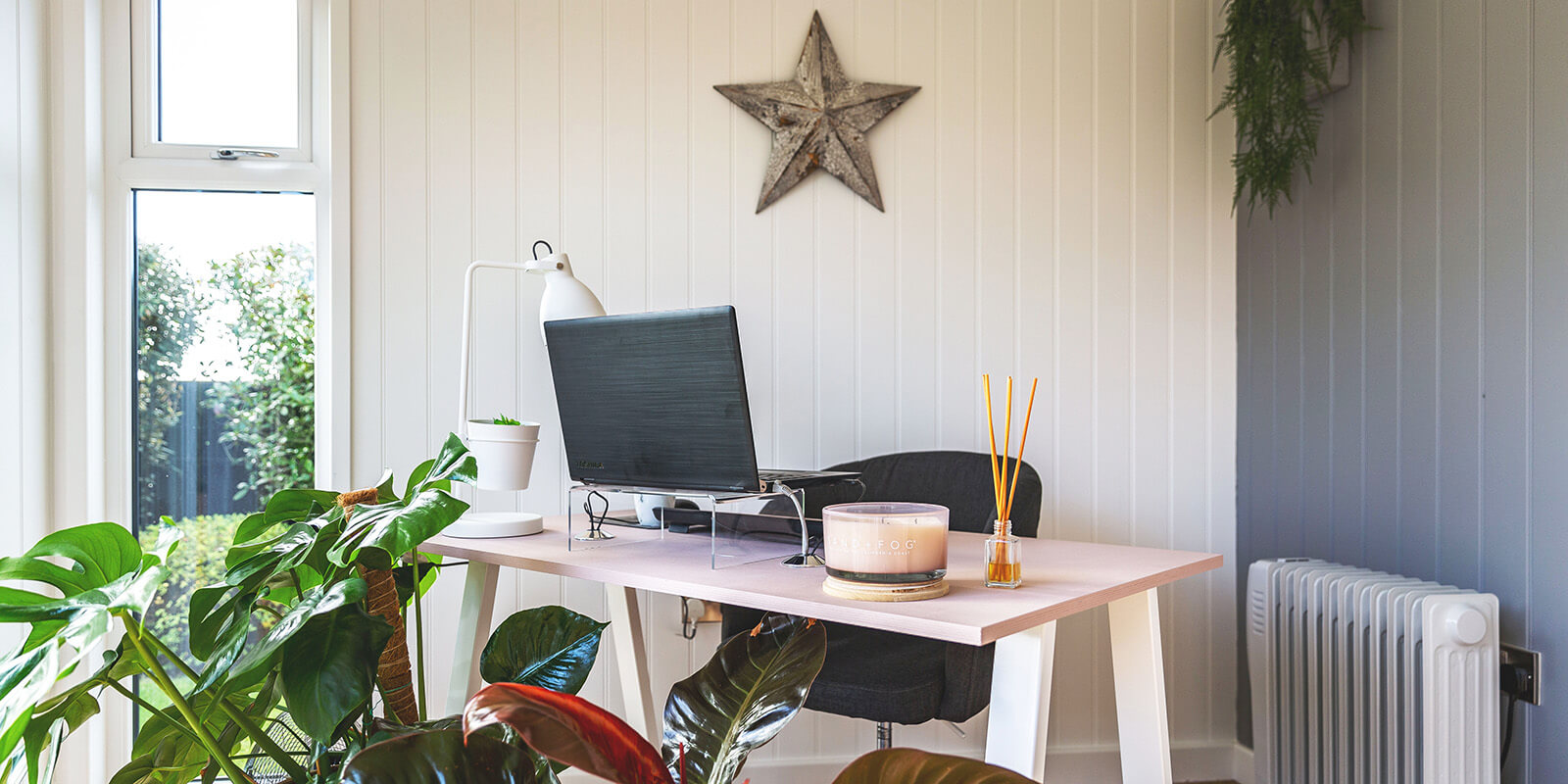 6 Benefits Of Working From Home in the UK & Owning Your Own Garden Office Pod

Invest In A Garden Office. Commute In Your Slippers (And Other Benefits)
The number of people regularly working from home has jumped to 4.2 million over the last ten years, according to recent figures published by the Office For National Statistics.
What's more, an additional 1.8 million say they would work from home given the chance!!
To avoid 6 million kitchen tables getting very busy, those seeking alternative working patterns have also been seeking new and imaginative places to work.

The WeWork Phenomenon
Office space in cities is expensive and, in parts, very limited. There's only so much you can achieve at your kitchen table, sometimes you need a professional office – WeWork seemed to be the solution.
With a well-stocked bar, flexible rent, table football, pool tables, sound-proofed phone pods, networking parties and fashionable open-plan décor, it's easy to see how WeWork shared office spaces were so attractive when the first one opened in London five years ago.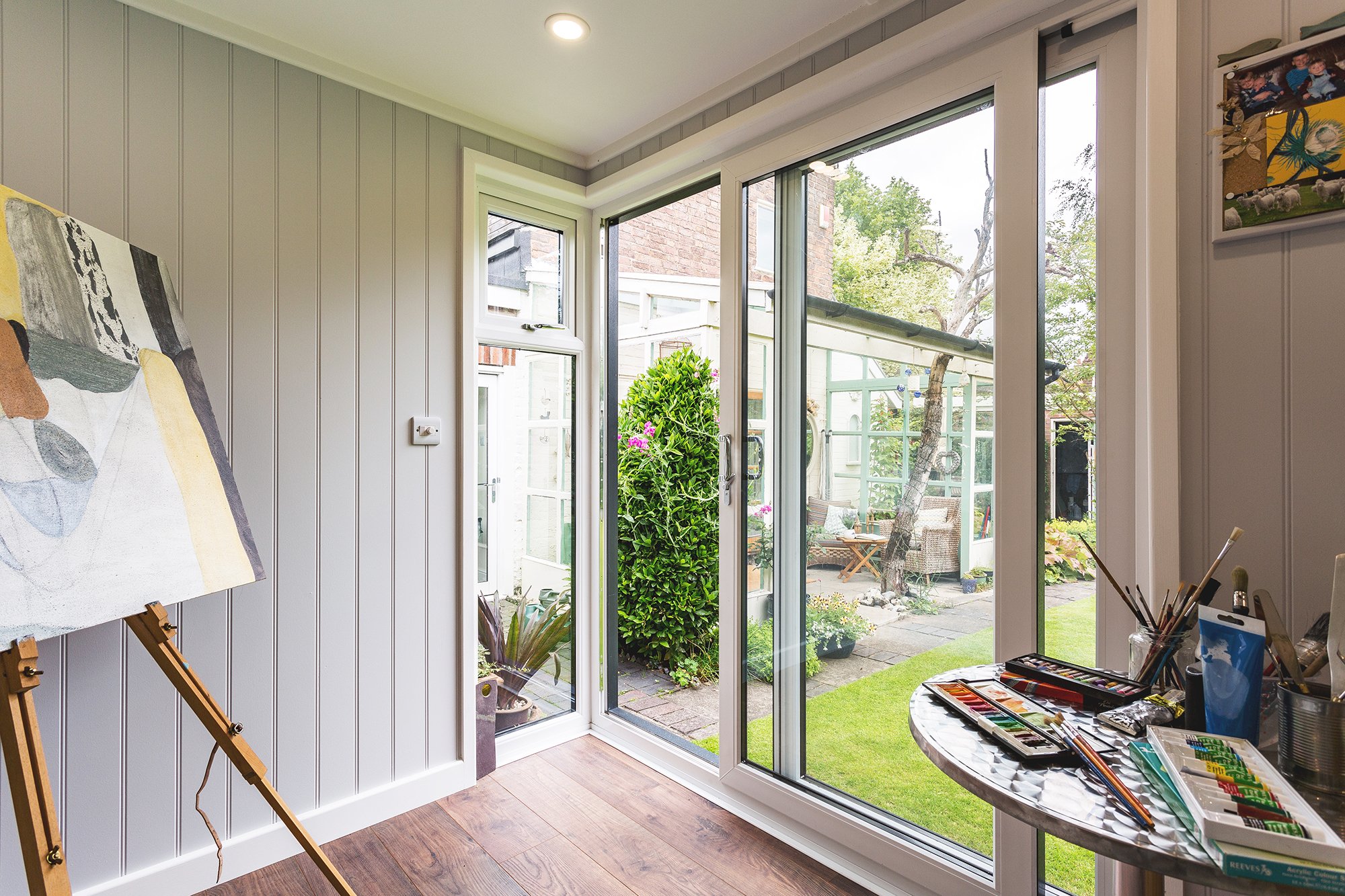 In fact, as a measure of the demand, over the last half a decade almost fifty WeWork sites opened across London alone. From Shepherd's Bush to Marylebone to Canary Wharf, WeWork has quickly become the biggest occupier of new offices in the capital where working space for entrepreneurs and the self-employed is at a premium.
You may have seen in the news recently though that this particular Silicon Valley tech bubble may be about to burst as the considerable losses accrued in the firm's start-up phase have caught up with WeWork, leaving London's entrepreneurs needing a new place to open their laptops.
The solution may be closer to home than they think.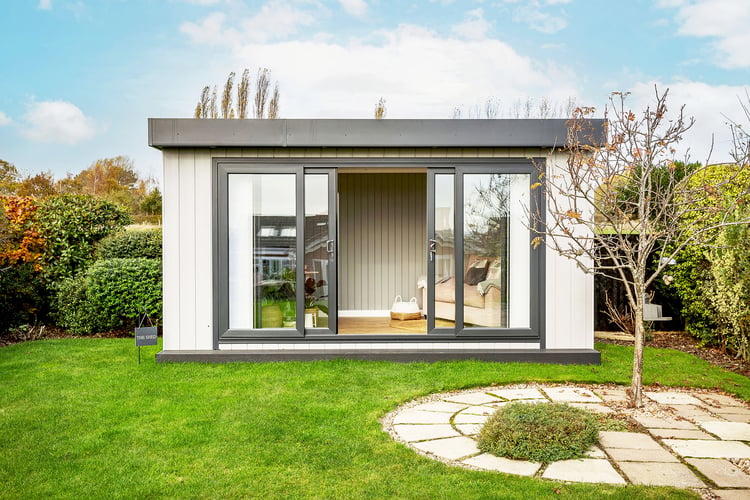 A Garden Office Pod
Andy, an IT Project Manager from Walthamstow looked at WeWork offices three years ago. The ping pong tables and free beer were enticing, he told us, but the flexible rent structure was a little difficult to budget for in the long term so instead, he looked at creating space for work at home. The issue was, like it is for many city dwellers, that there wasn't much room here either. The spare room had long since become a bedroom for his second child, the kitchen table was constantly out of bounds as it served its primary function (feeding the family!) and then there was the noise – if you have kids, and you've ever tried to work from home, then you'll know that silence is a very rare commodity indeed.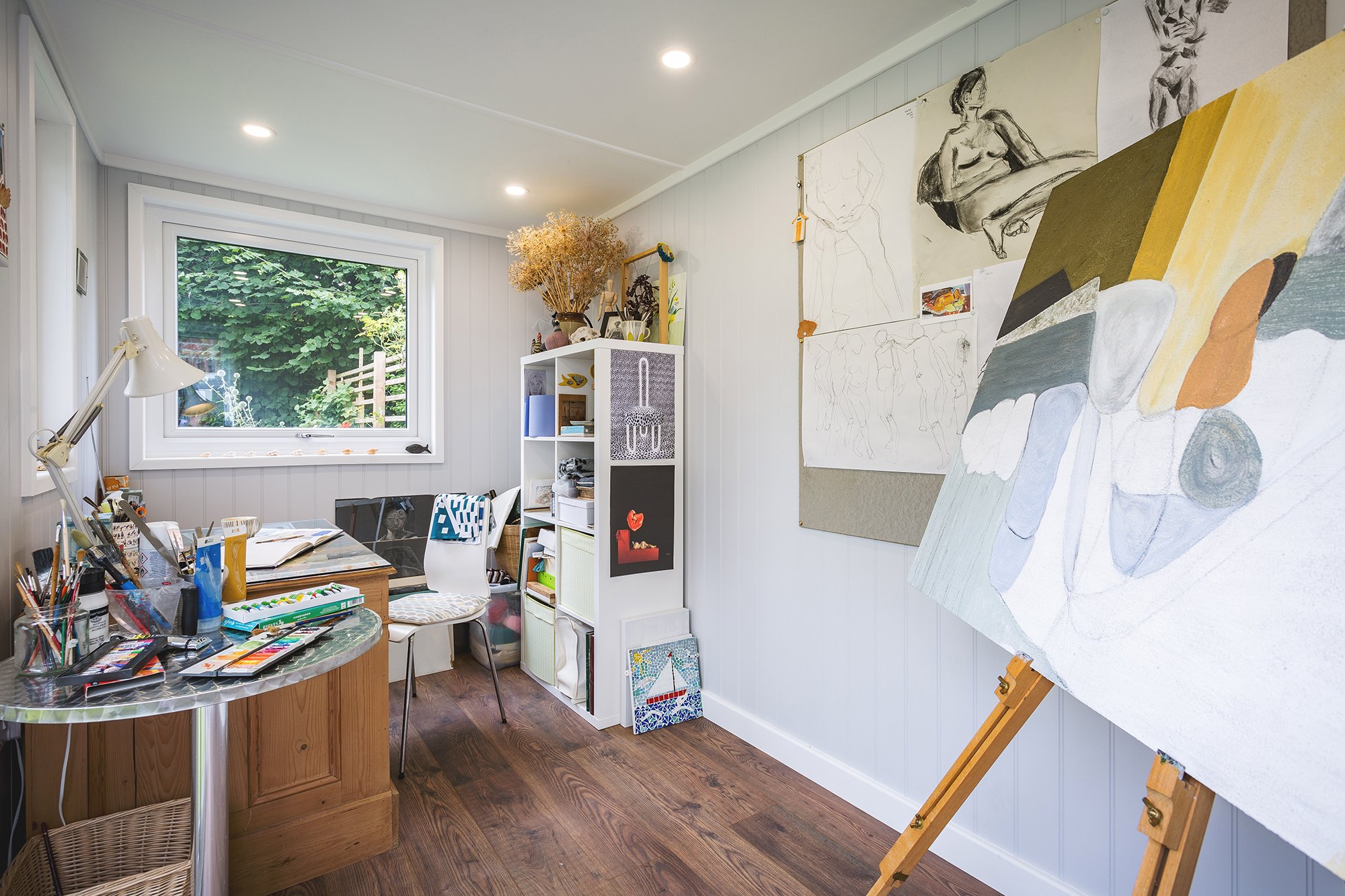 One afternoon, while doing the washing up and gazing out onto their modest garden, Andy had a flash of inspiration. He Googled "Garden Offices", up came Cabin Master and the rest, as they say, is history and Andy's commute across the patio is one that he now regularly does in his slippers!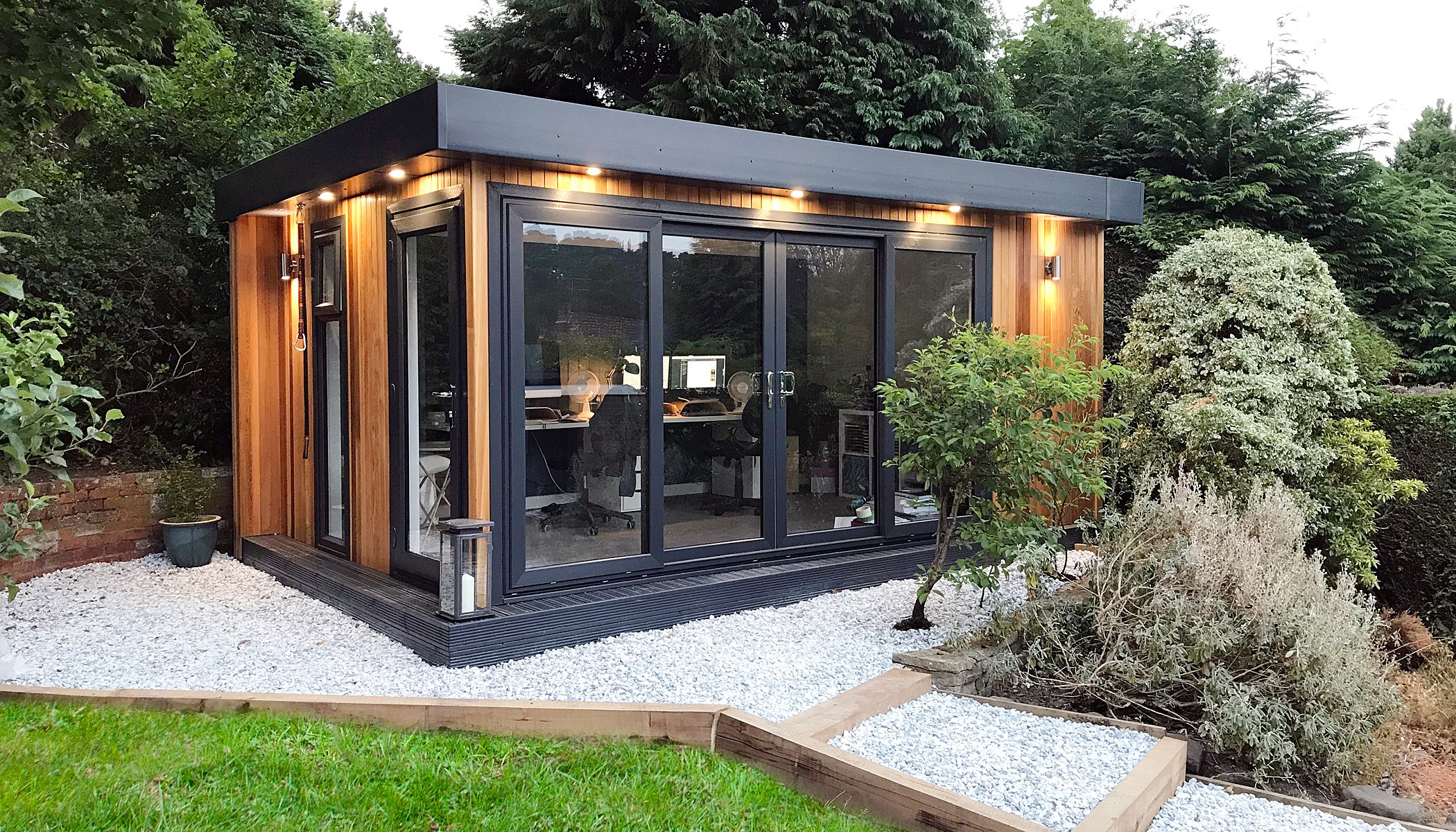 Benefits Of A Garden Office
It's great having a space, effectively a buffer, between your work and your home life, allowing you to leave files and papers out without the risk of them getting 'juiced' by the kids.
Many Cabin Master clients also tell us of a psychological benefit too, and the quality of their work improving as they are more likely to get into a 'working mindset'. Even just walking from their back door to their garden office pod, a dedicated 'office environment' promotes an 'office mentality'.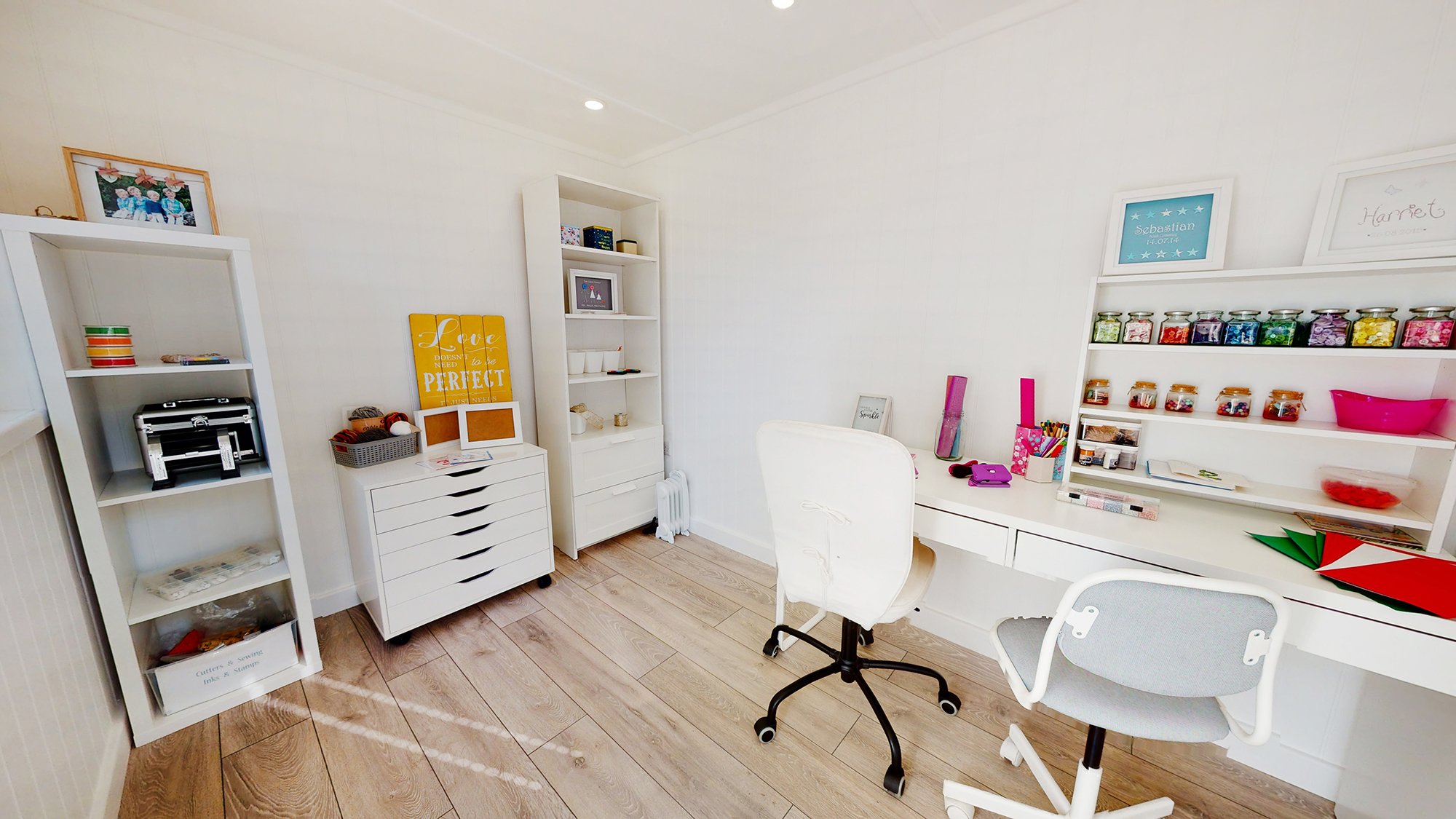 If you've ever worked from home, you'll know the temptation of staying in your pyjamas all day; it does not help you feel especially professional. A Cabin Master garden office pod makes you feel more like you have left the house and turned up at work! Using your spare room isn't always the answer either… we all remember the news reporter on BBC! https://www.youtube.com/watch?v=Mh4f9AYRCZY
Furthermore, a garden office portrays a more professional image to visiting clients than a kitchen table does, even arranging to meet clients in a local Starbucks wears thin eventually. Customers are reassured when they see that the service they are paying for is based somewhere that looks fit for purpose!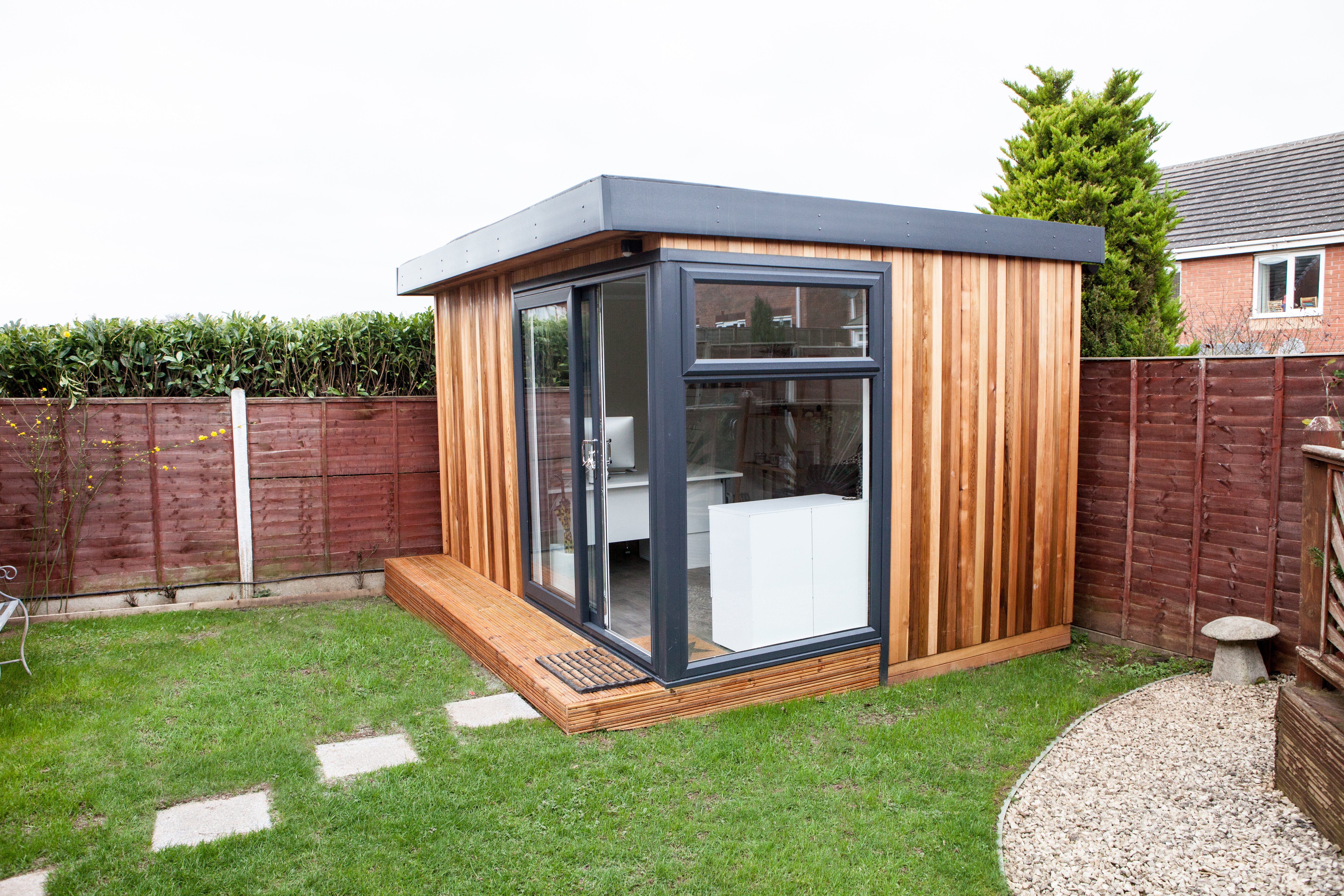 1. Planning Permission
Most Cabin Master garden office pods don't need planning permission and depending on the cost of renting office space in your area, can actually save you money month after month and the best thing is that when you pay your last instalment the building is yours! I don't know any commercial landlords who let you stop paying after three years (or 60, or 120 months – ask about our fantastic finance options) and hand you the keys to your office forever!
Your payment options aren't the only thing that's flexible with a Cabin Master Garden Office Pod, almost everything is!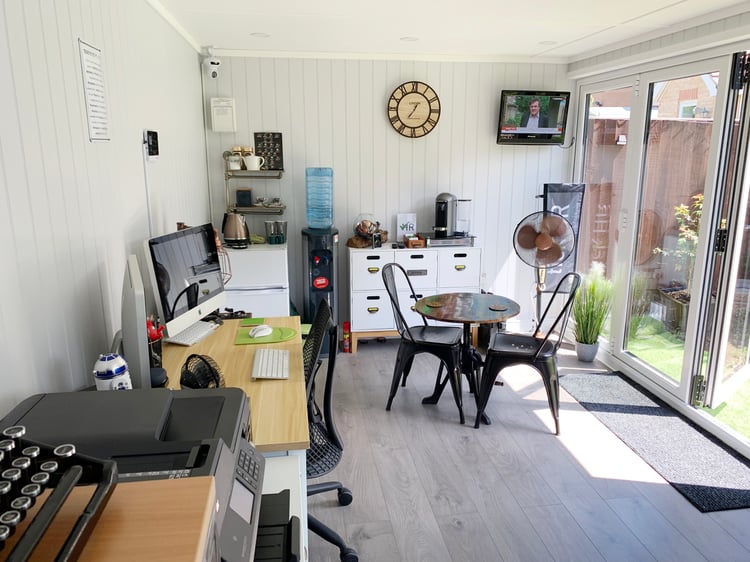 2. Tailor-Made Working Space
If you've ever looked at office space for your business, you'll know that, as you look around potential premises, you inevitably make compromises. You fit your dreams into the space that's available and accept that you can't have everything that you want. A Cabin Master Garden Office Pod is different – it's all on your terms.
After an initial call, Cabin Master's design team will turn your unique vision into a tailored, bespoke reality. Your ideas, sketches and dreams are transformed into a CAD drawing which we'll perfect together until you are totally happy. The design is sent to our purpose-built factory, here in the UK, where your cabin is created, from scratch.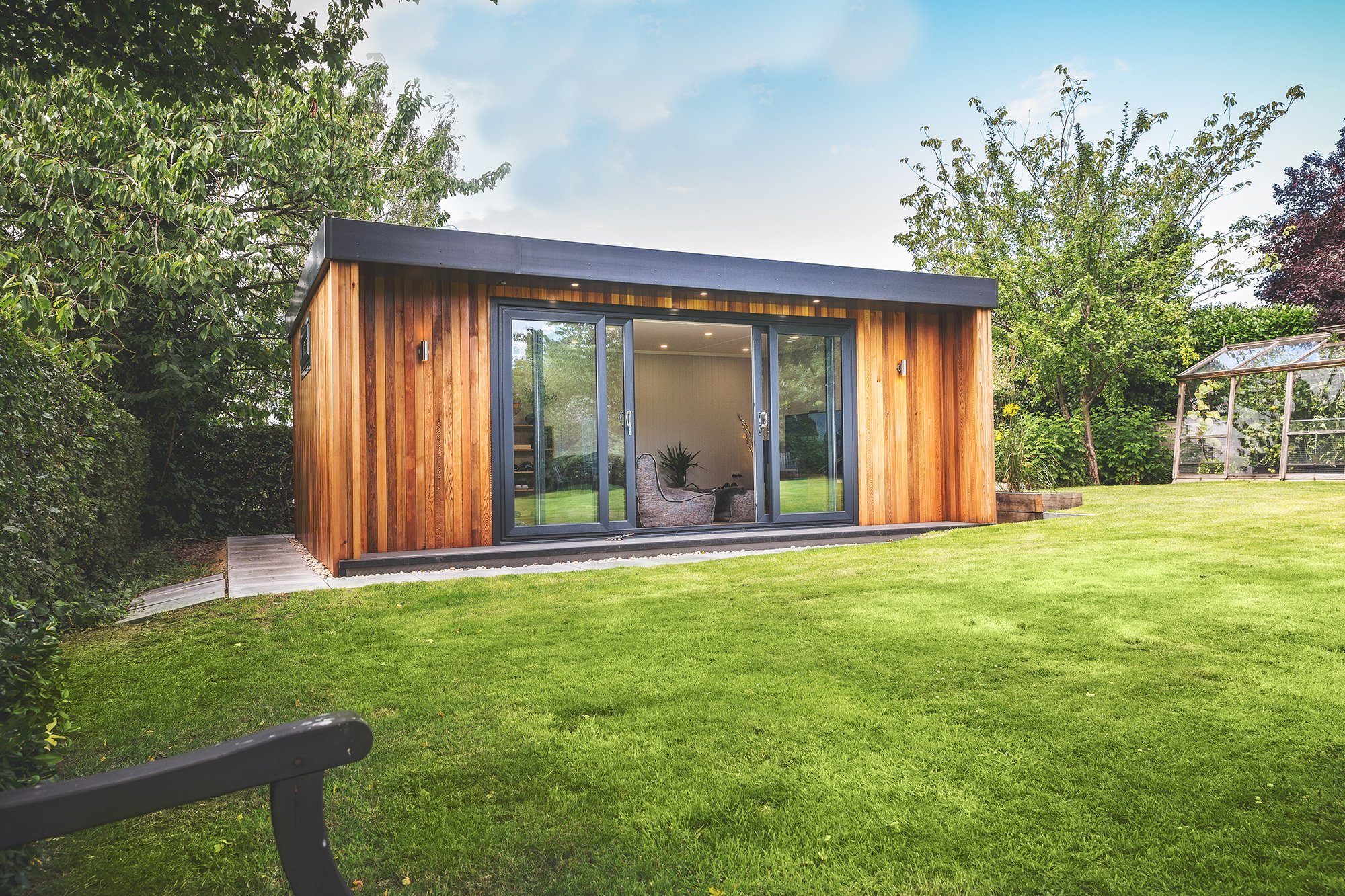 You'll also benefit from a free site survey. Andy in Walthamstow's patio was the perfect foundation for his garden office - a base may need to be created for yours. You can arrange this yourself or we can help with advice on types of bases and foundations, provided by our teams and their costs, whichever path you choose we'll support and advise you all the way.
As you read earlier, most Cabin Master Garden Office Pods fall within 'permitted development' but it is worth checking with your local council. Again, we can help with this and Cabin Master's architect, Ian Nelson, can advise on planning permission and even liaise with your council on your behalf.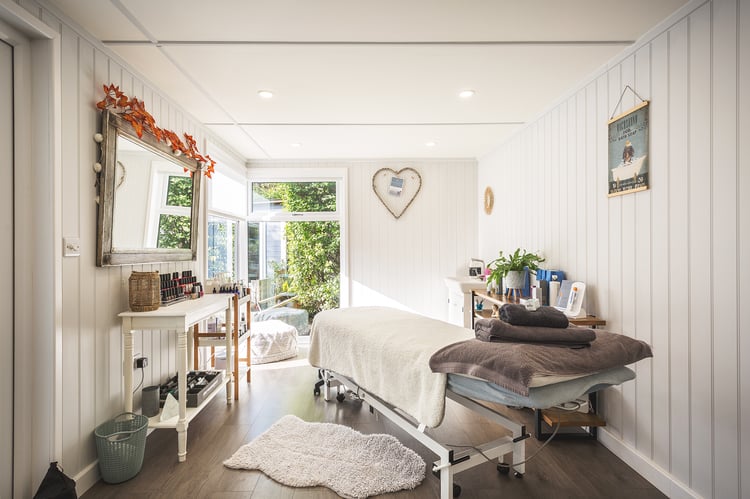 3. Peace Of Mind
First, as Jennifer Aniston once said, the 'science bit'.
Cabin Master garden office pods are constructed using only FSC (Forest Stewardship Council) produced Western Red Cedar or slow grown PEFC (Programme for the Endorsement of Forest Certification)/FSC Scandinavian Redwood exterior cladding over BBA (British Board of Agrément) certified breathable membrane. What this means is a consistently high standard product time after time. The walls are constructed from structural C16 timber and are fully insulated using quality materials, for example, Kingspan® thermal insulation boards.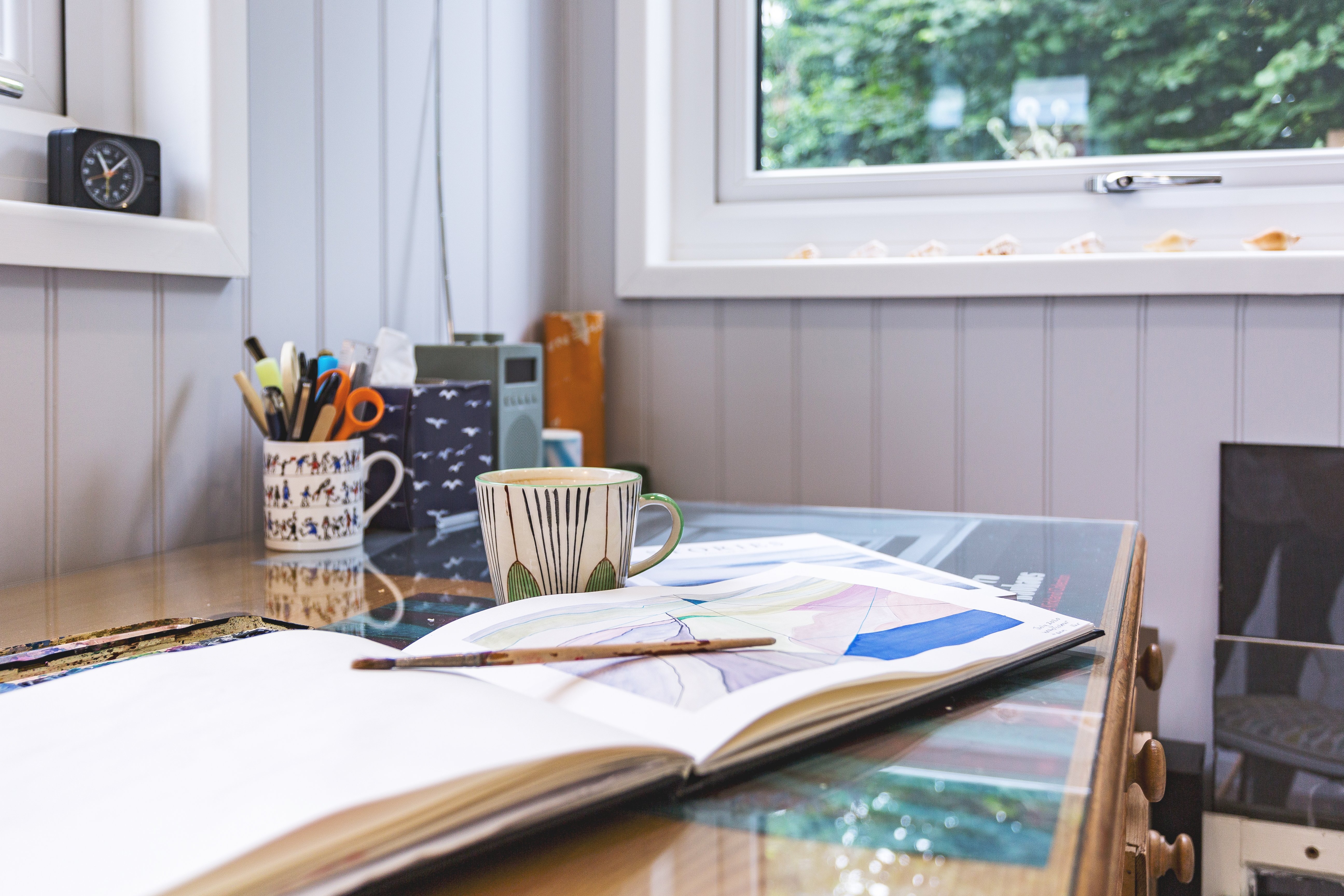 The internal walls are lined with FSC Neatmatch® Moisture Resistant board interior wallboards ready for decorating to really personalise your office space and then your garden office is topped off with Firestone® EPDM rubber membrane roof covering, chosen specifically as it lends itself especially well to low-slope roofs, with uPVC guttering and drainpipes as necessary.
Ok, that's a lot of words!! What all of this means for you is peace of mind and at Cabin Master we put our money where our mouth is, each building comes with a 10-year manufacturer's workmanship and labour guarantee.
And each individual component or building material comes with its own guarantee, like the 10-year guarantees on your UPVc doors, window frames, for instance.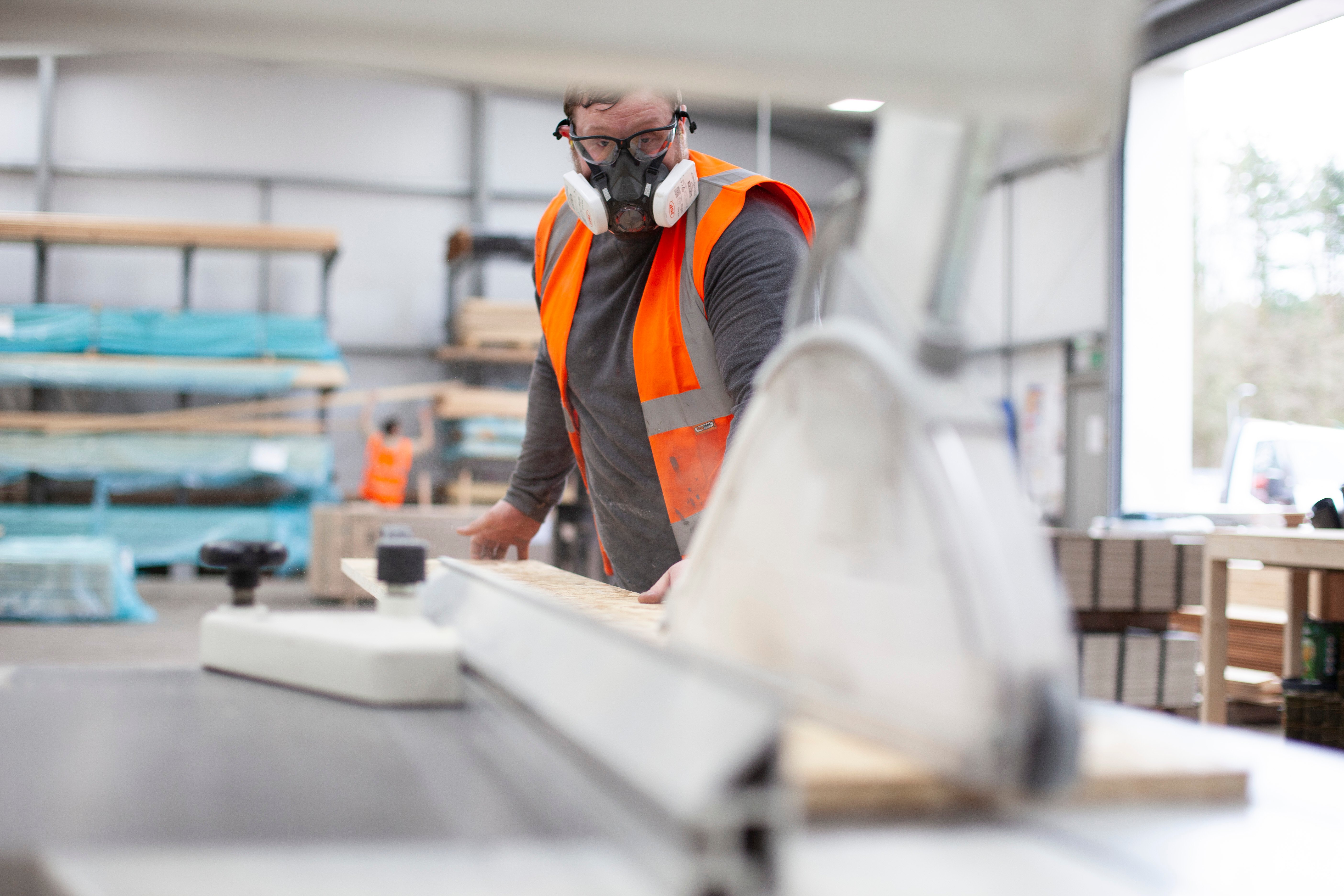 4. Sustainability & Environmental Impact
The forestry and timber industry accreditations also give you peace of mind that the timbers used to create your garden office pod have been responsibly and sustainably sourced.
The reduction in commuting time is also good for the environment, when your commute to work is a walk along your garden path rather than sitting in a tailback into the city your carbon footprint shrinks.
It is estimated the UK will lose £300 billion by 2030 due to lost time in traffic congestion, so you're doing your bit for the economy too!

From the plays of George Bernard Shaw at the turn of the 20th century to the poetry of Dylan Thomas, from the novels of Virginia Woolf (who identified the need for "a room of one's own") to the clockwork radio invented in the 1990s by Trevor Baylis, the contribution of wooden garden outbuildings as places of work, separate from the home, is well documented throughout history.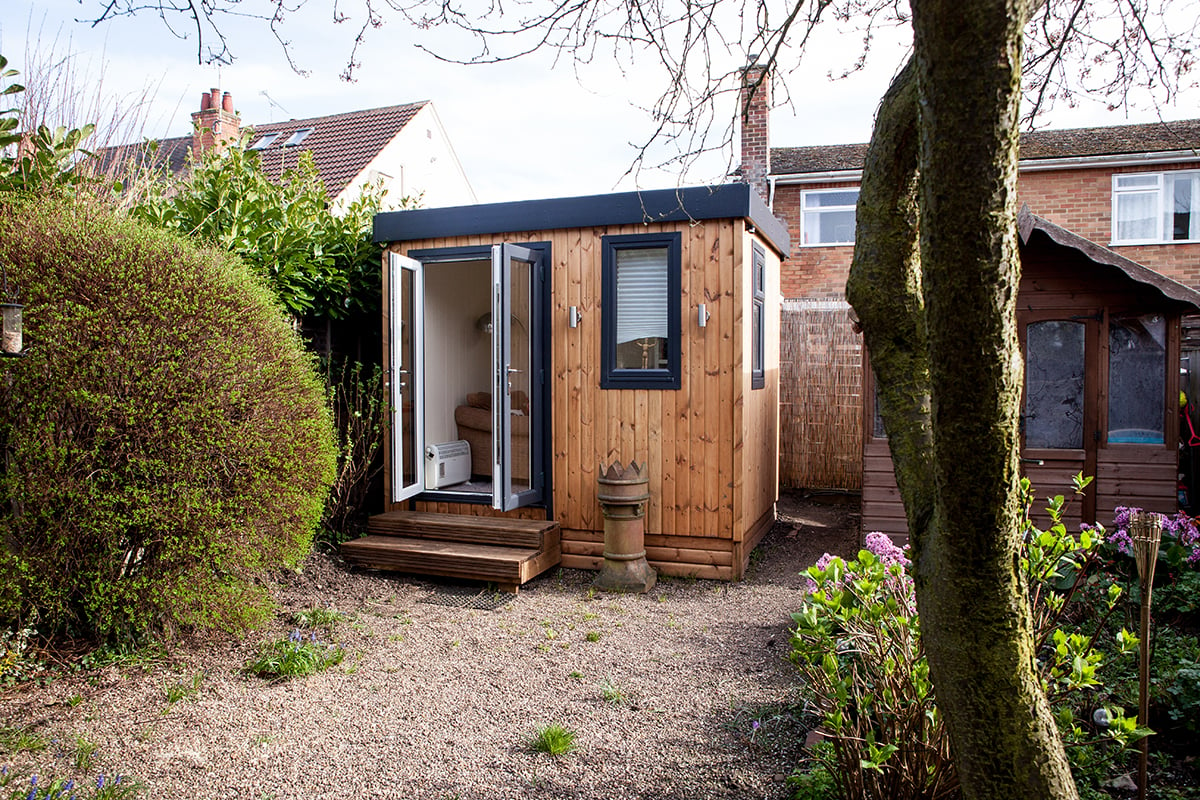 6. Be More Productive
Over half (53%) of workers believe they would be more productive working from home, citing unnecessary meetings, elongated email chains and long phone calls as the main reasons that they get less done in a traditional office environment. Overall job satisfaction and general happiness increase when you work from home, more so when your in purpose-built, yet comfortable and familiar surroundings, and you have greater control over your immediate environment.
As an ever-increasing number of people choose to work from home, remember, the Office for National Statistics recently put the figure at 4.2 million people in the UK, it's no wonder that many self-employed workers are looking for imaginative ways in which to set up their home office. A Cabin Master Garden Office Pod delivers imagination and peace of mind in spades.
An Englishman's home is his castle, so the saying goes, perhaps it's truer to say that these days, in our work-obsessed, long-hours culture, an Englishman or woman's home, increasingly, is their office.
Might as well make it a fabulous one!!
SOURCES - https://www.thehrdirector.com/business-news/health-and-wellbeing/four-million-working-from-home/