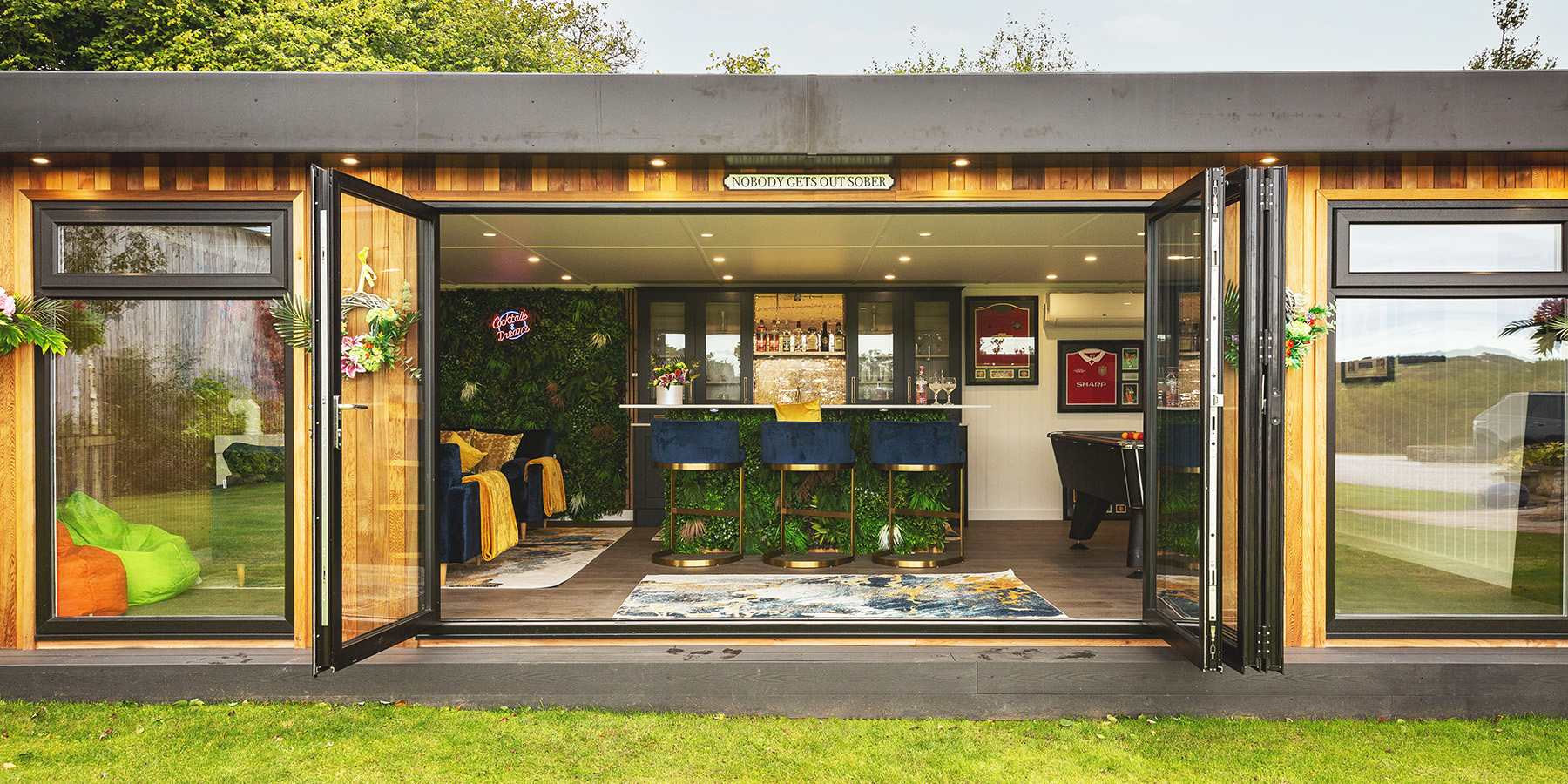 Our 7 Top Tips For Your Garden Bar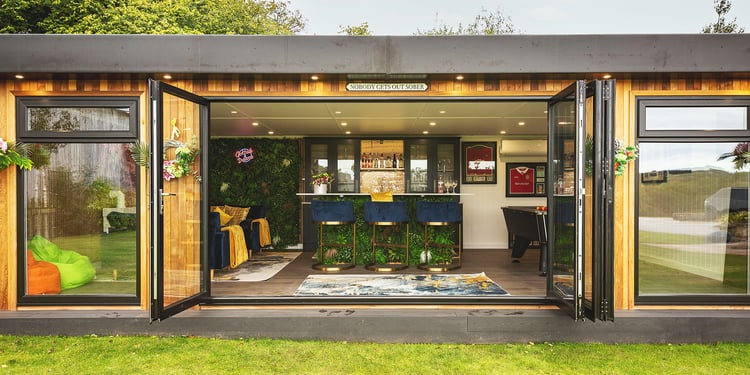 At our Cabin Master village, a Show Site populated by the various garden timber buildings available from Cabin Master and BBQ Hut specialists Arctic Cabins, there is one room that attracts the most attention. Spoiler: it's our garden bar. It's bursting full of garden bar ideas! From the slate feature wall & fully fitted solid timber bar, to the cosy sofas & cool Air Con.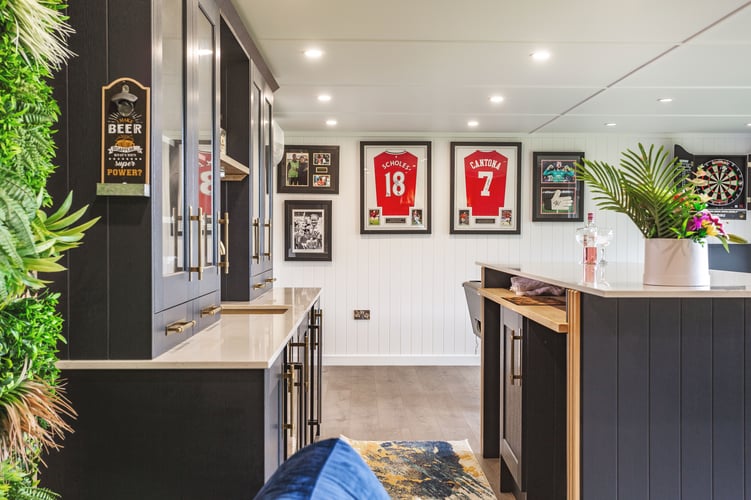 The moment you step inside you want to own it. Your mind races to an evening with the lads, sat around a TV watching the football and cheering every goal, or the girls' night in where laughter fills the air and the prosecco flows freely. You imagine shaking cocktails behind that solid wooden bar as your friends watch admiringly from the stools lined up the other side.
The heating and the air-conditioning, the cedar cladding and the slate wall, every possible specification available screams sophistication and luxury. Every detail is attended to, every desire catered for, every imaginable indulgent aspiration is baked into the design of your Cabin Master Garden Room Bar.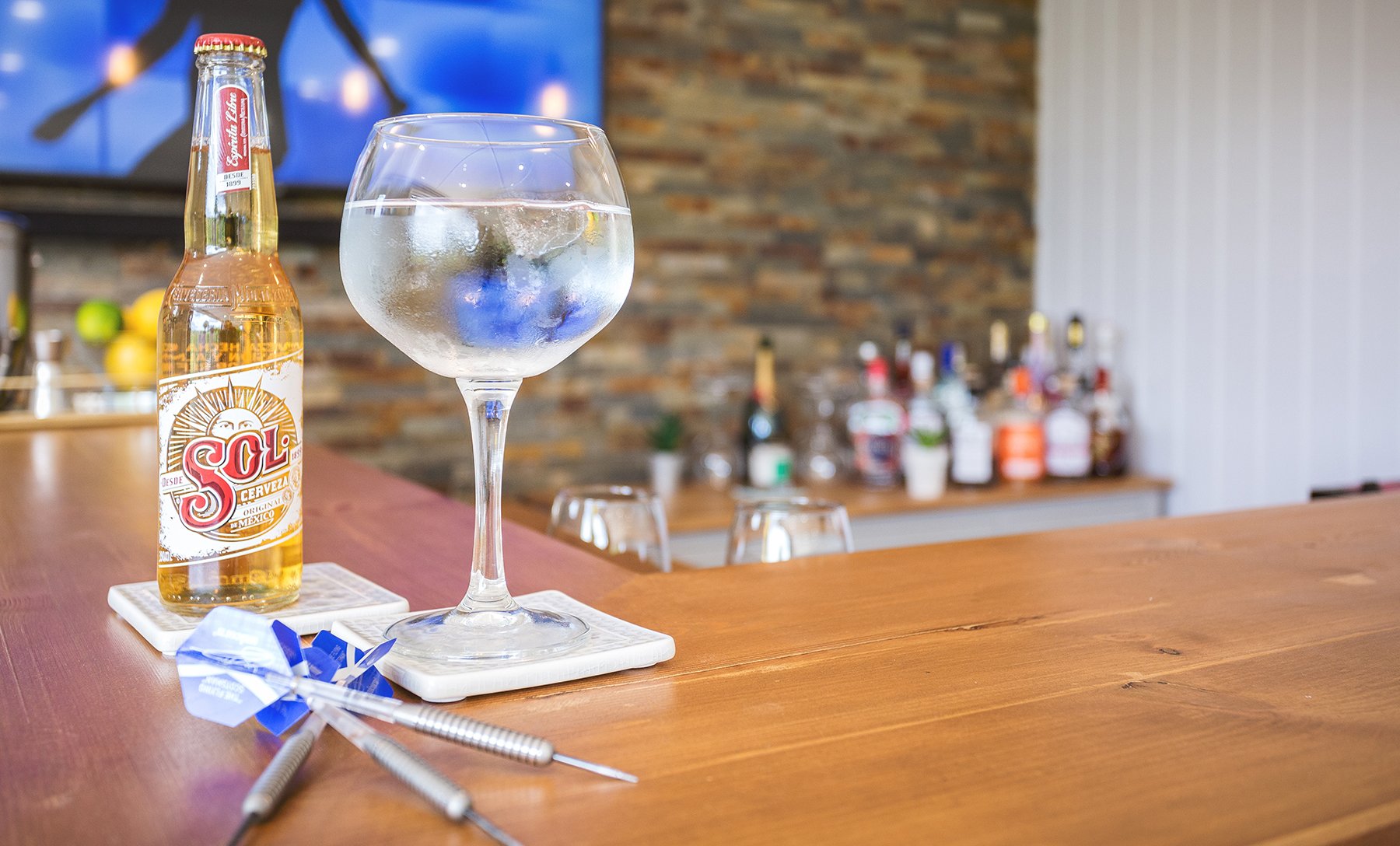 With its bi-fold doors that in spring and summer open wide to create a vast aperture that merges the inside of the bar with the outside of your garden; and in autumn and winter closes tight, shutting in the elements outside to create a cosy, warm place to relax and socialise, it's easy to see why the Cabin Master Garden Room we've dressed as a luxurious bar is the one that leaves everyone gasping. Not just gasping in awe, gasping for a drink too – what is it about stepping into a bar that suddenly makes you feel very thirsty?!
We asked visitors to the Cabin Master Show Site how they would accessorise their Cabin Master Garden Room bar, this is what they said - we'd love to hear your garden bar ideas too!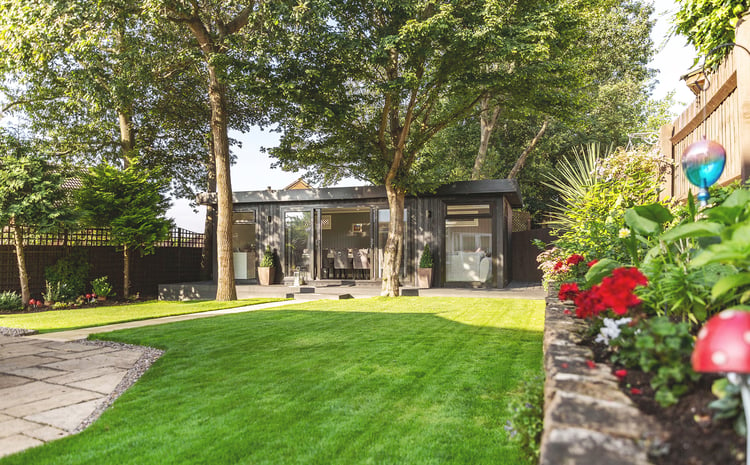 7 Great Ways To Personalise Your Garden Bar
1 - PlayStation 5
PlayStation 5 is the most eagerly anticipated games console in a generation already matches the aspirational mindset of the Cabin Master owner.
Several visitors to our Show Site say that a games console would be their number one entertainment purchase and when asked to express a preference, more than half wanted the newest console on the block!
The PlayStation 5's tagline is "Play Has No Limits" – which is apt because neither does a Cabin Master Garden Room which can be tailored to match your every bespoke wish.
What is really interesting is that it's not just the fellas telling us of their gaming intentions. There has never before been a console reveal that spotlighted so many games featuring female leads as the recent Playstation 5 launch did. "About time," says account manager Trudie from Nottingham who is looking forward to playing "Kena: Bridge of Spirits" in her Garden Bar.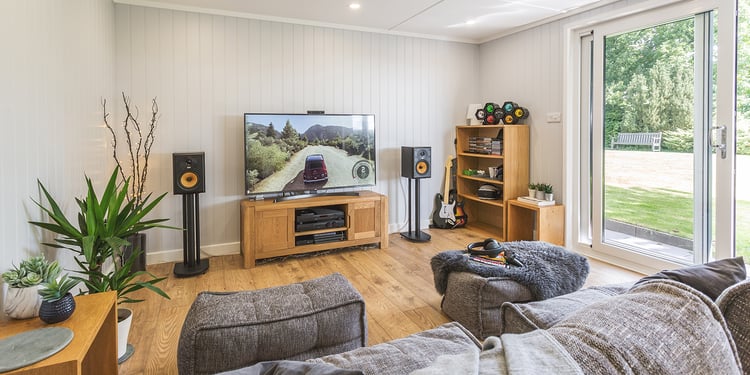 2 - 4K Ultra HD TV
Whether you're calling your friends round for the big match or to play Call of Duty, or gathering the girls for an indulgent night in binge watching Netflix, you don't want to be straining your eyes on a smaller TV.
Among the greatest selling points of a Cabin Master Garden Room is the space that one will offer you, and with great floor space comes amazing wall space too! You want a television that is large, vibrant and clear, you want one that will be the envy of all your friends and neighbours! The Cabin Master Garden Room gives you scope to dream big. I think that an 86 inch TV is the biggest we've heard of and it doesn't look out of place thanks to the space that your Cabin Master Garden Room gives you.
One visitor Max though drew our attention to a TV that Samsung launched at CES this year. It's called "The Wall", it's 292 inches, and the thought of it had us all reaching for a tape measure!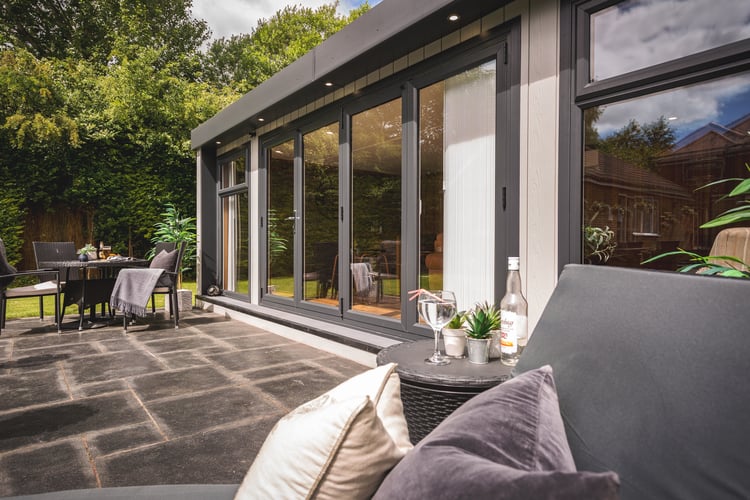 3 - Surround Sound System
OK, so you've got the big TV – now you need a big sound. You want to feel like you're at the game; you want to hear every whoosh of Rey and Kylo Ren's lightsabres as they battle it out in that snow covered forest; if you're watching a gig – you want to feel like you're in the front row.
A great surround sound system will fill your Garden Room bar with crystal clear audio. The visually stunning slate wall, that timber scent, the warm summer breeze wafting in through the bifold doors and the taste of the ice cold beer – your Cabin Master bar will have hit all your guests senses for six – why should their ears be any different!?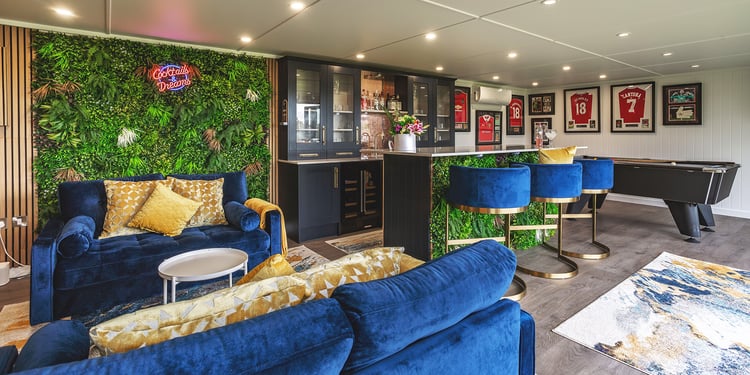 4 – Comfortable Chairs
All of the Cabin Master Garden Rooms in our timber buildings Show Site are dressed with comfortable sofas, armchairs and barstools. Your furniture should match the wonderful surroundings, let's face it, once you enter your Cabin Master Garden Bar, you won't want to leave! So, it is no surprise that almost everyone we asked ranked comfortable seating highly on their wish list.
An armchair that you can almost hide in, a bar stool fit for putting the world to rights from and a sofa so comfortable that it will take away the pain of your team shipping three goals in the first twenty minutes!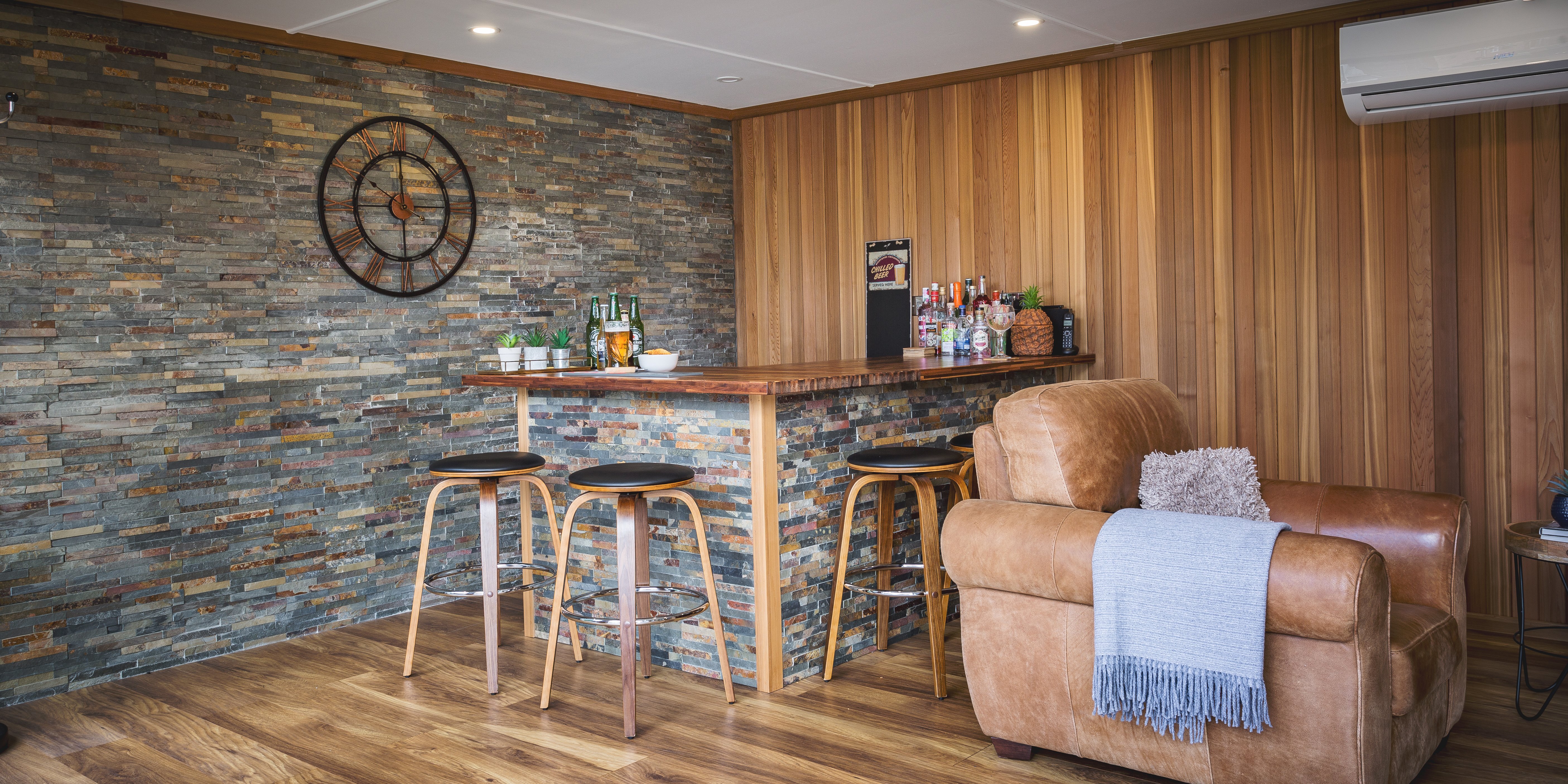 5 - Pool Table
Now we're talking!! You can't just watch your TV or play computer games – you'll end up with square eyes! It's good to have something to engage you and your guests in the physical world. A 6ft x 3ft pool table requires a lot of floor space, you need room to draw your cue back to strike your winning shot, and the Cabin Master Garden Room is perfect for this!
A pool table is a no-brainer. The only decision you have to make - what colour surface? While snooker tables are rather limited to the green baize, researching this, we have found pool tables with at least 15 different coloured surfaces – we'd go red! What about you?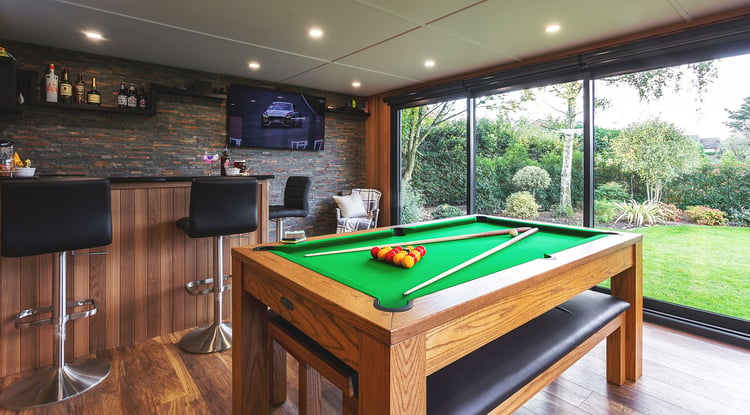 6 – Dart Board
You can't have a bar without a dart board! There is something very relaxing about a gentle game of darts and you can kid yourself that you're giving your mind a maths workout too, as you calculate all those doubles and trebles and count back from 501.
Actually, playing darts improves hand/eye coordination and is a great stress reliever, also, psychologists say that as darts is all about accurate throwing, the better you become at aiming your darts into specific segments of the board, you also train your mind to become better at focussing and achieving goals in other areas of your life. The dart board in your Cabin Master Garden Bar will be a self-improvement tool – who knew?!
You'll want plenty of room for the oche, the space between where you stand and throw from and the board, so a Cabin Master Garden Room is the perfect space for a dart board.
7 – The Fridge / Beer Cooler / Wine Chiller
The most popular 'must have' Cabin Master Garden Room bar accessory is, of course, a fridge. Everybody we asked said that this would be their first purchase. After all, aside from maybe red wine, what beverage doesn't benefit from being served ice cold or at least chilled?!
From branded fridges like the Budweiser one that Al from Nottingham had in mind, to the 24 bottle wine cellar cabinet that Liz from Castle Donington had her eye on, to the standard larder fridge that would be the choice of Steve from Arnold (as long as it's got an ice compartment for his whiskey) - the fridge or drinks cooler you choose will play a key role in your Cabin Master Garden Room Bar experience.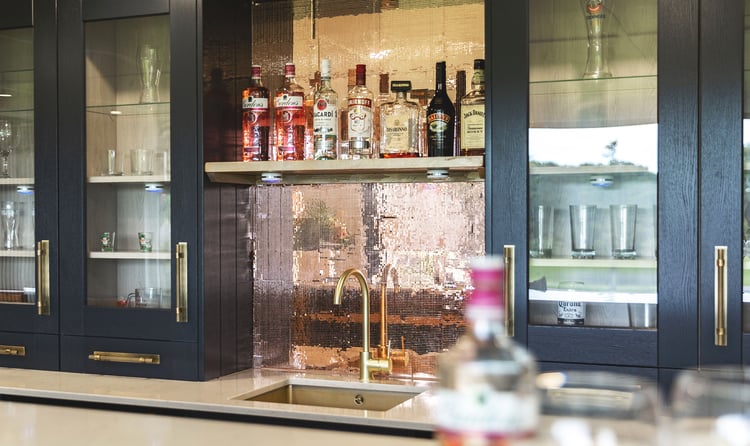 Imagine! It is a sunny summer evening. The hashtag #BeersInTheGarden has been trending all day. You've finished a long, hard, hot day at work and then you worked up a thirst mowing the lawn ahead of your friends and neighbours popping by. Your favourite takeaway has been ordered and, while you wait for it to be delivered, you take an ice-cold beer or bottle of wine from the fridge. The fully opened bi-fold doors allow the scent of the freshly cut grass to fill the air of your Cabin Master Garden Room and as you sink into that comfy sofa we talked about earlier, maybe for the first time that day, you feel thoroughly relaxed and utterly at peace with your world.
Sign Me Up!

Traditionally, the Man Cave Bar was limited to a dingy corner of a cellar or basement, a Del Boy style cocktail bar tucked in the corner of a living room, or in a shed where your pint would be ruined by the silent taunting of the lawnmower.
This was OK for my Dad's generation. Things have changed. For a start – a home bar is no longer a male preserve. A contemporary Cabin Master Garden Room makes the perfect, sophisticated Gin or Prosecco Bar.
In the same way that the pub itself has evolved, so too has your right to a home bar that is fitting of your more sophisticated, modern tastes. The pub has moved on from sawdust covered taproom floors and smoke filled snugs - a modern gastro pub is light years away from the back street boozers of the past. This experiential renaissance is no more than you should expect from what your garden bar brings to you and your life.
To find out more about owning a Cabin Master Garden Bar call 0115 932 8888, get in touch via cabinmaster.co.uk or visit our Cabin Master Show Site just off junction 25 of the M1 near Nottingham.