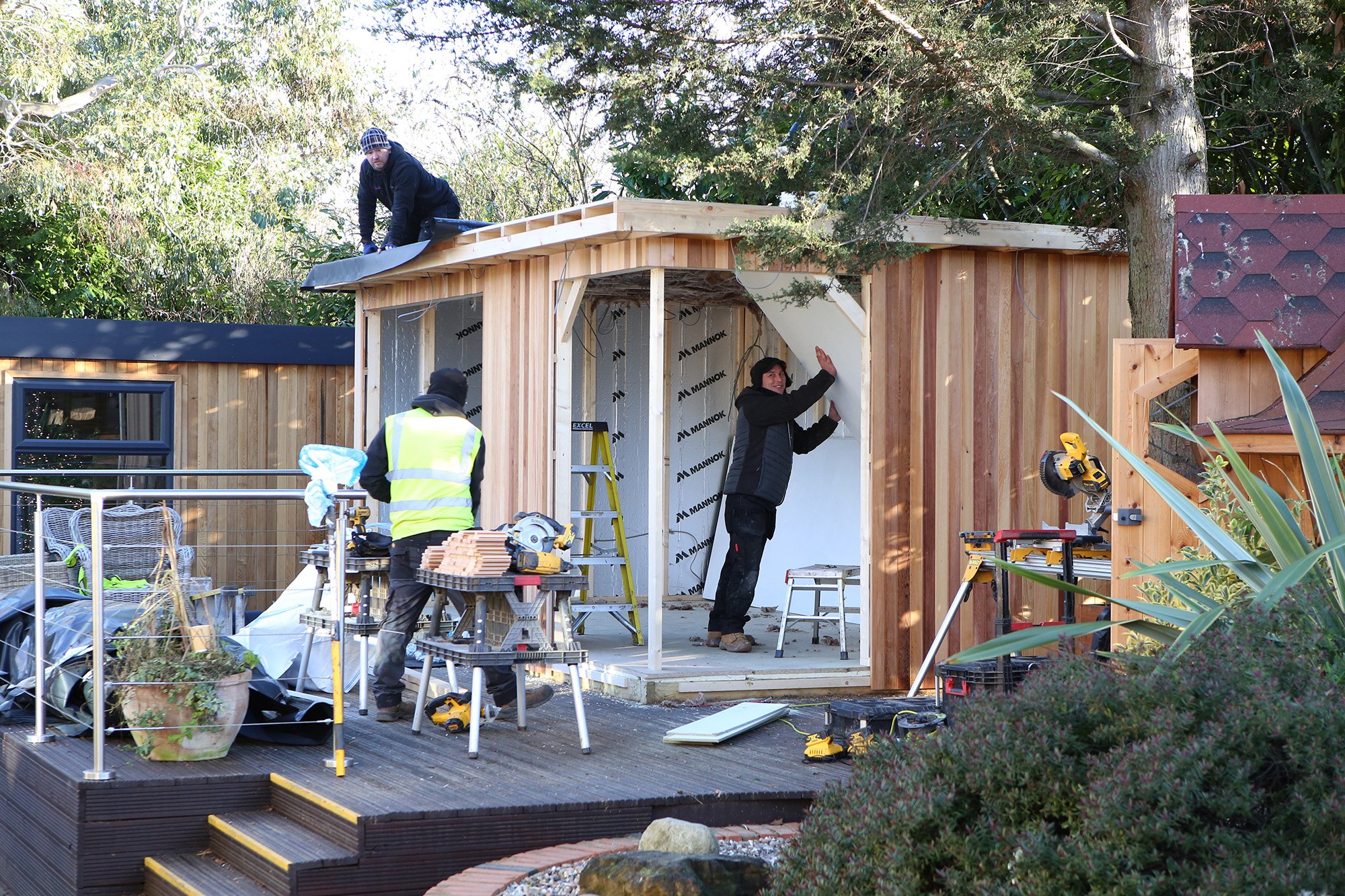 How Many Teams Install My Garden Room?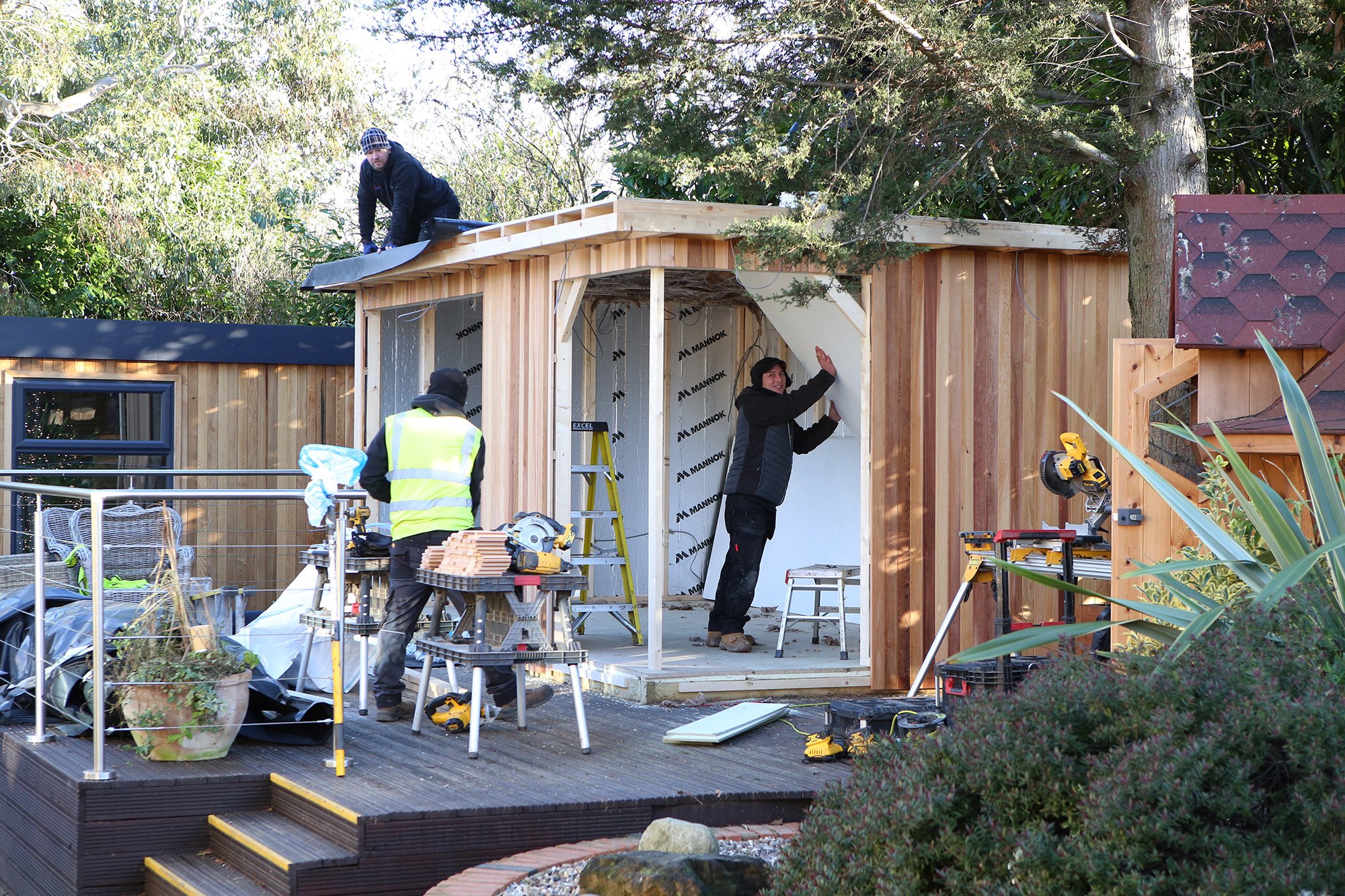 Our garden rooms are the perfect way to add extra space to your home. Whether you want to use it as a home office, a playroom for the kids, or just a bit of extra living space, we've got you covered.
If you're worried about the installation of your garden room and who will construct it, don't be, at Cabinmaster we look after the whole process, so there's no need to fret.

Peace Of Mind Included!
We've been installing garden buildings for over 20 years, so we know a thing or two about constructing the perfect garden room. We also know how daunting it can be, wondering if everything will go as planned now that you've dedicated your hard-earned money to the project. Rest assured we understand how important the construction process is. Luckily, with Cabinmaster, peace of mind comes as standard
We don't leave anything to chance. Whilst the quality of the materials used is an important factor, what really makes the difference is how it's constructed and, most importantly, who has constructed it. Our professional installation teams are dedicated to providing you with the garden room of your dreams, without any nightmares along the way.
We never use subcontractors to install our buildings, instead, we have multiple teams of professional installers, all directly employed by us, highly trained and fully insured. Our installers take great pride in their work and always strive to provide the best for our customers.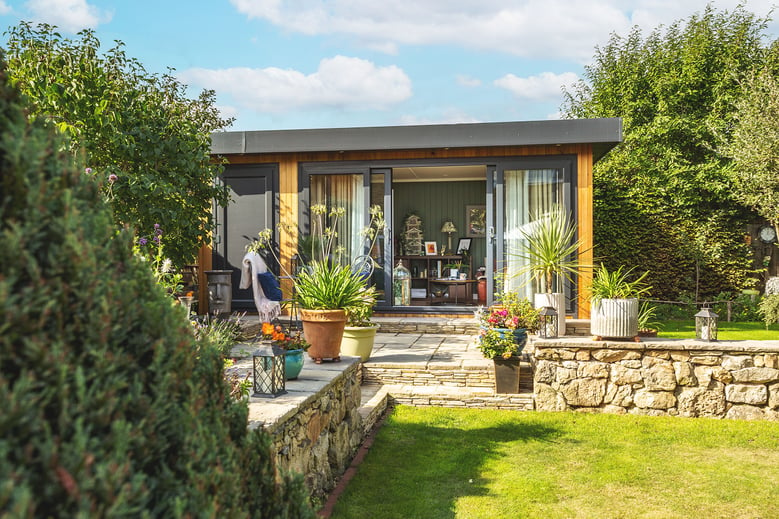 Smells Like Teams Spirit
When the day finally comes for your garden room to be constructed you'll be visited by two separate teams, and you'll be amazed at how swift and non-disruptive the construction process is. Don't blink, you might think you've caught a glimpse of an apparition. But, unlike Mr Scrooge, you'll have nothing to fear from these visitations.
The First Team to visit will be our dedicated base team. These guys are experts in creating a level and stable foundation, the bedrock of your new garden room. This team is highly experienced and will make sure your garden room has a solid footing, being able to work with a wide variety of ground conditions.
The Second Team to visit will construct the garden room itself. Because we manufacture our garden rooms in sections everything is carried into the garden by hand, eliminating the need for heavy machinery, disruption or excessive noise.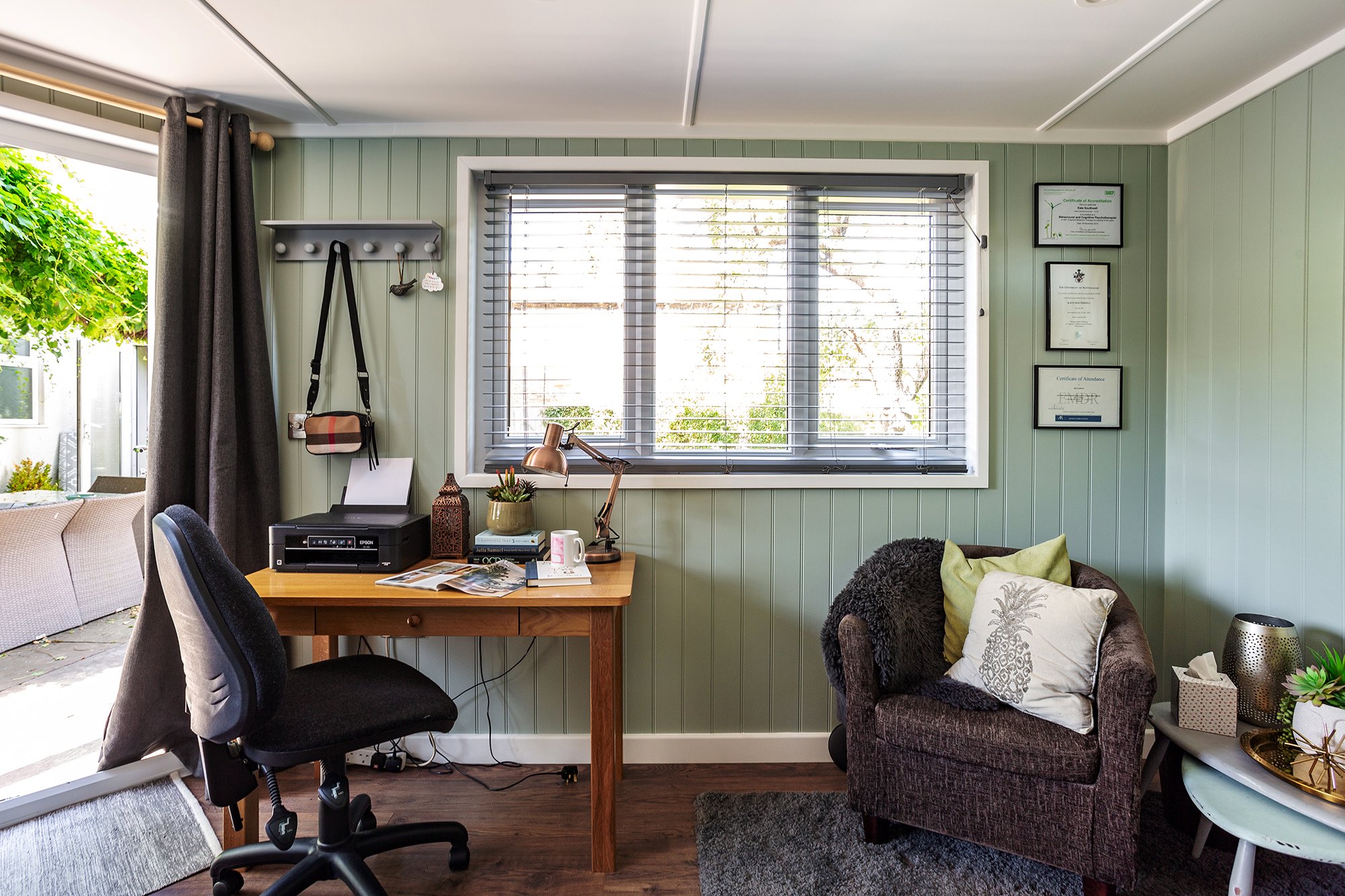 The wall sections are the first thing to go up, quickly followed by the roof. Once the building is watertight the installers push on with the internal finish of the building. Not only are the installers busying themselves with fitting the insulation, internal wall boards, flooring and skirting boards, the electricians are also hard at work cutting socket holes, adding lighting fixtures and performing their magic. Apart from wanting to ensure the highest standards, this is one of the main reasons why we don't use external subcontractors. Having all of these installers and electricians working in the same space at the same time could easily descend into chaos. However, our teams are so used to working together that it's second nature to them. Seeing them work is like watching a beehive or a highly orchestrated dance.
The last stage of the process is the internal finish painting, but worry not, we take care of this too! Once the structural and electrical elements of the building are all in place our professional decorator will visit to add that finishing touch to your garden room, in the colours you have chosen. This brings everything together and really makes the building feel like a room in the house, a true home away from home.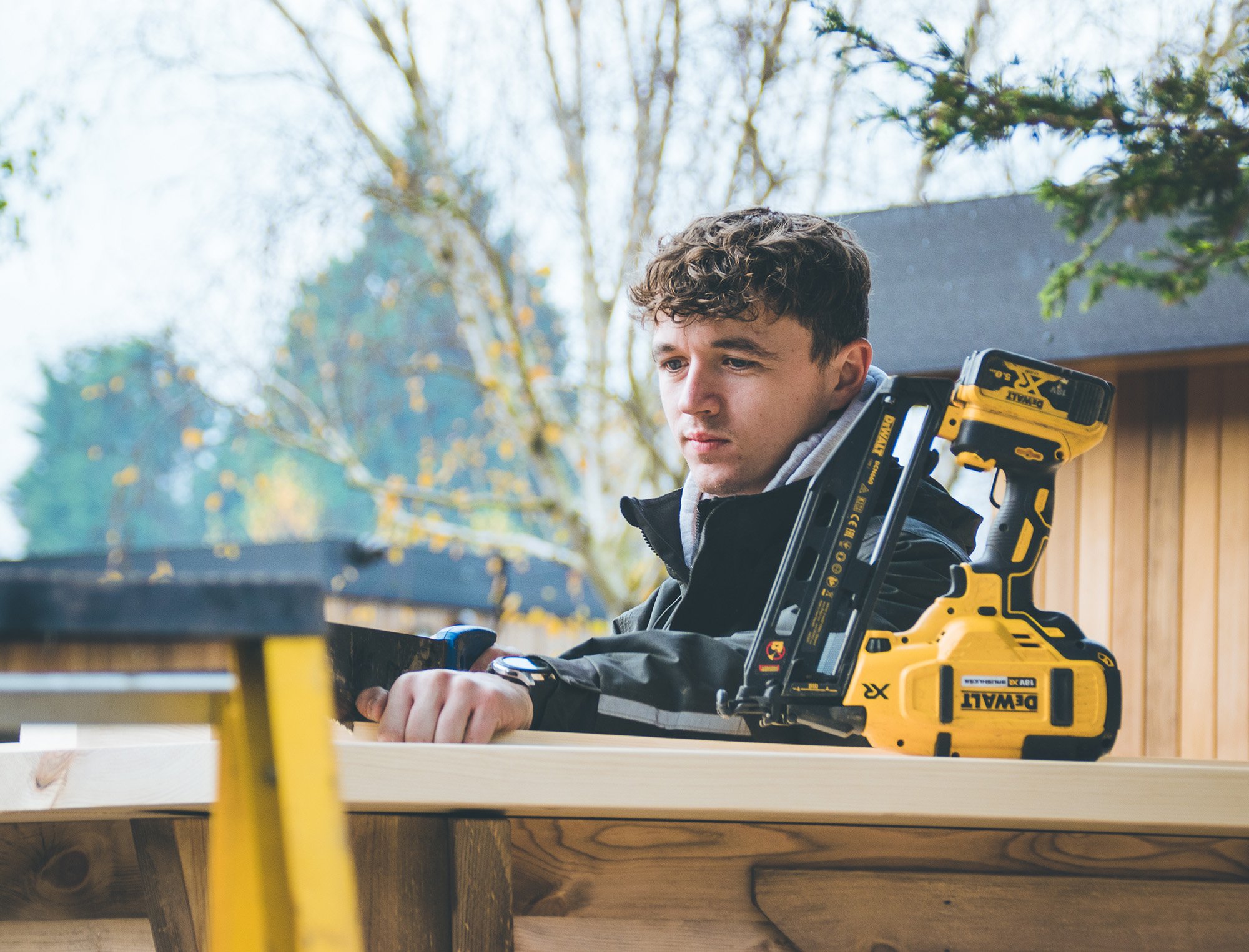 Time Is Precious, We Don't Waste It
Once you have placed your garden room order we put the building into production at our dedicated factories and order the windows and doors that you have chosen. Before this, however, we arrange the dates for the installation of your base, garden room and painting. If you have an Air Con unit also being installed this will be arranged by the installation company separately. Once we have arranged dates these are gospel and won't change, except in cases of natural disaster or alien visitation!
From the point of order, our typical lead time is approximately six to eight weeks, but this can vary depending on the time of year. Because we manufacture the garden rooms ourselves we aren't reliant on third parties for wall sections or other parts to come in. This means we have the best lead time in the industry.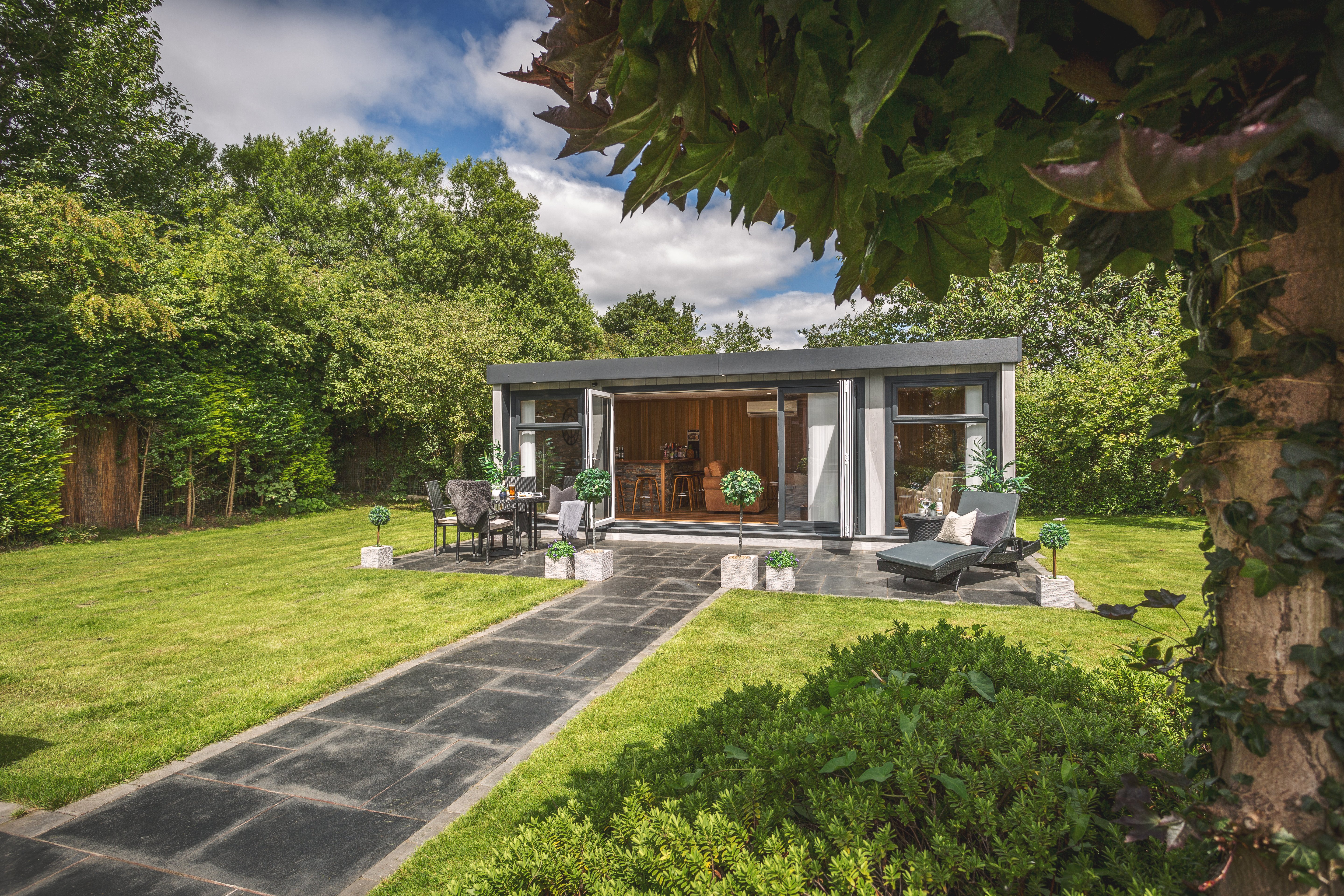 So how long does it all take? The short answer is, a lot quicker than people expect. The base is usually completed in one or two days. The building itself typically takes two to three days, including the internal electrics. The internal painting is usually done in just one day. Of course, this all depends on the size of the garden room being installed, with smaller rooms being constructed quicker than very large ones.
The last thing we will do is clean up after ourselves, so you don't have to worry about being left with a mess. You can start enjoying your new garden room as soon as possible.
If you have any questions about the installation process or how our teams work, please don't hesitate to contact us. We're always happy to help.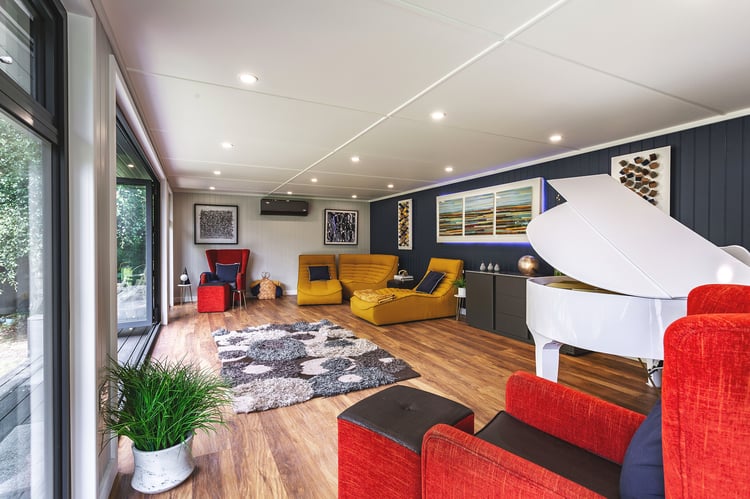 Electrics And Plumbing
As mentioned earlier, we include the internal electrics for every garden room. This includes multiple recessed double sockets, recessed LED spotlights, an RCD-protected consumer unit and anything else that might be specified on your order. In most cases, you will need to organise a local electrician to provide a suitable power cable from the house to the cabin, but we can provide advice and a document which explains exactly what will be required, so there's no guesswork involved.
We don't carry out any plumbing work in your garden room, mainly because we install buildings all over the country and if you have a leak or problem with your plumbing in the future it's much better all around to have a local tradesman to provide help. You would need to hire your own plumber to carry out this work for you.
Note: If there are any electrical or plumbing works to be carried out from your house to the garden room, these will also need to be done by a qualified tradesman.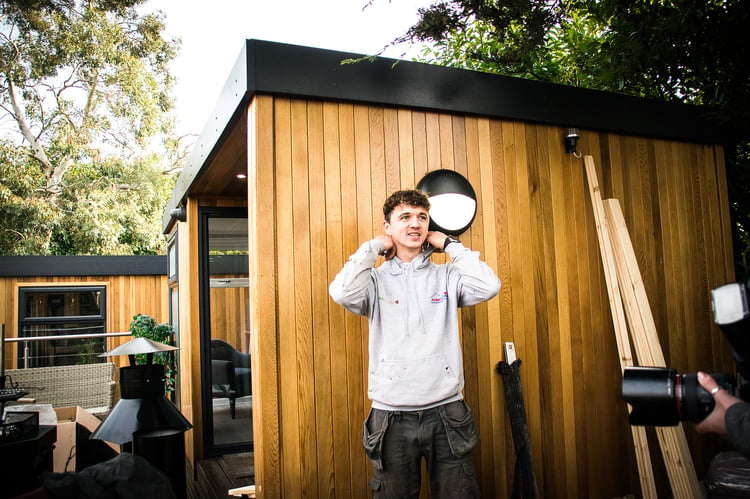 Final Thoughts
We hope that this article has answered any questions that you may have had about our installation process and put your mind at ease.
If you would like more information about our garden rooms or the installation process, please don't hesitate to contact us.
We're always happy to help.