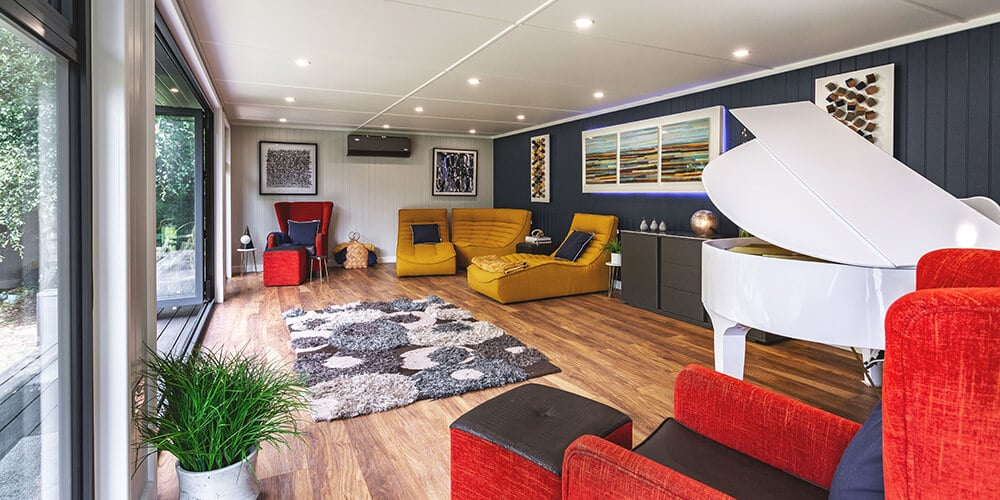 7 Fabulous Garden Room Furniture Ideas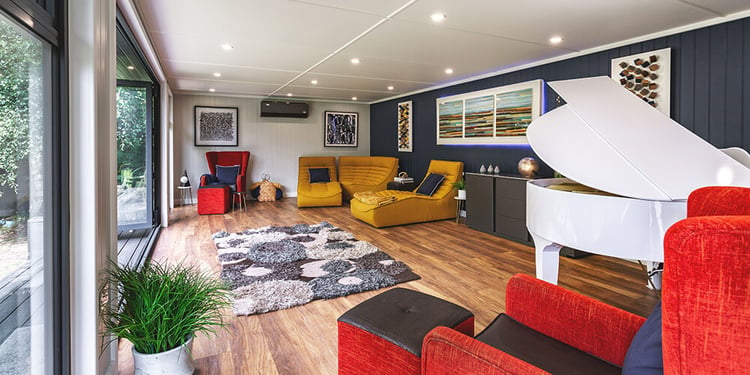 Being a separate entity, your new Garden Room is a great way to experiment with some interior design ideas that would just look wrong in your house. So you really can go overboard when it comes to buying your Garden Room furniture and accessories. It's your special room after all so why not personalise it? By having the decor different from your home it makes your garden sanctuary feel even more special.
If you're stuck for ideas, how about experimenting with some of the following?
1. Shabby Chic Seating
Shabby chic furniture combines elegant style with a playful nature. Originating from antique French furniture, the term shabby chic furniture first came to light in the early eighties by a British interior designer, emerging from this was a new, welcoming and elegant decorating style using different wood types. Shabby chic bedroom furniture perfectly fits in with other styles and designs of furniture, and the whole thing just combines into a fantastic looking space.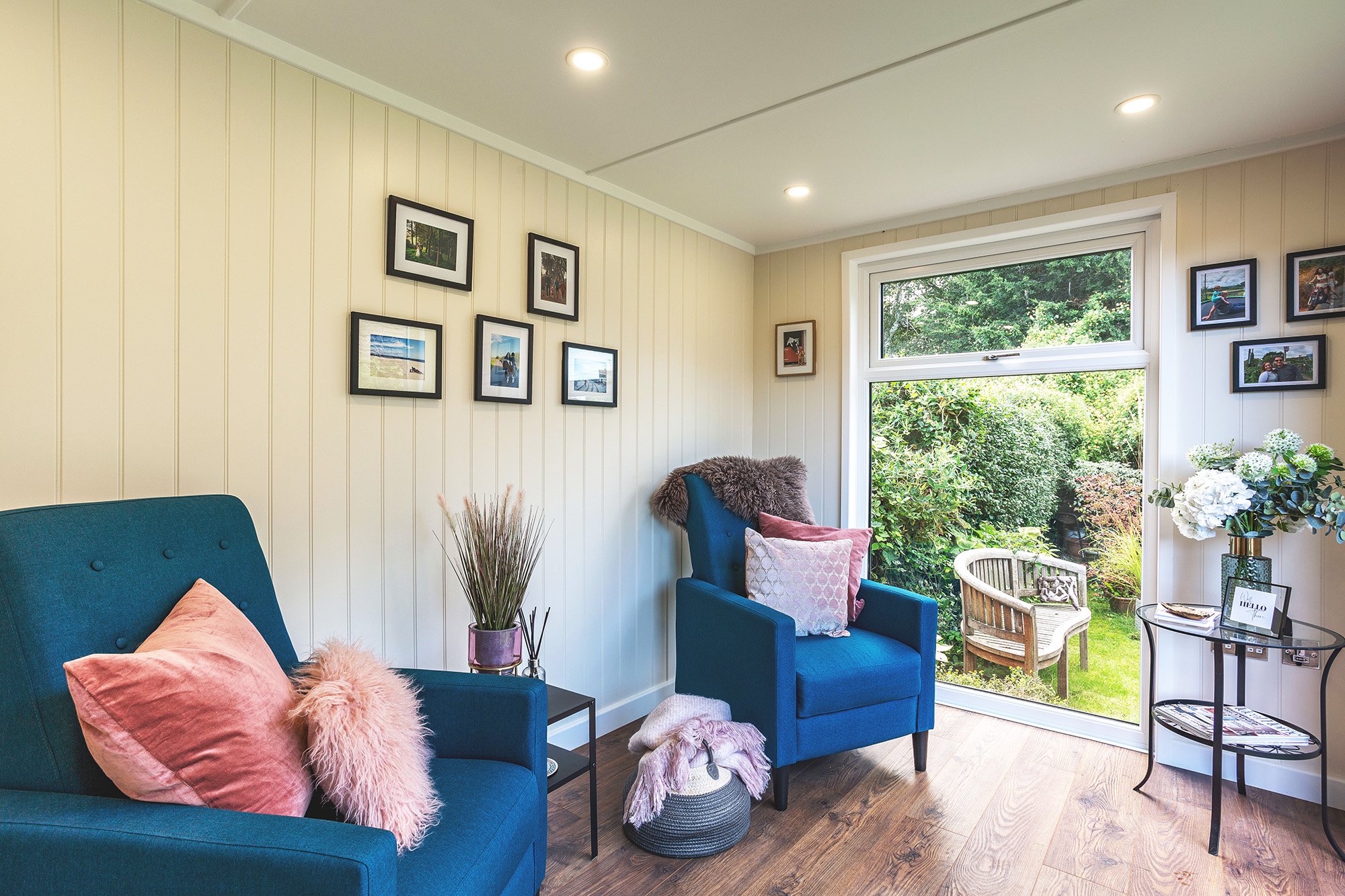 2. Modern Seating
The right piece of furniture can completely transform a room. Whether it's a piece of art, a light fixture, a custom chair, or a brightly-colored table, once you find a piece that speaks to you, you can design the rest of the space around it.
There are new and exciting seating trends for this year that are starting to take hold in a lot of popular designs. Using modern chairs, sofas, and other seating options as your statement pieces can be a great way to meld comfort and modernity in your space. From poufs & benches, to corner sofas & accent chairs, the choices are endless.
3. Beautiful Blinds
There's so much choice out there, it's often hard to know which way to turn. Let's break it down:
Venetian blinds are made from aluminium, wood, or faux wood.

Venetian blinds offer a jaw dropping alternative to window shutters and come at a fraction of the price. Thanks to their slat control, they offer unrivalled control over light entering your room. They're great on windows that are north facing with very little light, south facing with lots of light, or east and west that change throughout the day.

Roller blinds are available in a choice of one or two rollers. There are two types; roller blinds and double roller blinds. When using two rollers there is a a voile layer added to reduce glare if the sun is too bright, but it's paired with a blackout layer for night-time.

Roman blinds are a luxurious choice for covering a window. Made from a thicker fabric than roller blinds, they have rods sewn inside to create even folds. As you pull the cord, these blinds neatly unfold from the top of the window. A great choice for the winter time when you need blinds with thermal lining and a smart way to introduce energy efficiency in your home.

Pleated blinds are another great choice of fabric blind. It works by having a fabric that folds open and closed. A single pleated fabric is the simplest design, but they're also available in honeycomb or cellular patterns.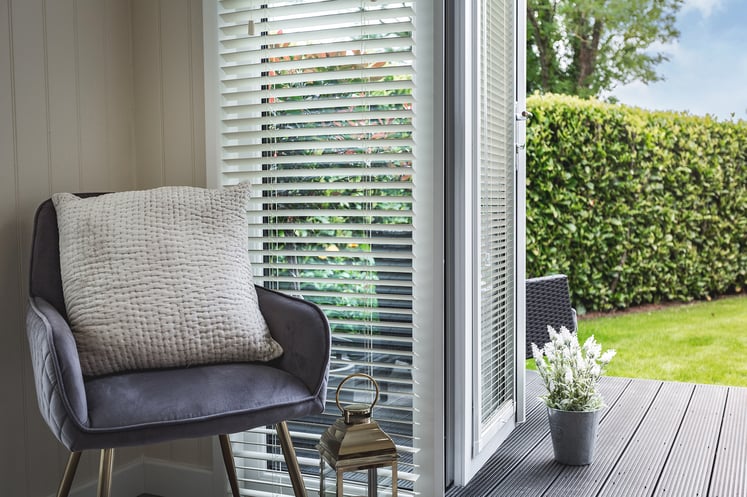 4. Neon Lighting
Add a touch of fun to your space with a neon sign...especially if you own a garden bar or entertainment space. Firstly, you'll want to find out what type of neon sign you want, as well as your budget. It's important to know that the price of the sign increases as the length of Neon used increases. There's so much choice out there, with custom designs as well as off the shelf options available to suit all budget!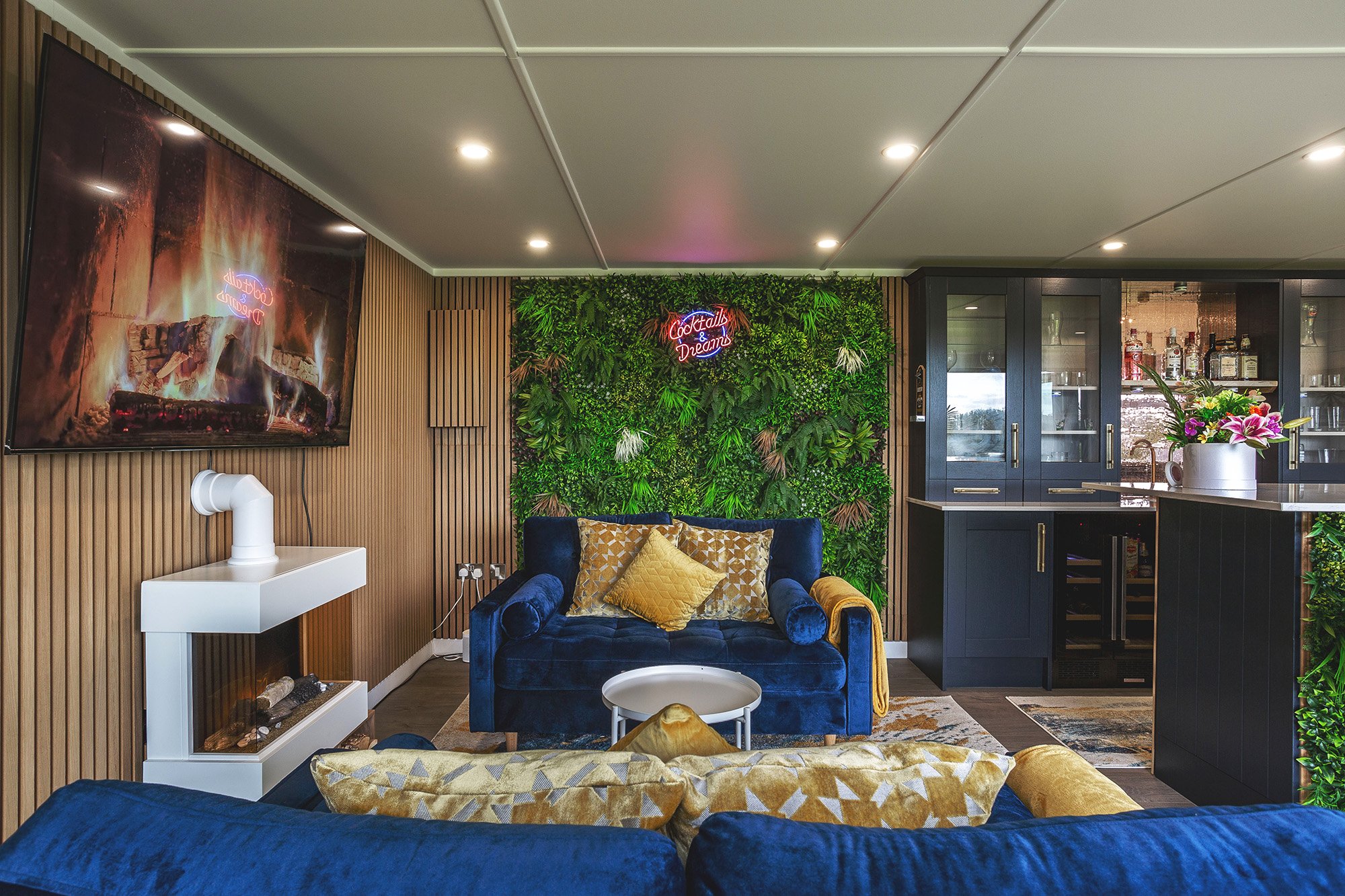 5. Sophisticated Storage
Even in a Garden Room storage, is essential. Afterall, it's a Garden Room & you want it to be a tranquil and restful place rather than a cluttered den. Storage have to be just a boring cupboard or unit either, there's so many quirky, fun choices out there that can add to your decor theme, not detract from it. You could go bright, minimalist, boho, traditional, whatever works for you!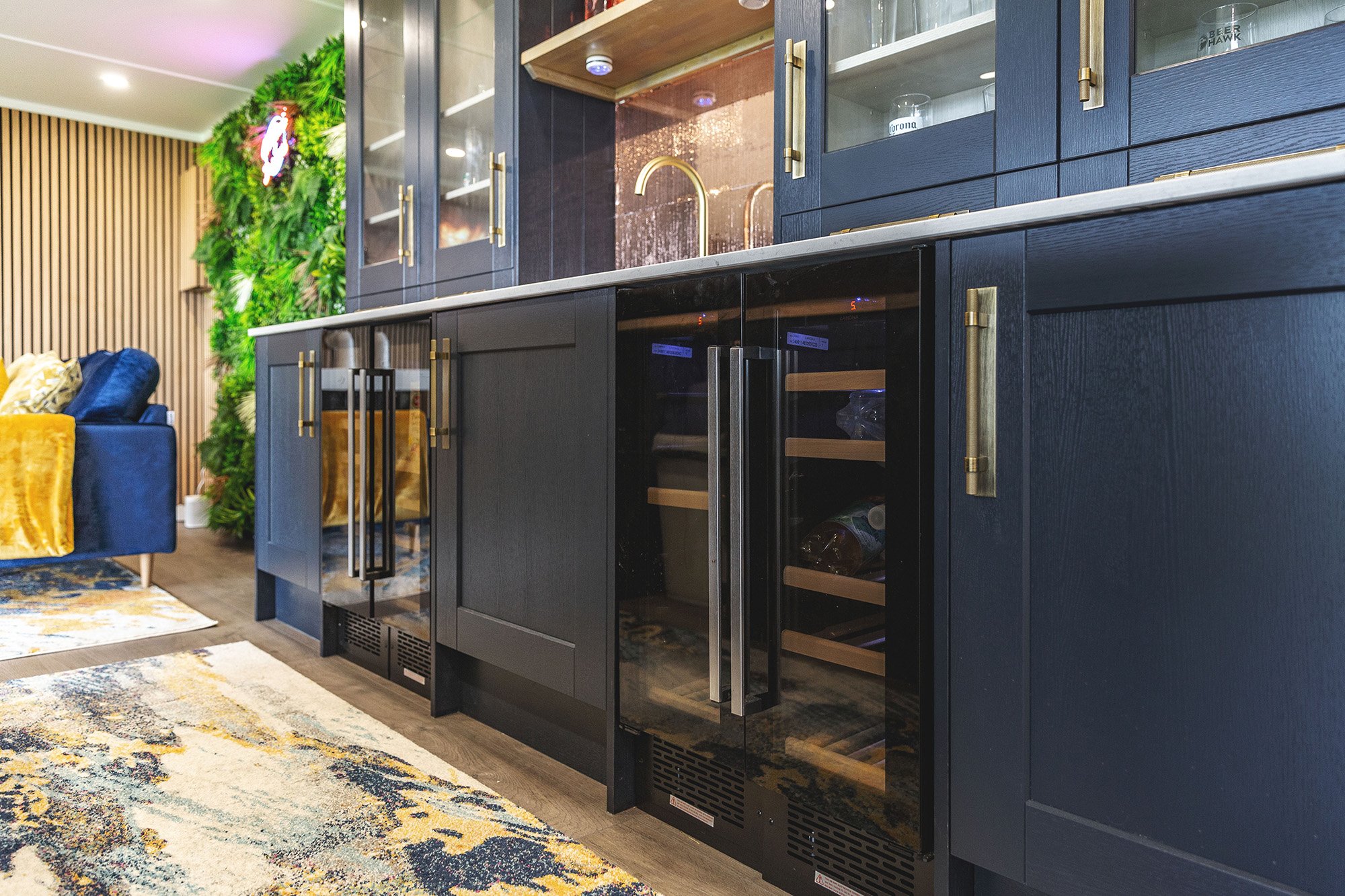 6. Wowing With Walls
One of our favourite luxury designer wallpaper manufacturers is British institution Cole & Son. Their Secret Garden wallpaper is in keeping with the garden theme (although this is an underwater version featuring both sea snails and garden snails). It all adds up to a bit of brightness and fun for your Garden Room. Just hang it on the one feature wall so that it doesn't become too over-powering but is dramatic enough to make a difference: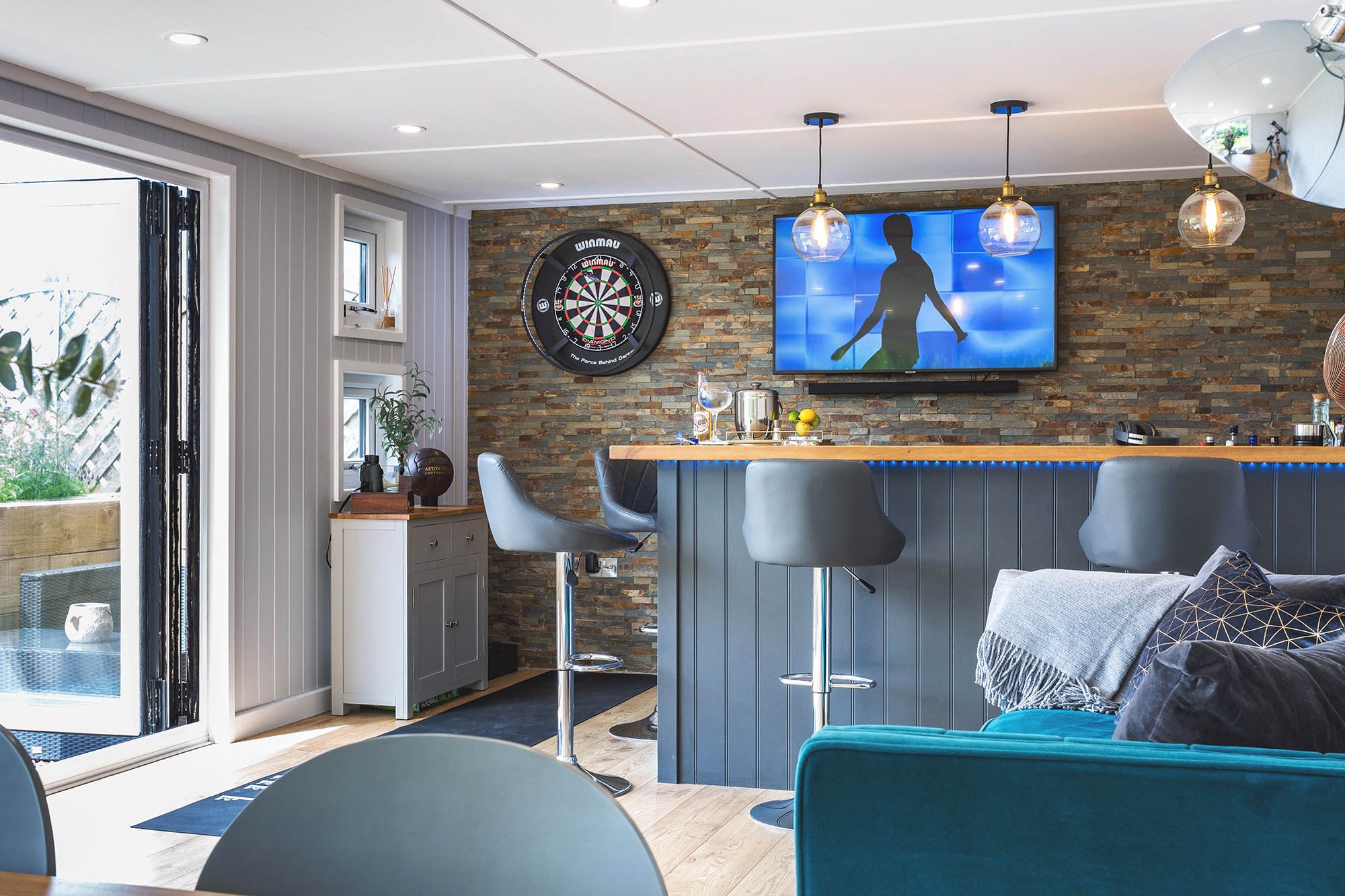 7. Plants Galore
Ask interior designers about plants and they'll tell you this – the question isn't whether you should use plants in interior design, it's how you do it successfully. And if you don't care so much for what home decorators say, just check this with your doctor or your psychologist. Not only do plants fulfill decorative functions and complete any interior with their vibrant, lively ways, but by doing so they also freshen up the air you breathe and help you stay focused, productive and positive. For more detail on this, make sure you read our post on 6 essential health benefits of indoor plants.
Of course, everyone has their own ideas and preferences about interior design but we hope the above inspired you in some way and even made you think a little out of the box – but not the Garden Room...
Find Out More
To find out more about the benefits of Garden Rooms and how to go about designing a bespoke version for you then call us on 0115 932 8888 or drop by and see us at our show site near Stapleford, Nottingham. You can also download a free copy of our Ultimate Guide to Garden Rooms, which is full of contemporary design and layout ideas to inspire you. Get your copy by clicking here.