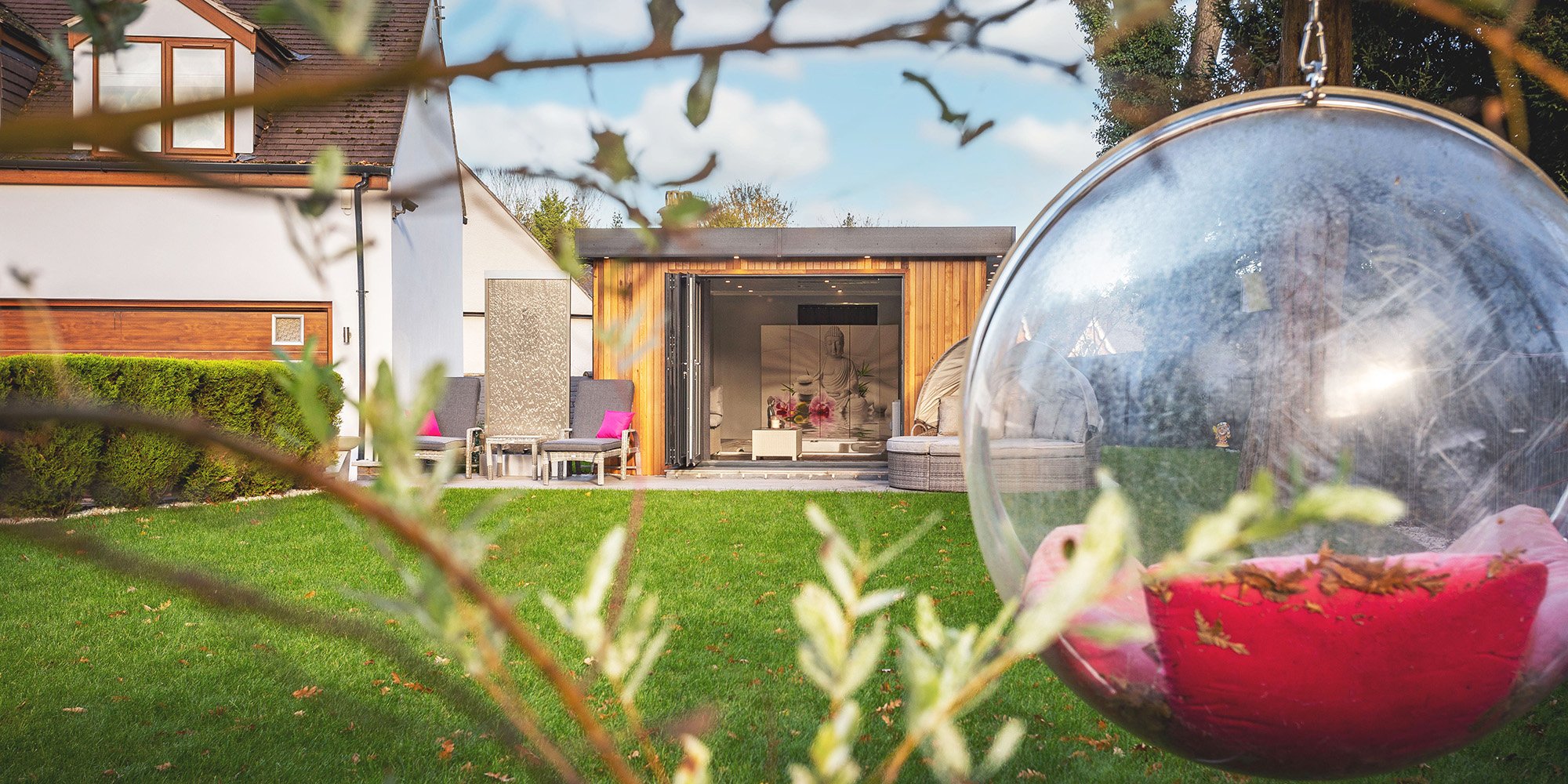 What Are The Business Benefits Of A Garden Office Vs Office Rental?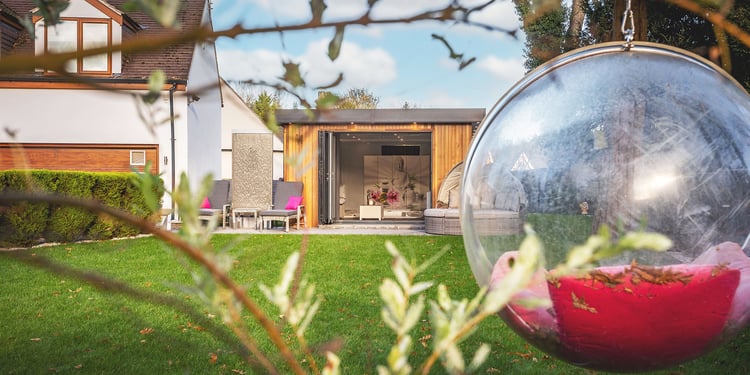 If you're in the process of starting your own business, you may be wondering about where your company will be based. The natural choice for most business owners is to follow the trend and rent an office space.
This might be a dedicated office space, where you are responsible for paying the utility bills, or it might be a shared office, where everything is included in the rent. However, there is one other option that many people rule out.
Working from a garden office is becoming an increasingly popular choice for many small business owners. You have all the comforts of your home and cut down your commute time. It can also help to significantly improve your work/life balance. So, why do so many people reject this route?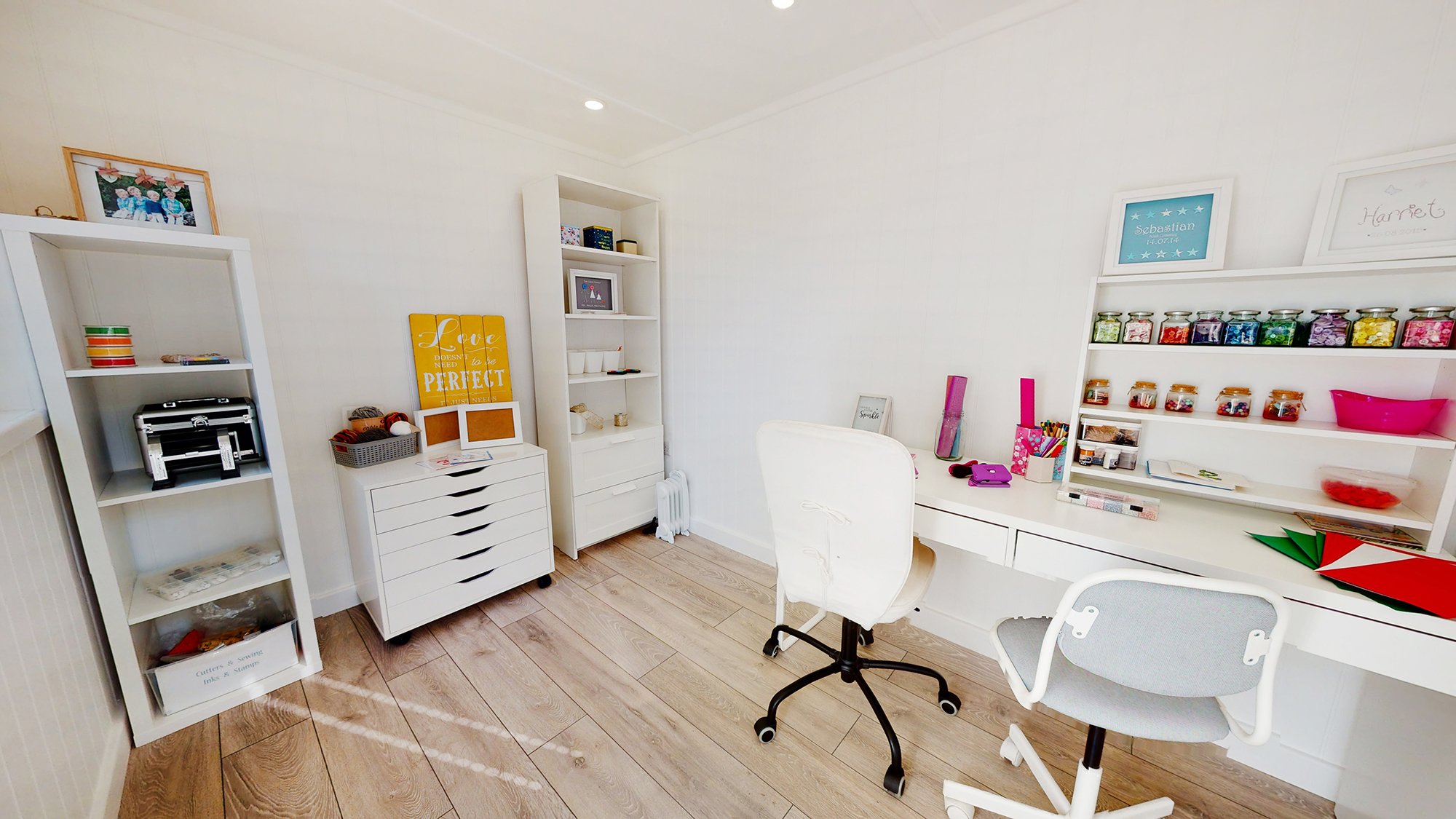 A lack of space is a common reason that people decide not to work from home. Converting a spare bedroom into an office can have a huge impact on your household. Working from the kitchen table can be equally disruptive. This is why so many people are choosing to turn their disused gardens into attractive and cost-effective offices. A wooden garden office is a great way to transform your garden into a versatile part of your work life. An extra space, away from the family home, that provides a quiet place to concentrate on the day's work. If a garden office is on your radar, then read on...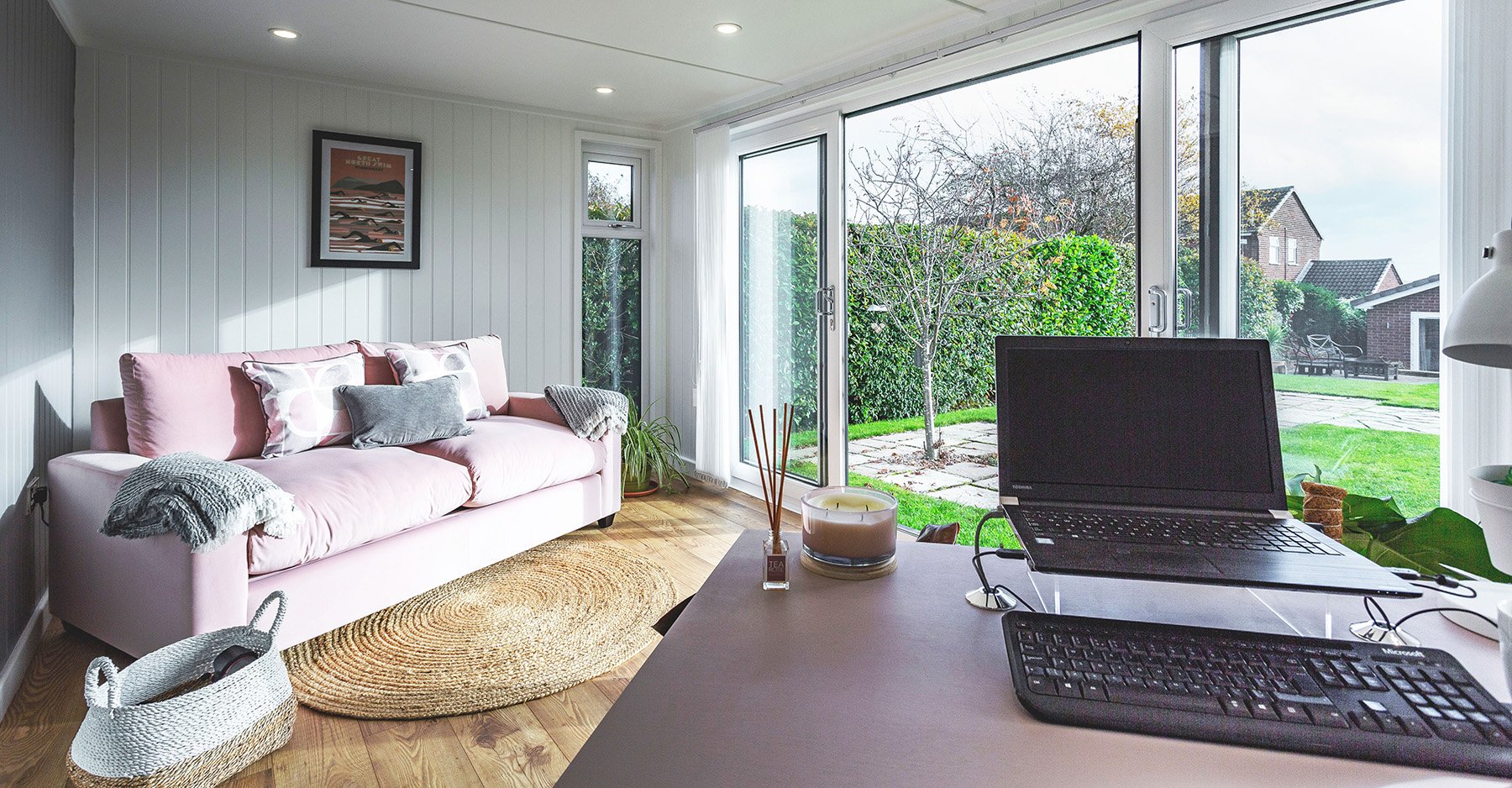 Advantages Of A Garden Office...
MUCH Shorter commute
This is, by far, one of the biggest advantages of creating a home office in your garden; your time is valuable, so if you can cut down your commute to little more than a stroll across the garden, your working day is guaranteed to be a lot shorter AND more productive. Less commuting will also save a significant amount of money on travel, as well as savings on expensive coffee & snacks en route to work,
Saves money
Another great reason to build a garden office is to take advantage of the tax benefits. Our garden offices start from as little as £13,000 and we offer flexible finance plans which can help to spread the cost. It's also fully tax deductible. Why spend money on rent every month when you can spend money increasing the value of your own home? Most garden offices are paid off after two years, so you'll be working rent-free after this time. You'll also save on fuel or transport costs & you'll also have the advantage of having your own kitchen close by, so you'll never have to spend money on expensive and disappointing meal deals ever again!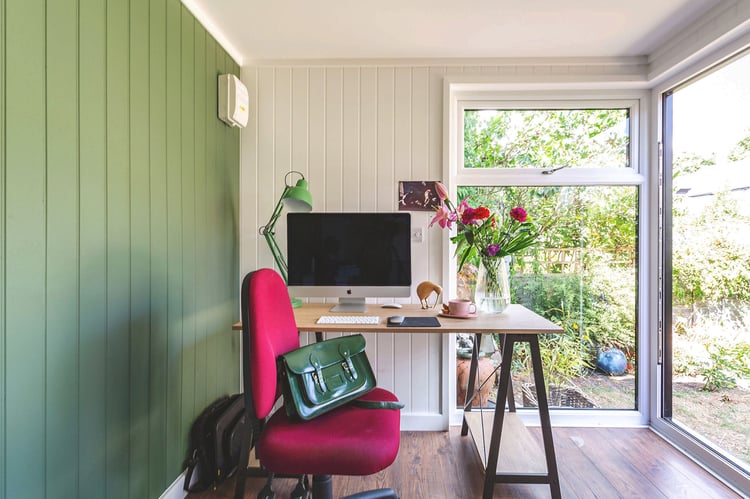 More time with the family
If you work in an office away from home, finishing work at 5pm means that you won't get home until 6/6.30pm, giving you less time with your family. You may miss out on quality time with your children, their bath and story time, for example. A garden office means that when you finish at 5pm, you are home at 5:01pm, ready to spend a lot more time together. It'll also give you more free time to potentially do school runs, after school pick ups, clubs & all the other running around you might be missing out on as a parent when your working day is so long.
Personalisation - make it as unique as your home
Rather than having to spend your weekdays crammed into a grey cubicle desk, you can work in an environment customised completely to you, with lots of natural light to inspire you, rather than grey walls of a soulless, windowless office. From the office chair to the colour of the walls, you have complete autonomy over the décor of your garden office. Yet another advantage of having a home office garden room is the fact that it can be personalised to suit the way you work. If you like to look out a window while at your desk, for instance, then we can fit full height glass panels. Here at Cabin Master we can design & build you a completely bespoke garden room, where you are completely in control of everything.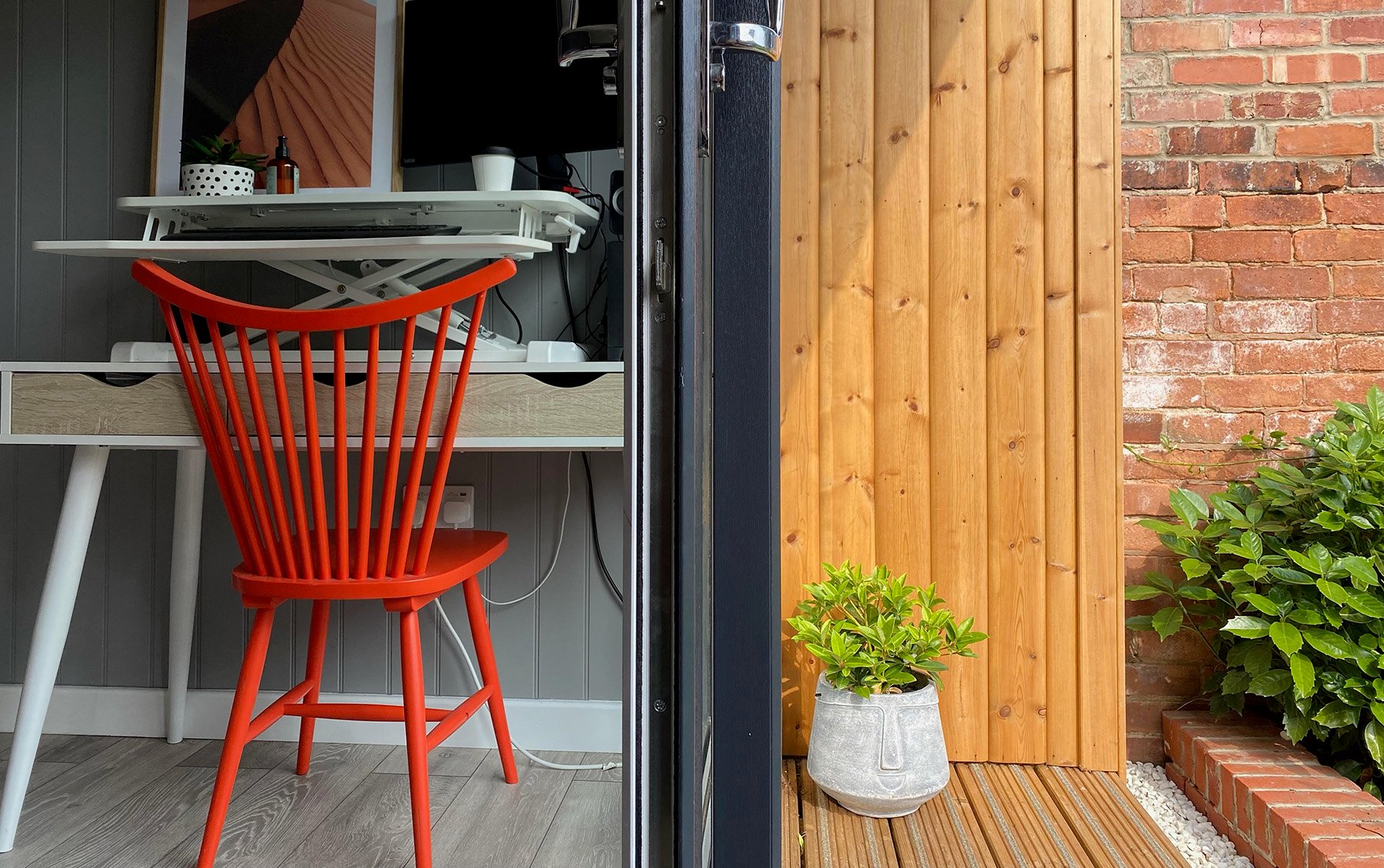 Professional look
Rather than using the kitchen table, or squeezing a desk into the spare bedroom, a garden office offers a professional environment to conduct meetings in. Having a dedicated office space to invite clients into to discuss their project always looks much more professional than meeting them in a local coffee shop or at your kitchen table. Also, there's no distractions of the hustle and bustle of the house to interrupt meetings & you'll also have all your work to hand, organised instead of dotted all over your makeshift desk.
Work/Home divide
Having a separate space for you to work will give you a greater ability to switch off at the end of the day. If your office is in your home, then there is always the temptation to turn on your computer to just check a couple of emails and the next thing you know is it's 10pm and you've spent no time with your loved ones. Having to physically leave the house and walk through your garden to your garden office will reduce the temptation. Once you finish for the day you can lock the office door and walk away.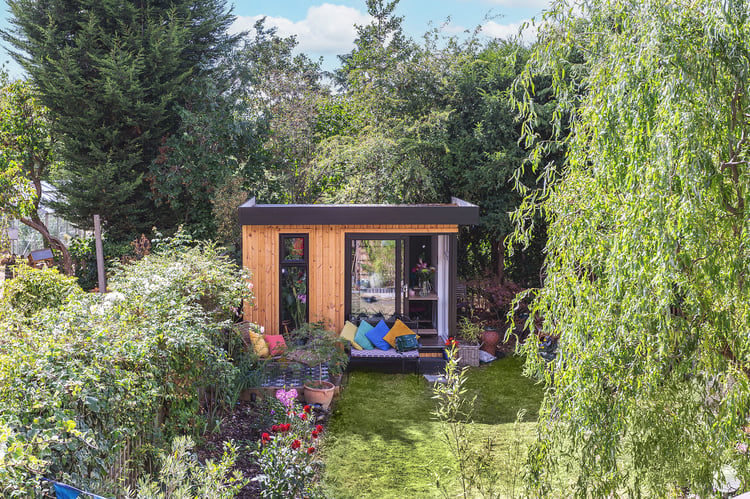 Eco friendly
By working in a garden office, you are reducing your carbon footprint considerably by travelling less. Also, if you purchase an insulated garden office, you won't need to use as much electricity heating the space, again, reducing your carbon footprint.
Flexible hours
Working as a freelancer from your garden office offers you flexible hours, so you can work around your other commitments, such as childcare. It also means that you can be available if you need any repairs in the house, as you will be at home to let the repair person in, as well as on hand to pick up any packages that are delivered you'll never miss a delivery again!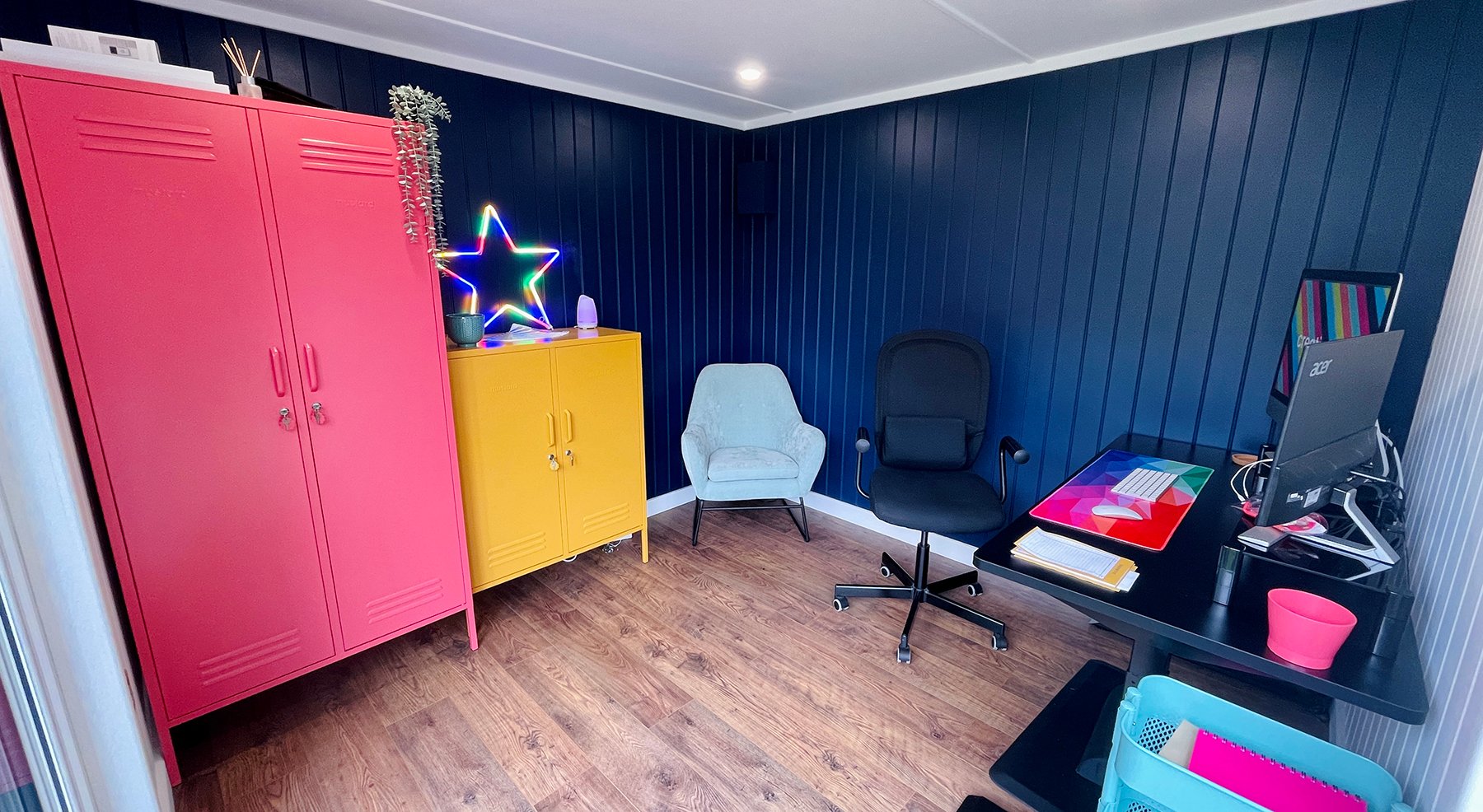 Being in nature is good for your mental health
Working from home in a garden office by yourself means that you escape any office politics and are free to concentrate on your work. No drama, no gossip, no pointless face to face meetings that drag on forever. Garden offices should, and often will, have large windows which give you a view into the garden. We all get distracted from time to time throughout the day. It's far better to look out of a window and enjoy the natural views of our garden than to reach for our phone to check on our social media. Regardless of whether you're in town or country, there's always some form of nature that can be enjoyed in our gardens, and the mindfulness and tranquility that nature brings can play a huge part in our day-to-day wellbeing. As a result, we can feel less stressed by the day-to-day pressures of work & a reduction to your stress levels when you're not worrying about traffic or delays on public transport.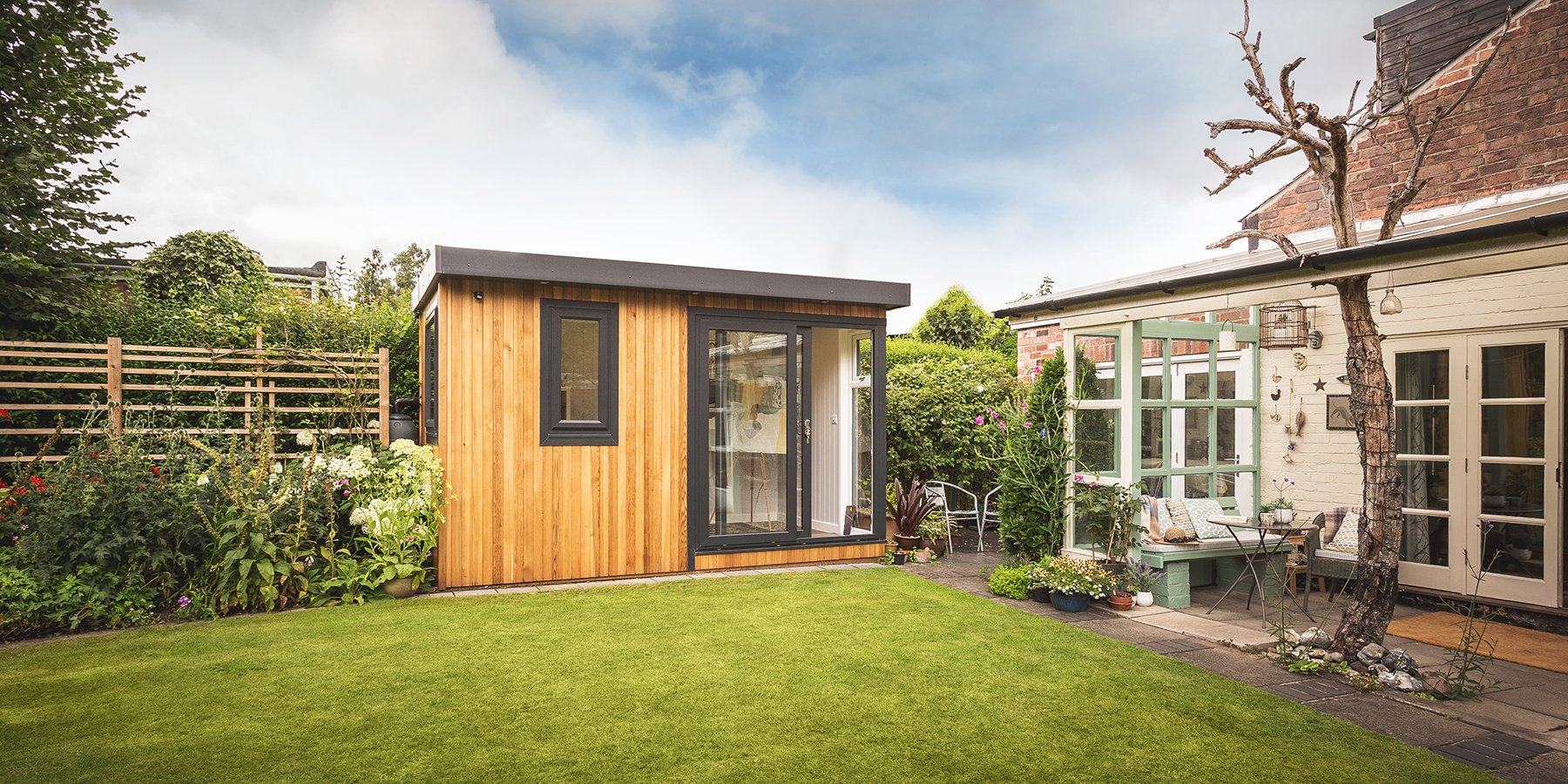 Add value to your property
An addition of a garden office can add as much as 5 to 7% to the value of your property, making it a sensible investment into your future. After all, if there is one thing that all homebuyers are looking for today, it is added space. Having an extra storage facility, which can easily be converted to something else if needed, can be worth its weight in gold when you hit the property market.
If you'd like to find out more about our garden offices, get in touch today!