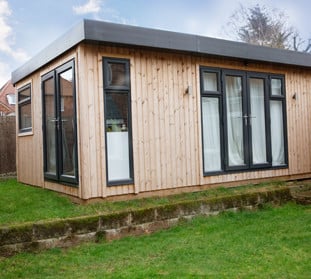 We chatted to Karen in February 2019 about why she choose Cabin Master to create her new Photography Studio.
Why did you choose Cabin Master?
Karen said "In 2017 I chose to relocate to South Yorkshire in order to downsize my house, be closer to family and have the opportunity to build my own home photography studio. I did a lot of research but eventually chose Cabin Master after I saw a few fellow photographers post online about their own home studios and their experiences with the build. As this was going to be a big investment for me I wanted to choose a company who were going to give me a quality build without any ongoing issues."
How did you find the process from start to finish?
"The whole process from the initial discussion through to the design and build was helpful, thorough and not at all pushy. These cabins really do speak for themselves in terms of quality so a pushy sales person isn't necessary!"
"The build was quick and painless as well and it was all completed in 3 days. The team were really friendly and couldn't have been more helpful. I can't fault Cabin Master at all through the whole process."
"Overall I love my studio, its my happy place"
Visit Karen's website here:www.tinystarsphotography.co.uk